Welcome to Red Chilly Curry, a vegetarian delight – where you will find cooking easy and know how amazing it is when different herbs & spices added together, makes each dish taste quite unique. This site focus on both traditional and modern quick-bite recipes. Me(Janani) & My Mom(Yamuna) are the authors of this site. All the south Indian recipes are from my mom's fusion and other stuff are my recipes. I hope you enjoy visiting our site.
ABOUT ME: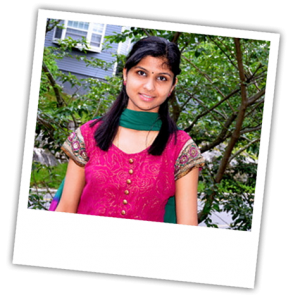 H

i, I am Jana

ni

, just like everyone I started to learn cooking only after my marriage, back then food used to be on time on table and mom used to take care of everything. I hardly entered the kitchen. Everything changed after I came off to USA after my wedding, I am a pure Vegetarian and I had no plan of converting to Non-veg, so I had very few choices  when it came to food in near by Restaurant, that's how I started to learn more about cooking and started to explore lot of variety. I am not a big fan of Hotel Food I always loved moms homemade food, so I want to set that good example to my Daughter too, yes I have a 4 yr old daughter Jyothsna and I am married to Krishna Kumaar. I must talk about him. He is more like a good friend to me more than a husband, he is generous and very understanding. The minute I told him I was planning on doing a cooking site he encouraged me 100% and when I stared to take pictures in a regular camera and was upset with the outcome he immediately got me a DSLR camera. I am not a professional food photographer but it looks really good due to that excellent camera a big thanks to my husband. I have shared my recipes which I love making to my family and friends. Hope you like it too. My site is open to comments so feel free to leave your opinions.
……………………………………………………………………………………..
ABOUT MY MOM: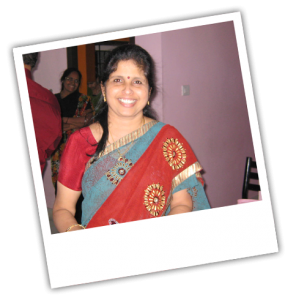 Everyone thinks that their mom's food is the best in the world so do I, according to me she is the "BEST CHEF" in the world. My mom has passion for making simple and different types of food. I would say she has covered pretty much all the state in India. She likes to explore that much. My Dad and My Brother are big critics so if one of them is convinced another person isn't ,so me and mom always had trouble pleasing both, but that surely improved our cooking. MY parents have traveled all around so that made her learn lot of other culture food .She always believed those golden saying "EASY WAY TO  A MAN'S HEART IS THROUGH HIS STOMACH". I believe that too.