Beerakaya Curry recipe, Beerakaya recipes, Ridge Gourd Chutney, Andhra recipes
Beerakaya Curry is super tasty and very simple dish. It taste so well with hot white rice. I don't need anything else on site when I prepare this dish. Beerakaya is called Ridge gourd in English and peerkangai in Tamil. My mom makes so many varieties with this beerakaya / Peerkangai / Ridge gourd . I have some chutneys and thovayal also in my blog. Check Beerakaya Pachadi /  Peerkangai Thovayal , Beerakaya Kothimira Pachadi / ridge Gourd Chutney.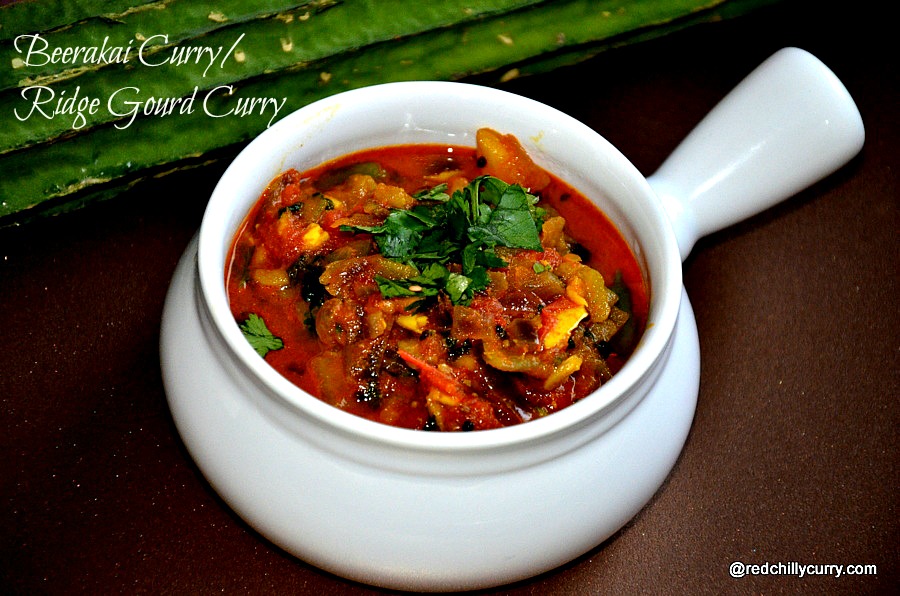 Peerkangai or Beerakaya curry is widely used in Andhra pradesh and I love how simple the veggie is and how flavorful it turns when it's cooked. In Tamil Nadu beerakaya is called peerkangai and many varieties of chutney and thoval and even side dish for rice is made using this yummy veggie. My mom used to make chutney using skin of ridge gourd/ Peerkangai / Beerakaya. Try making beerakaya pachadi from my blog and you will thank me for the recipe for sure. But let me warn you, it's super addictive. I usually prepare the pachadi using 3 beerakaya, thinking it will last me for 2 days but trust me it has never lasted after one meal. I keep serving rice until the beerakaya pachadi is over.
 Just serve this beerakaya curry or pachadi with hot white rice. I love adding ghee to it but it's up to you. You won't be needing any vegetable as side. Though this is the main dish, the veggie will serve as side dish. Beerakaya curry is Andhra special recipes. If you like it spicy do not add ghee. I like this with dosa , rice and chapathi also. Beerakaya is available throughout the season, so why not us it atleast once in week. If you are bored of your regular veggies, do give a try for this beerakaya curry. You will love it. Now off to making of Beerakaya curry.
Step by step of making Beerakaya curry or Ridge Gourd curry
Beerakaya Curry (Andhra Recipe)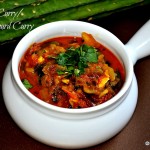 Prep Time : 15 minutes
Cook Time : 15 minutes
Yield :

4 person
Instructions
1. First take ridge gourd cute the ends,then peel the skin with a peeler.  Wash them and chop to small pieces. Now keep it separate.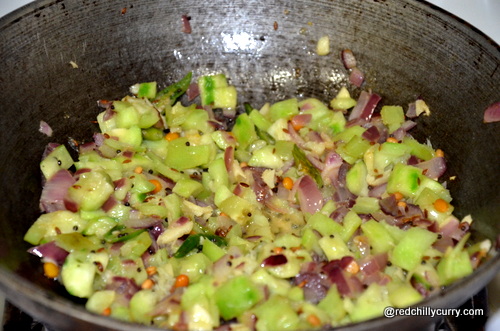 2. In pan do the seasoning mentioned above, to this add onion,garlic and green chillies. Saute them well, then add chopped ridge gourd/beerakai or peerkanga and stir them well for few mins. Then add tomato and stir for another few mins.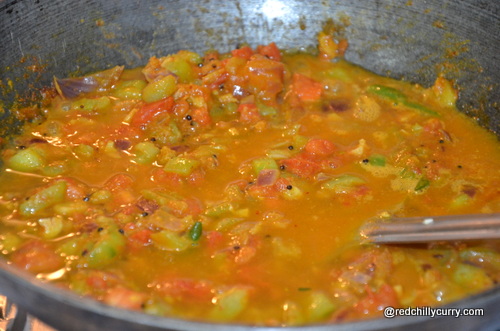 3. Now when they are soft enough add the dry ingredients like turmeric pow,chilly pow,coriander pow,fennel pow and salt. Mix them well. Now add 1/2 glass of water or more and let it cook for 5-7 mins. To this add freshly chopped coriander leaves.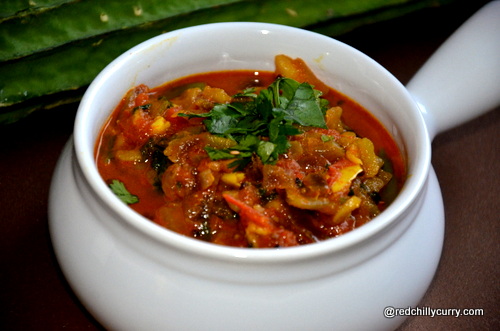 4. Either serve with rice or roti. If serving with roti change the fennel seed powder to garam masala to get some north taste in food. I love it a lot. Enjoy with hot rice or chapathi.
Print