Grilled Corn on the cob  doesn't your mouth water just reading this title??? well my mouth does. There's so much you can do with corn. From breakfast variety to dip to lunch to dinner. Recipes with corn are unlimited and you just have to have some dreamy imagination how all you can mix corn in everything you do.
How to make grilled corn at home easily??
Perfectly grilled Corn can be easy achieved at your own without any problem. Corn is my mom's fav and I remember her eating this full day. I am not exaggerating she will literally keep eating just this corn for whole day. She loves steamed corn the best but I like this grilled version a lot. I love corn in my dip and my daughter Joshu loves corn soup. Well you get my point right?? My whole family is crazy about it. Only place I don't like corn is POPCORN.  Yes your heard it, I hate POPCORN. I am sure you are thinking I am a crazy women to not like popcorn but I don't. Never liked even the smell of it. Imagine my position in theatres. Its soo hard and I always keep my nose covered since I can't bear even the smell of it. Weird right???
Well in India all people love to do is shopping and going to beach. When you think of beach, the first thing that will come to your mind is raw mango(yummy) sliced long and sizzled with chilli powder and salt. Next famous one is grilled corn and I love the way they pour the lemon juice and cover the corn with chilli powder and salt. AWWWW … so yum. My mouth waters just thinking about it. Well it's actually very easy to make it at home. All you need is gas stove and "voila" it will be ready in 3-4 mins. Some people make it on oven too but for people who don't have oven, this is a blessing.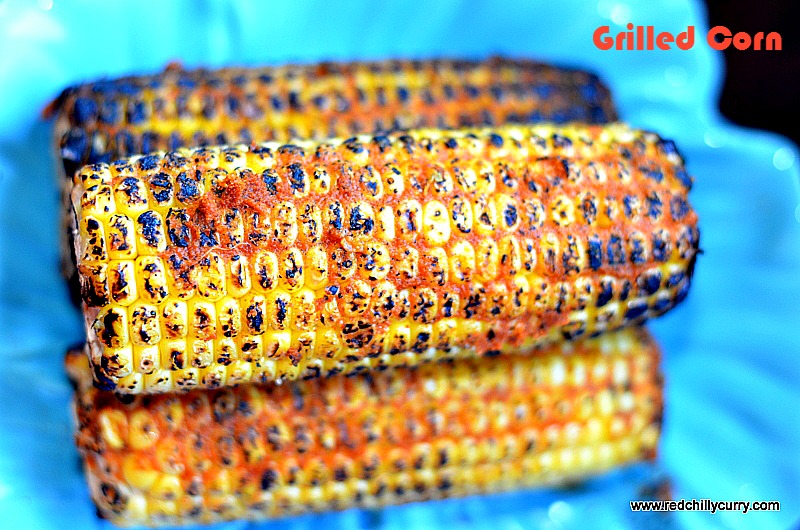 I always think of mom whenever I see corn. She passed away on Jan 1st 2016. God I miss her so much. So whenever I see this corn its holds a very special place in my heart.  Check other corn based recipes in my blog are  corn soup , Corn Chaat , Corn dosa and soon will be posting Masala corn.
Ways to make Grilled Corn
You can either try on the stove straight or you can make it in oven.Take care not to remove the green skin while grilling it on oven. Reason is, it will lose its original taste when the green skin is pelled. You can try making one with skin and one without skin and see the difference.
Other varieties of corn apart from grilled corn-
Check other corn based recipes in my blog are  corn soup , Corn Chaat , Corn dosa and soon will be posting Masala corn.
Now lets see the recipe on how to make grilled corn?
Grilled Corn- Indian Style Roasted Corn on the Cob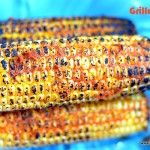 Instructions
Grilled corn is very easy to make and so much fun when it's homemade.
1. Peel the skin of the corn. I didn't want to hold the corn in hand completely so I used  stainless skewers and inserted them at the end of the corn .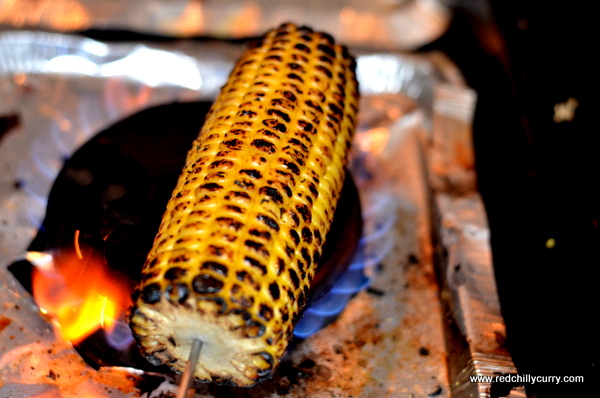 2. Now switch on the stove and show the  corn directly on fire as shown in pic. Keep rotating the corn to all sides, so it doesn't burn on one side . This will take 2-3 mins. Once done, mix chilly powder,salt and chaat masala together in a small bowl and keep separate.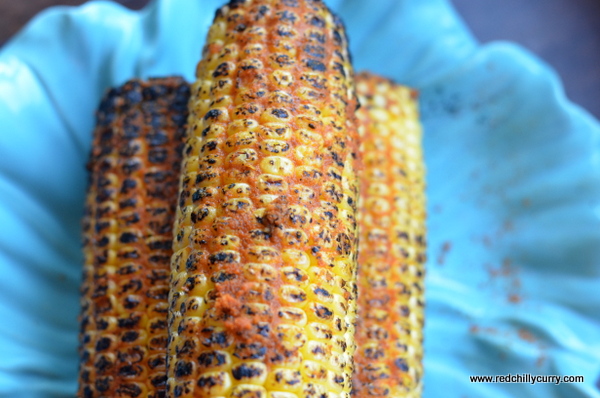 3. Now take the sliced lemon and dip in the spice mix nicely and start spreading directly on corn while it is still hot. Otherwise  just squeeze the lemon juice well coated on hot corn and finally sprinkle the spice on top. Its up to you how you want to do it.
4. Yummy grilled corn on stove is ready to eat.
Print