Pesto Pizza, How to make pesto pizza at home, pesto pizza made from scratch, Pesto pizza recipe
Pesto Pizza is simple to make and its very tasty. All you need is homemade or store bought pesto sauce. I love this pesto pizza a lot then the regular vegetable pizza. The base is so much tastier with pesto sauce than the marinara sauce. It takes only 15 mins to spread the veggies if the base and pesto sauce is ready. You can also minimize the work if you plan to make it quick for your guest either by getting the pizza base or pesto sauce from shop. But there's nothing like a freshly homemade pizza made from scratch. I have Pesto sauce made ready at home. I use it for lot of things and it taste so good on breads when grilling them and I add on veggie omelet and My hubby adds it to egg omelet too. I don't eat non veg but he says it taste so good on egg. Have you tried on Dosa, well it taste so damn good and I will post the recipe very soon. I enjoy this pesto sauce with everything.
Recipes used with pesto are…..Pesto pasta, Pasta Primavera, Pea pesto crostini  this can be  made if pesto is ready in hand. I LOVE the flavor of basil and nuts in them. When applied on any toast or hot bread they melt in your mouth. Never tried on chapathi though hmm… have to experiment on that lets see. Making Pizza at home is super easy when ingredients are followed correctly. I have made  VEGGIE PIZZA at home too. But pesto pizza is more preferred and my daughter loves it a lot. All you need is love for pizza and little patience while making the dough. You can use any veggies of your choice. I add mushroom also to this recipe for my husband, since I don't like it I add more pineapple to my side.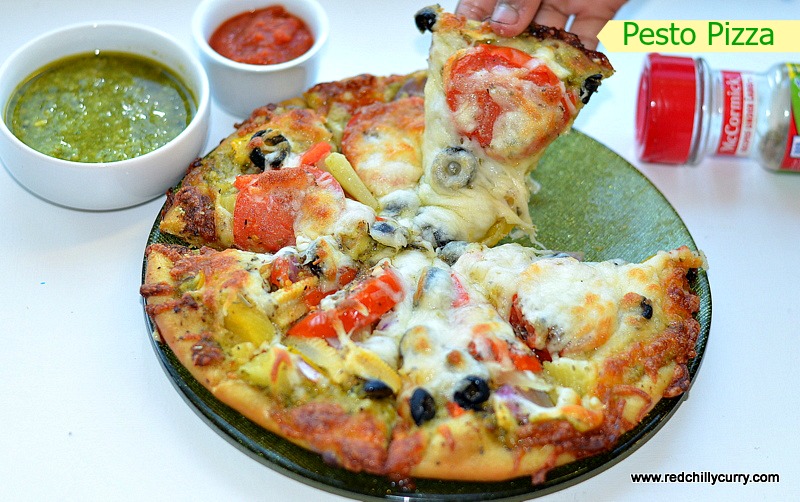 Pizza based recipes are Veggie pizza, Cheese Pizza, Stuffed Capsicum Pizza, Bread pizza Tartlets, Uthappam Sandwich
Now off to step by step making of pesto pizza
Pesto Pizza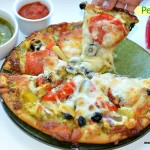 Prep Time : 2 hrs 15 minutes
Cook Time : 15 minutes
Yield :

12 slices of pizza
Instructions
I have used 50-50 of all purpose flour and wheat flour for this pesto pizza. I like how the crust turns out when its used 50:50. Now off to making pizza base....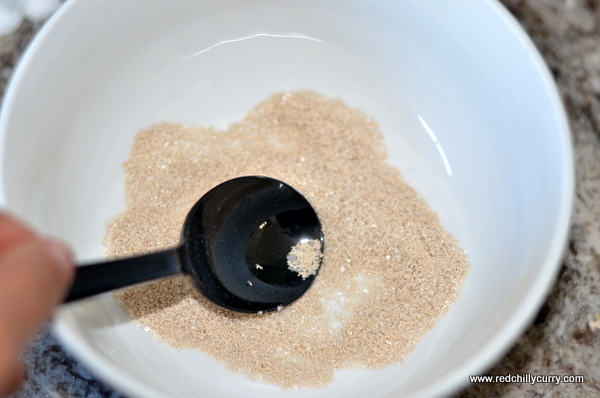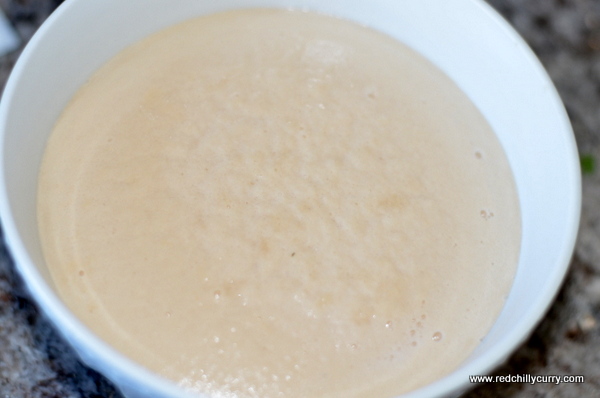 1. In a bowl add 1 cup of water and warm it. When I say lukewarm that means it should be warm but not hot. When you touch your water with your finger, it should be bearable. If its too hot then the yeast wont rise. This step is very important.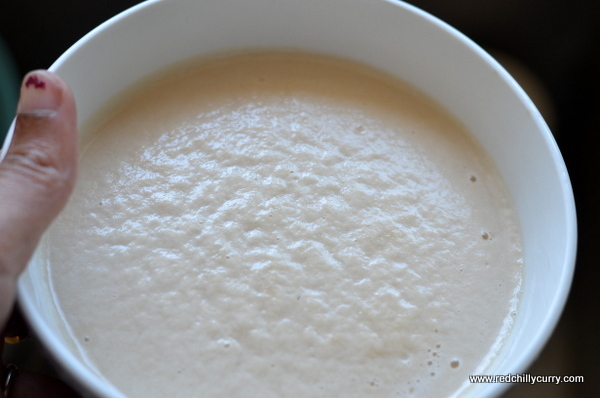 2. Take a small bowl, now add sugar, yeast and mix it well. To this add lukewarm water and mix it again and let it rest for 10-15 mins. It will form bubbles and you will get sour smell and the liquid will look puffed up. (If this stage doesn't happen, then either your yeast has expired or the water is very hot. This step is super important. If it doesn't rise well then you will not get a good crust pizza base)
3. Now take a wide bowl, add wheat and all purpose flour equally in it. Now add 1-1/2 tsp salt, mix it well. To this add olive oil and then pour the puffed yeast water and mix it slowly little by little with dough.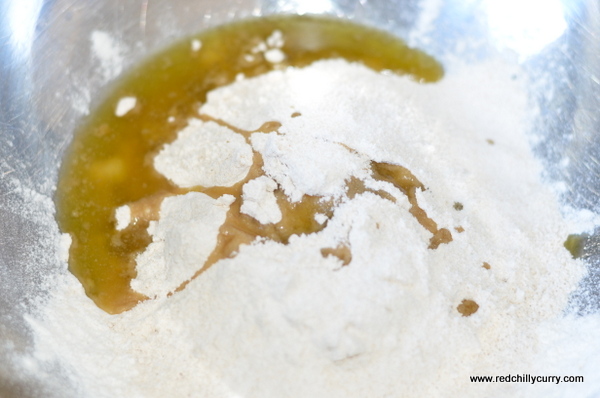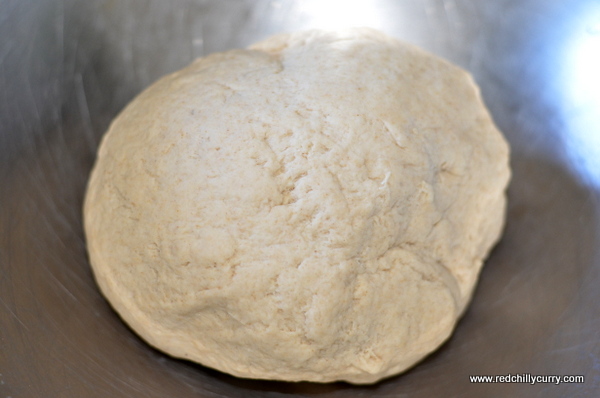 4. You will get a nice elastic kind of dough. Knead it for 10 mins to get a soft dough. .Now coat some olive oil to the pan and place the dough and cover it. Let it sit for 2 hrs. More it rests ,more soft the dough will turn to be. I always make it around 4 in the evening and use it by 7 to make pizza.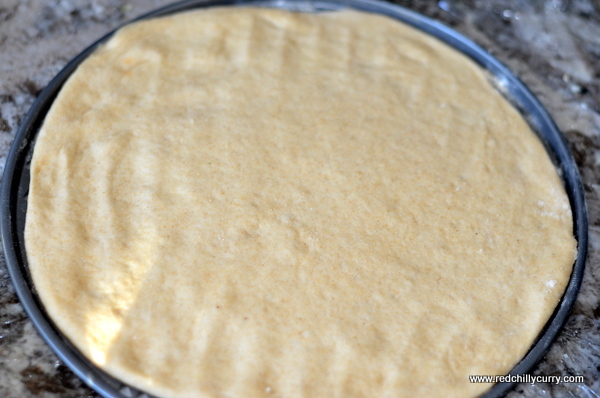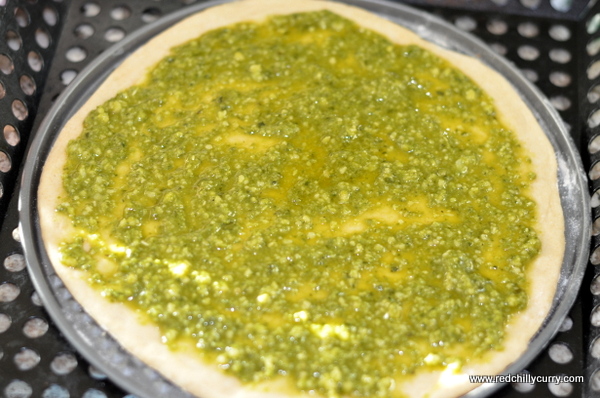 5. When you open it after 2-3 hrs, you will find the dough raised double the size. Beat it well so the bubbles are released. Now start making it round, using a rolling pin. Then add homemade pesto sauce and spread it nicely. If you want to feel just the pesto aroma, just add tomatoes, capsicum and cheese.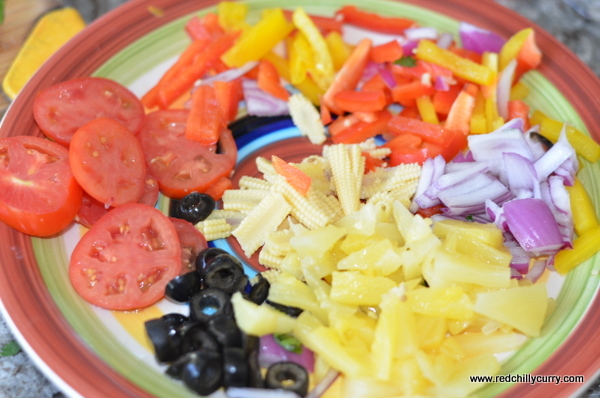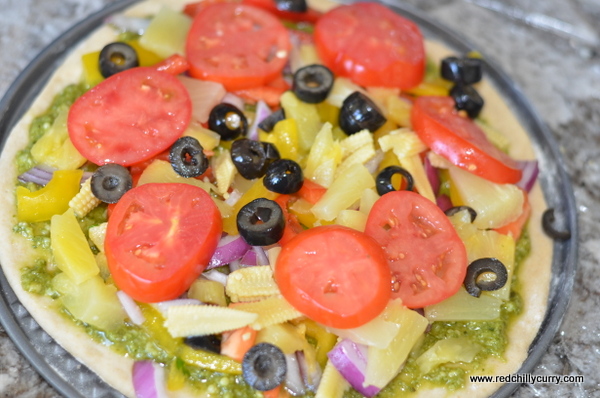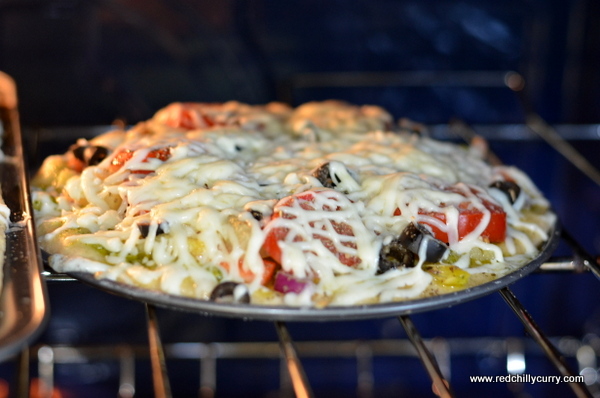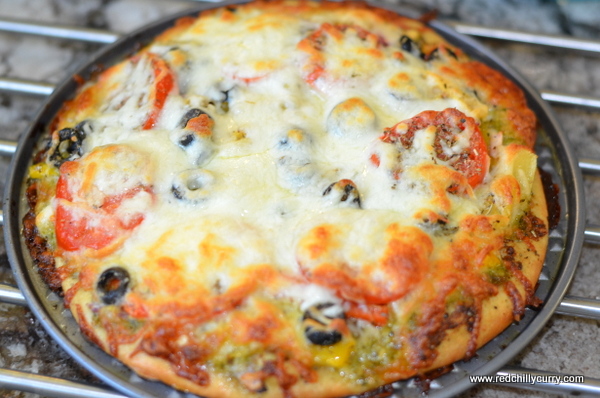 6. If you want more veggies then add all the mentioned veggies on top or any topping to your liking. Then sprinkle Italian seasoning liberally on top. Now add mozzarella cheese and finally sprinkle olive oil on top and its ready to go inside the oven. You can make 3 small sized pizza or 2 medium sized pizza with this dough.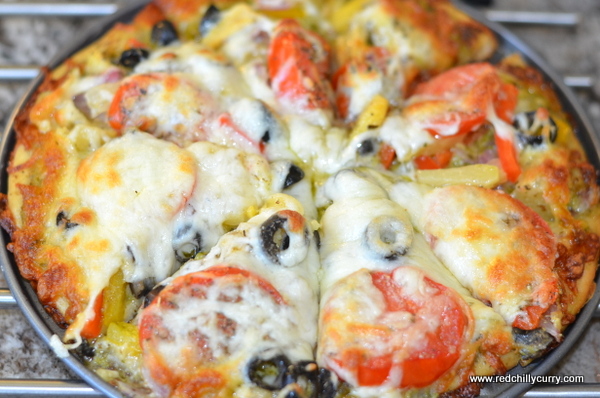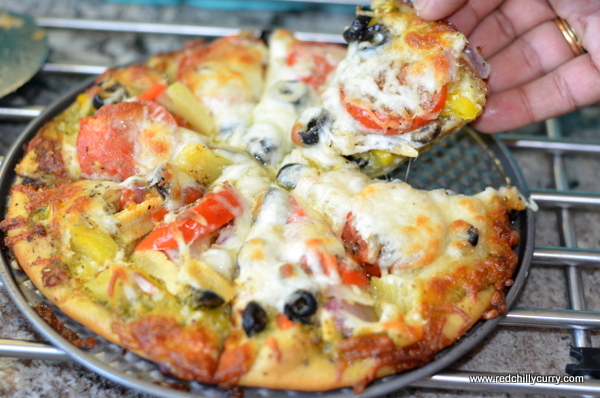 7. Bake at 425 deg F for 15-20 mins or until its little brown on top. Take it from oven and slice them to 6 slices and enjoy the pizza. Pesto pizza is ready to eat. YUMMMM....
Print