Purple Cabbage poriyal | Purple Cabbage recipe | Recipe using Purple cabbage | Indian style Purple cabbage recipe
Purple Cabbage Poriyal is one of the easiest and quickest poriyal to make for your family. I would say it taste so much better than our regular cabbage. I don't make it mushy by stirring for long. I hardly stir for 5 mins and it's done. There won't  be any raw smell and they are so flavourful. I love the crunchy and soft taste. I don't want to kill the nutrients present in this purple cabbage . This purple cabbage is mostly used in salad  and they taste awesome. I have many recipes coming up in future post for now I am posting Indian style purple cabbage poriyal here. This goes so well with lots of our main Kulambu varieties. Click the link to see the recipes.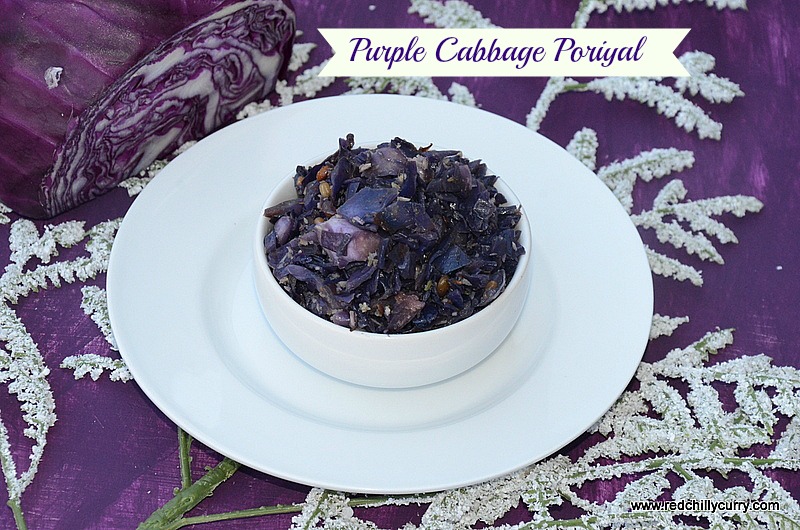 My 8 year old daughter loves this purple cabbage poriyal a lot. First it's very colorful and that's an instant attraction, second she likes that mild crunchy texture when she eats it. I add less spice when I give it to her. I usually add the grounded coconut part last so I can give my 8 year old her own mild flavoured purple cabbage. She doesn't like it with too much spice. So yeah for sure kids will love it too. Kids love anything that's differnt from usual or if it involves variety of colors.  Me and hubby like it with typical Indian blend mix . I love pairing this with Podi Kuzhambu,  Moor Kuzhambu( Buttermilk)Sambar , Rasam( Udipi Rasam) , Andhra Tomato Pappu,

You can make all kinds of recipes using this purple cabbage just like how you make with the regular green cabbage. I have once tried it as chutney too hahahh it did taste so good but the color was def scary so let me save that recipe for  halloween list hahahh.  Also Other varieties of Cabbage recipes are Cabbage fry, Cabbage rice( for lunch Box), Tri color Fry, Cabbage Pakoda. Off to making of Purple cabbage Poriyal recipe.
Step by step of making Indian style purple cabbage poriyal
Purple Cabbage Poriyal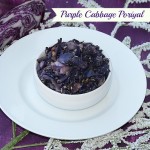 Prep Time : 10 minutes
Cook Time : 5-10 minutes
Yield :

3 person
Instructions
1. Chop Purple Cabbage nicely, wash it well and drain the water completely.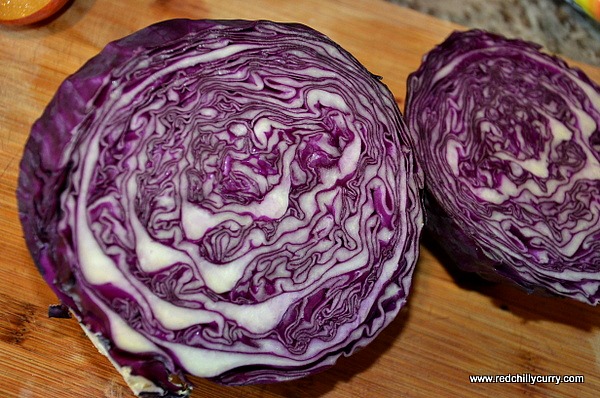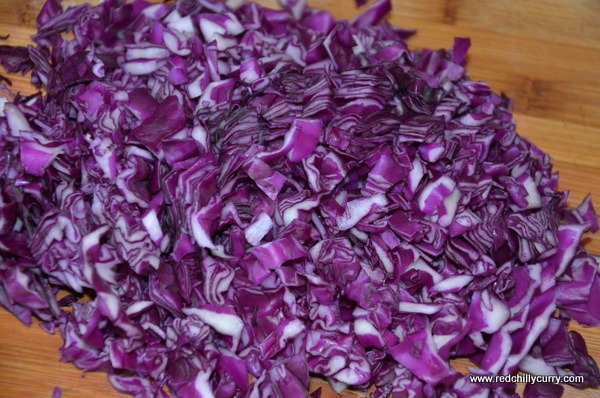 2. Make the coconut masala mentioned above. Grind everything together. nicely without adding water. Keep it separate.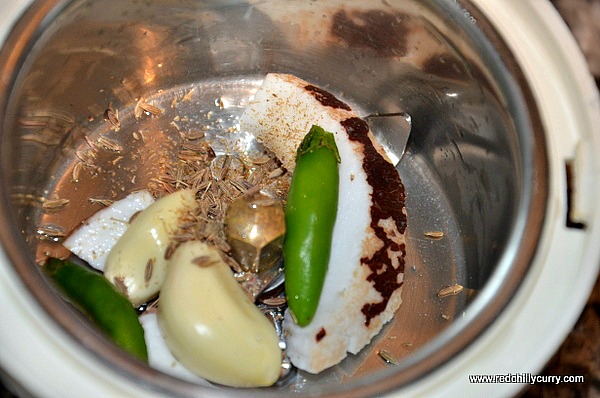 3. In a pan add oil and do the seasoning mentioned above. Now add onion and cabbage together. Stir them for 5 mins. No need to sprinkle extra water since cabbage leaves lots of water. Do not stir more than 5 mins otherwise it will become mushy and soft. Crunchy cabbage taste so much better.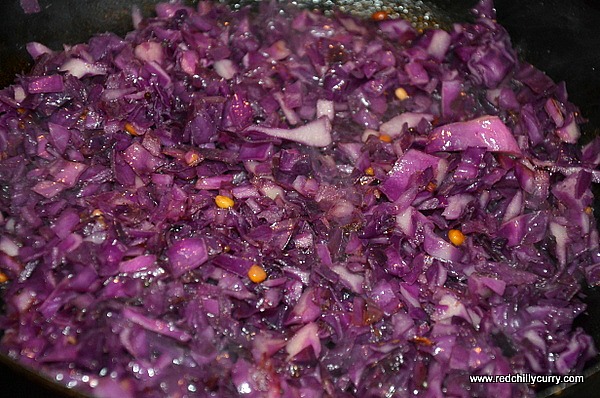 4. Switch off the flame. Now add salt and ground coconut masala and stir it well. Serve with hot white rice and with any South Indian Kuzhambu variety.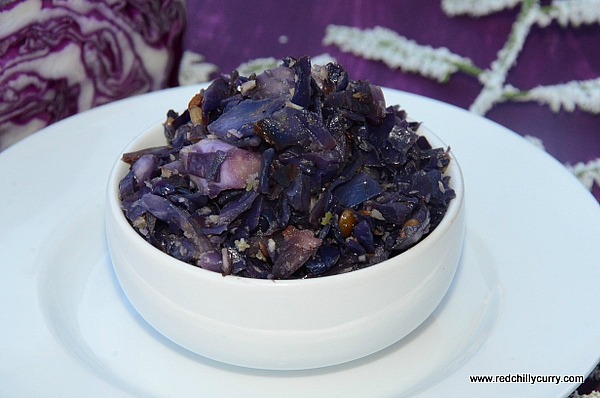 Print