Rava Bread Toast is a tasty and quick breakfast recipe. I like to sleep little longer on saturday and make a quick breakfast instead of spending one hour in the kitchen. Since friday dinners are always heavy in my house. I like it really lite in the morning. We can make so many different stuff with bread and this is one of the easy and my fav recipe to make on weekend. Kids will like it too, if you add little spice on the toast. I know bread recipes are the most easiest and tasty breakfast recipe for work going mom or for bachelor. So why not try different varieties of bread toast ???
Other methods made using breads are French toast, Garlic Toast, Bread Pizza, Bread Upma and few more.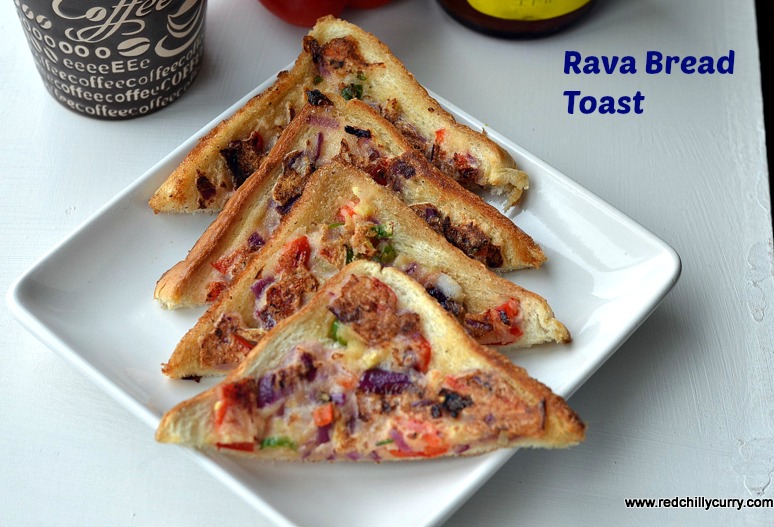 I always have bread packets in stock at my house most of the time . My daughter loves bread toast with jam and I love it with nutella. The thought of nutella spread on my bread makes me crave for more and more slices. Even though Idy, dosa are our traditional food for breakfast, sometimes its nice to eat lite food like bread toast early in the morning. Its good to add multigrain varieties of bread to your breakfast routine, since white bread is not that healthy. This rava bread toast taste good on white and multigrain breads too.
My daughter Joshu doesn't love the multigrain or the wheat bread variety. Since she is still a kid I dont force her to have multigrain. I let her eat white bread since it takes time for kids to develop taste for multigrain. But I would suggest adults having multigrain bread for rava bread toast. In this rava bread toast its very important to add the rava proportion more than the curd otherwise the bread will get soggy and will take a long time to get toasted and it won't be crispy. So always remember the proportion and add accordingly. You can try adding grated carrots or cabbage as per your liking. You can add veggie of any choice or even add paneer for new twist. Now off to rava bread toast.
 Sooji bread toast or rava bread toast recipe below
Rava Bread Toast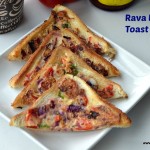 Prep Time : 5 minutes
Cook Time : 10 minutes
Yield :

4 person
Instructions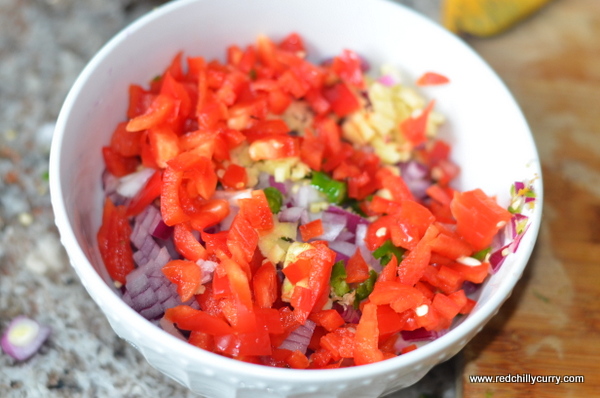 1. First in a bowl gather all the chopped items. To this add salt and mix it well.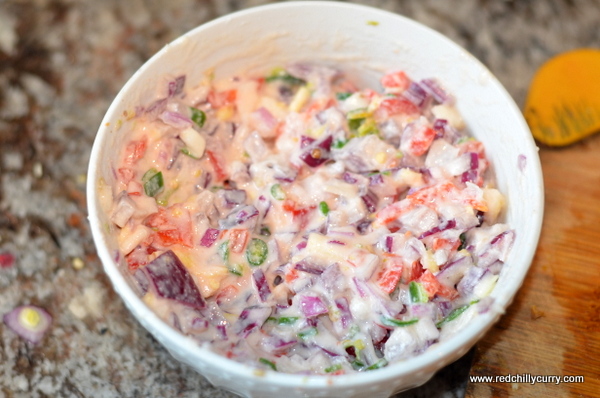 2. Now add sooji/rava & yogurt and mix them well again. Don't  add water. Then bread will becomes soggy. We want crispy toast so use the exact measurement mentioned.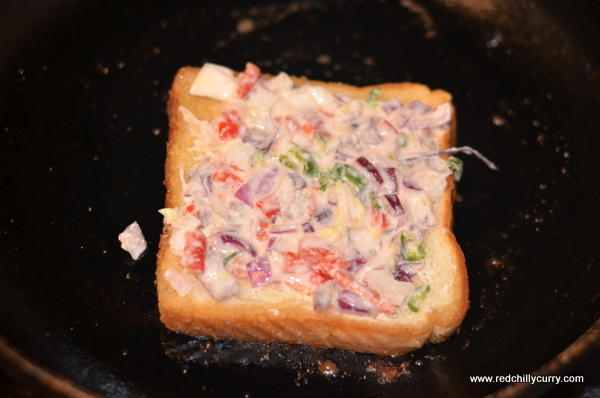 3. Now add some butter to tawa and place the bread and lightly toss the bread to both sides so the butter spreadly mildly on both the sides. Then to one side spread the yogurt mix and flip the spread side below so they get toasted and ad little more butter around the bread to get toast evenly.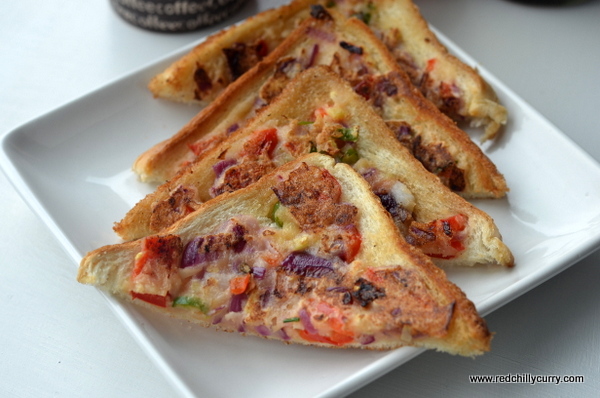 4.  If I am making this toast for my husband I spread the yogurt mix on both sides and I keep the flame on low and let it get toast slowly so they don't get burned. Make sure both the sides are well toasted and crispy. This will take time so you need little patience here.
5. But if I am making for myself I just spread it on one side and let the other side remain plain. Either way they taste very good. I don't want it strong but my hubby likes it strong so both side filled with rava yogurt mix works for him.
6. Adjust the spice as per your requirement. You can add grated veggies if you want to. Easy right??Rave bread toast is ready. Cut them to half and serve it hot with ketchup or just have it plain.
Print