Tomato Chutney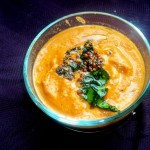 I prepare tomato chutney very frequently I learned this from my mother in law mild punch of ginger adds perk to this chutney.
Prep Time : 10 minutes
Cook Time : 5 minutes
Yield :

2
Instructions
Chop onion,tomatoes,ginger,garlic in to small pieces,heat the kadai/pan & pour some oil fry the dry red chillies first keep it separate.
Now fry onion,tomato,ginger,garlic together till their skin becomes tender &soft,cool them.Blend them all with red chillies that was roasted and kept separate.
Add salt &hing to it and blend them well till they become a paste.pour some water and mix it well.
Now add the seasoning items to the chutney.
Serve this with dosa/idly.
Print