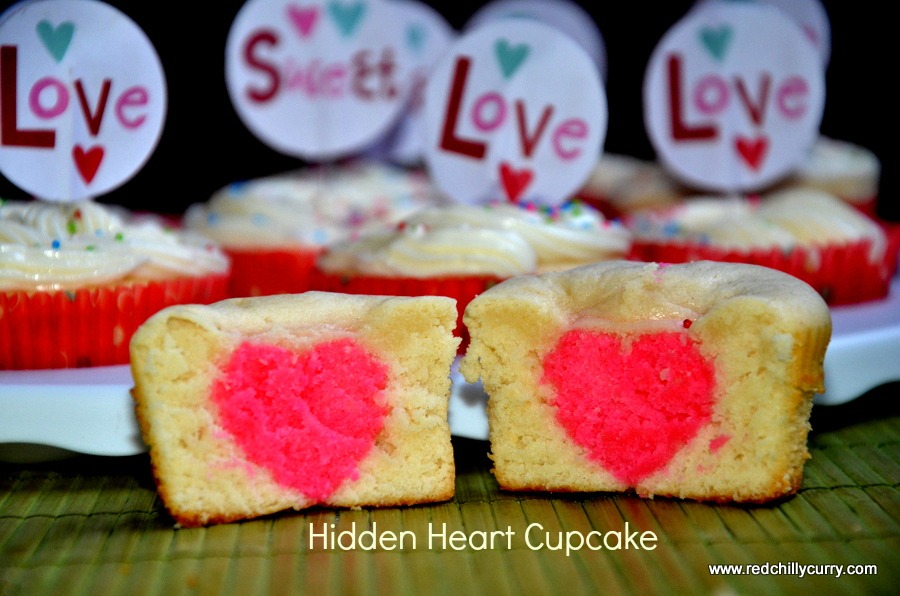 Hidden Heart Cupcake(Valentine Special)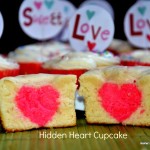 Valentine Day is special for everyone, loved ones express their love on  this day. I find this day very fascinating because even the one who has been hiding the love in their heart for many years get the courage to propose the girl or boy on this particular day. So I thought why not celebrate this hidden heart love with a nice sweet cupcake. Always express your love to everyone. Holding anger inside is fine but never hold the love,its always best when impressed. So here is my love for all my readers who are celebrating valentine day on feb 14th...it need not have one day in a year....if you are happy all days are valentine day only. Love you all very much and a very happy valentine day .
Prep Time : 20 minutes
Cook Time : 1 hr minutes
Yield :

20 cupcake
Instructions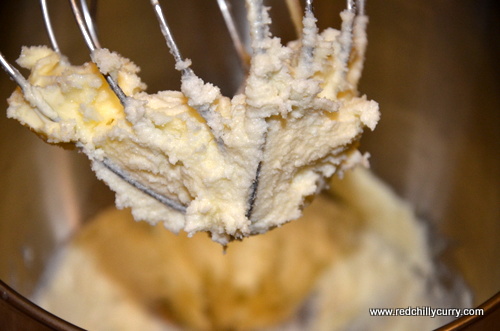 1. In a bowl add softened butter and sugar and whip them soft and fluffy to this add condensed milk and beat for few sec till they are well mixed. To this add baking powder,salt,vanilla essence and whisk for few more mins. To this slowly add the flour little by little and let it blend.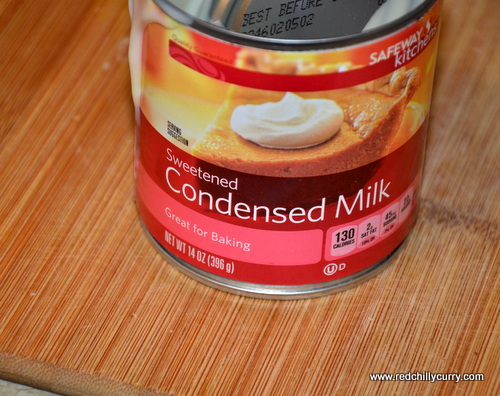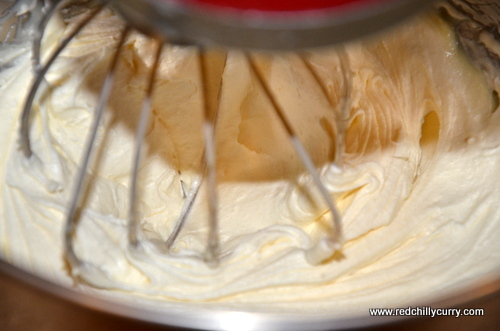 2. Now transfer the mix 60% to another bowl and add food color to the 40% mix. I added pink color since it was valentine day. You can add any color of your choice.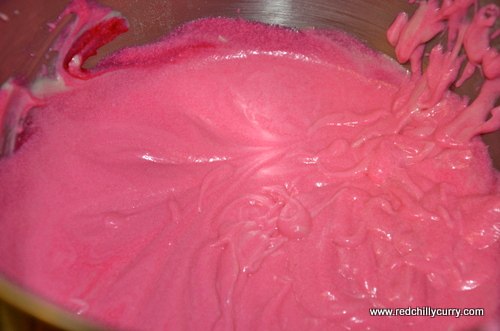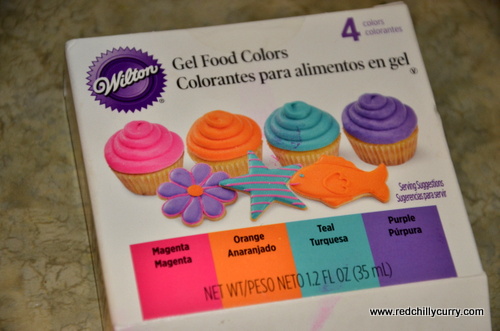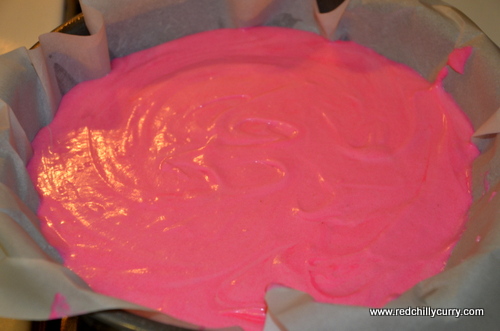 3. Now pre heat oven to 350 deg F and I took cake tin and sprayed with oil. On top of it I placed parchment paper and poured the pink batter mix to this(parchment paper is used so that the bottom part is not burnt)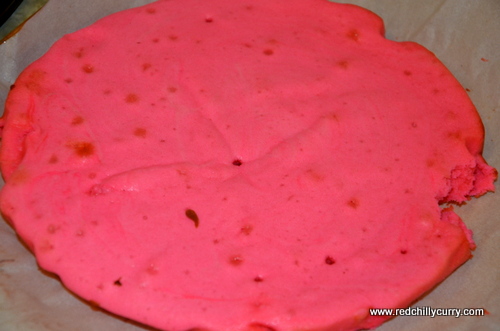 4. Now place it for 20-30 min in oven and bake it. Prick with a stick in center to check if its done. If the stick comes out clean its done perfectly. Then remove from oven and let it cool. Once cooled using cookie cutter(heart shaped) cut the cake and keep it separate.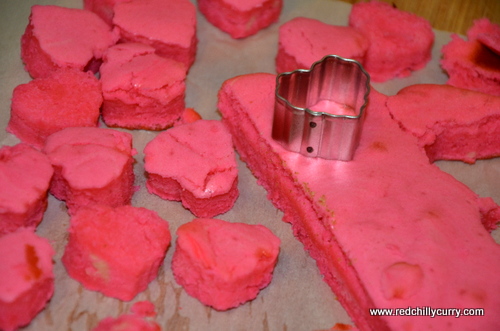 5. With the remaining 60% dough, take cupcake pan and place the liners and spray it little bit with oil and add 2 tsp of dough on each liner, then place the cut heart shape cake pieces in center of the cupcake. Press it till the bottom and cover it up with 3 tsp of batter. Don't over fill it just till the heart is covered.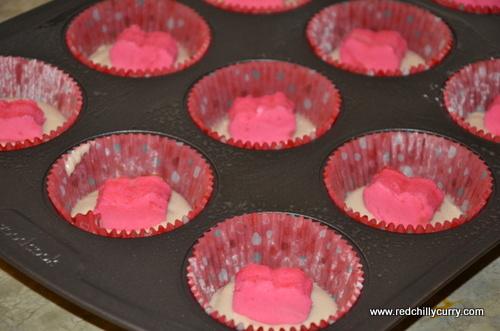 6. Bake it again at 350 deg F for 20-25 min,prick at sides to see if they are well cooked. When done remove from oven and cool it off.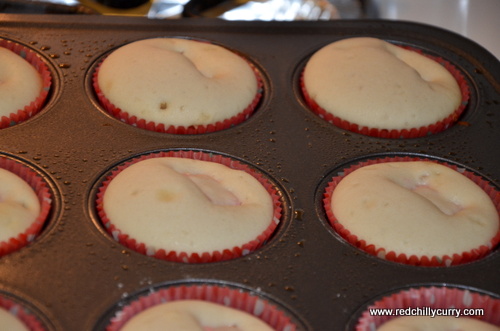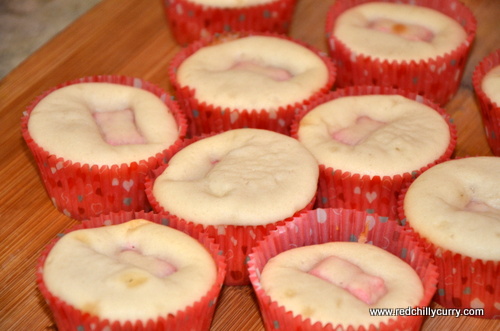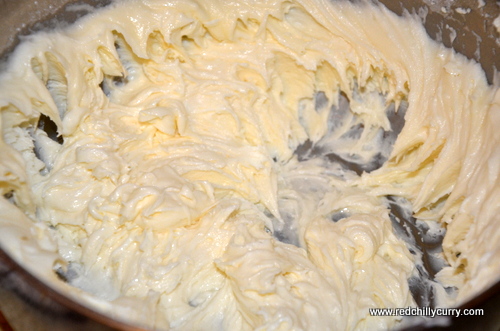 FOR ICING:
1. In a bowl whisk unsalted butter and icing sugar/ Confectioners sugar till smooth. Add vanilla essence and 3 tsp of milk. If the dough is still tight you can add more milk and it should be perfect enough to ice the cake. Using the icing pipe cover up the cupcake and add sprinklers on top of it and serve it to your loved one. To see the hidden heart inside cut the cupcake in center so cute isn't it???? I love valentine day.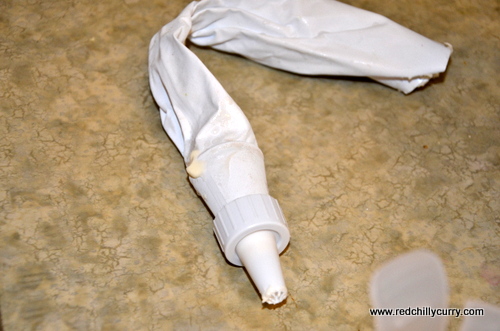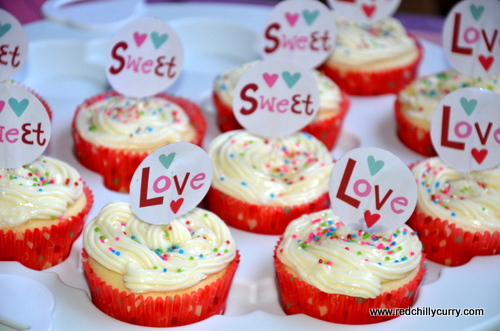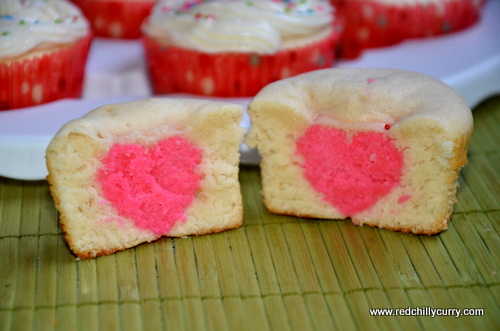 Print