Masala Idli recipe | Spicy Masala Idli Recipe | Masala Tawa Idli recipe | How to make Tawa Idli | Tawa Idly recipe | Spicy Tawa  Idly
Masala Idli or Spicy Masala Tawa Idli can be a very addictive recipe for everyone. Before when I initially started making this like few years before, Masala Idli was always our dinner food but now it's become like a snack food. I always made it when I had leftover Idli , but these days I have started to make a fresh Idli batch and freeze it for sometime and I make it.  Adding lots of flavor is always fun. You can add any ingredients and substitute your veggie according to availability. But I like my masala Idli roadside way so I don't add much veggies, just capsicum and peas to have that crunchy flavour while you take a bite of your Idli.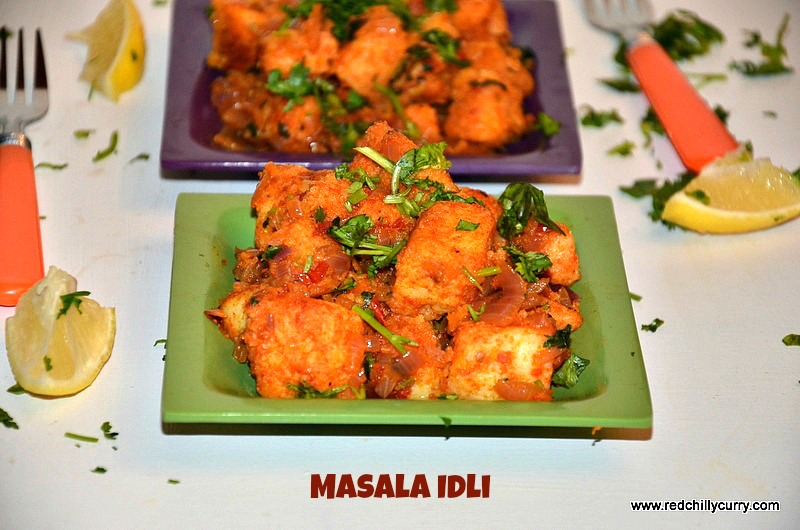 Most of the South Indian houses make Idli very often and it's boring for me to eat the same Idli all the time. Of Course there's yummy Sambar and many Chutney varieties can be paired and enjoyed but they all  take little time. I love fast food kind of dish, like have one main star ingredient and love making recipes around that. For example in this tmasala Idli case the star is "Leftover Idli".  There's lot of variety we can make using Idli. Few of them are Idli Manchurian, Idli upma, Kaima Idli, I love all of them. But this masala Idli has become like our main food to snacking food. I can quickly make this when I crave for something spicy or heavy during my Tea time . Its super simple and very tasty. I sometimes make this a bit different adding few veggies, it depends on my mood but if you are a street food lover then stick with the recipes mentioned above Because that's how they make it yumm on the popular street. There are so many varieties even in Masala idli, in south it's made with southern spices. I called it kaima Idli. I have the recipes you can check it out. Now off to making Masala Idli.
Step by step of making Masala Idli
Masala Idli Recipe | Spicy Masala Idli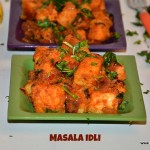 Prep Time : 20 minutes
Cook Time : 10 minutes
Yield :

2 person
Instructions
1. For this recipe we need to use the leftover Idli, if you want to make this dish using fresh Idli then make it and leave it in fridge for 30 mins before adding this to masala. Leftover Idli will be firm and won't get soggy while adding to masala. But if you feel like trying using fresh batch Idli,then cool them down and store in fridge for 30 mins. Then chop to small pieces.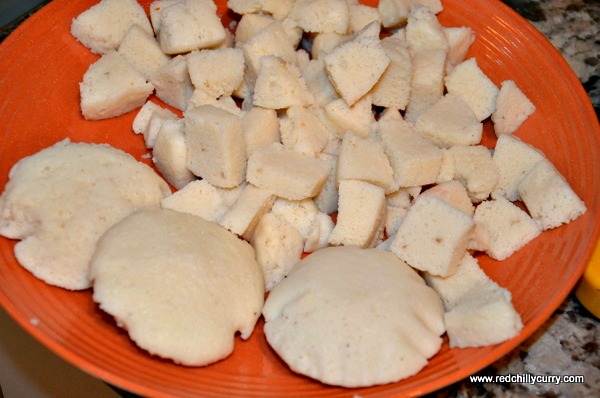 2. Now take a pan, heat it and add some oil. To this do the seasoning mentioned above. Then add onion, saute until it gets translucent. To this add ginger and saute for few mins. Then add the veggies like capsicum and peas. Once they get cooked half way add tomatoes. Let it become pulpy then add the masalas mentioned like turmeric powder, chilly powder and pav  bhaji masala . To this add 1/4 cup of water and let it cook nicely.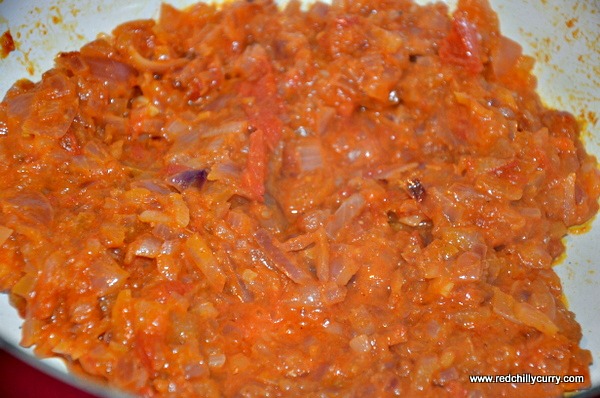 3. Now add salt, to this add chopped idli and blend it nicely . Let it get coated. Switch off the flame. Now add lemon juice and garnish with coriander leaves and stir it just once so everything is coated nicely . Serve it hot as evening tea time snack or if serving for breakfast or dinner, serve with coconut chutney. Yummy tasty masala Idli is ready to enjoy.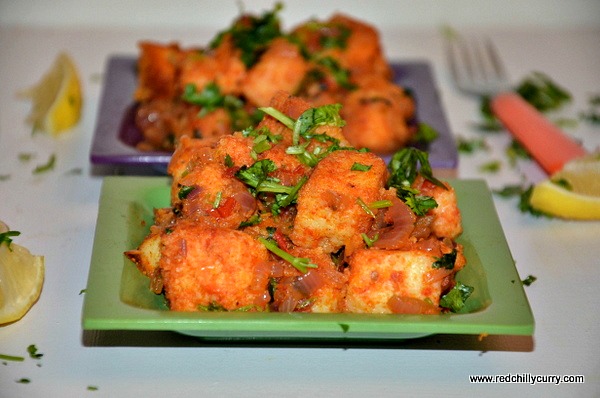 Print