How to make soft Idli batter at home/ Idli Recipe/ Dosa batter recipe
Idli is one of the most important breakfast recipe for South Indians. Its a every day to day food enjoyed from infants to adults. Idli is the most favorite dish for everyone and its very simple to make soft Idli at home if you follow the grinding process correctly. Important points to remember when you grind the Idli is the measurement, and each region Idly comes in different texture depending on the quality of urad dal,rice and also water.  All these plays a very important role. The recipe that I have shared with you below will def give you softer Idli and will be able to make crispy dosa batter  . If you had any problem or if  you have any doubt then you can mail me or leave a comment below and I will def help you out with the process and make sure you enjoy the soft Idli at home.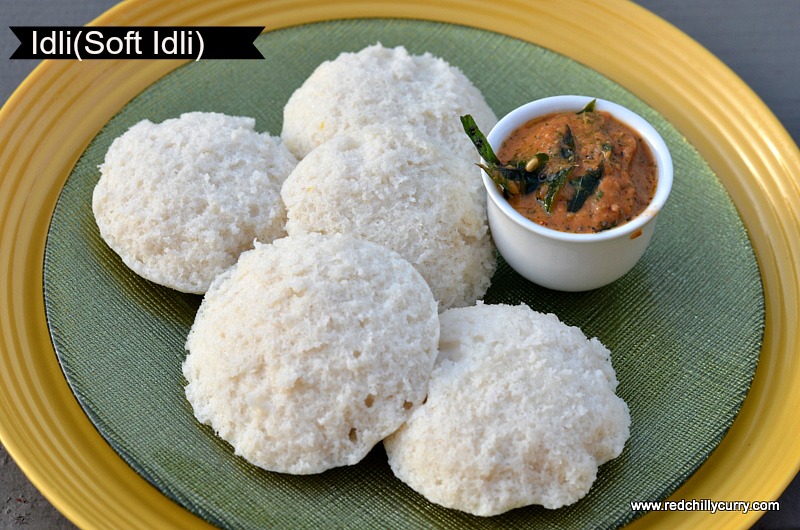 Make sure you are using the whole urad dal while making this process. Early days my grandma and my mother in law used to soak whole urad dal with skin to make a soft Idli. But now no need of doing all that. It's very time consuming to remove the skin and then wash and do the process. Without the skin you can make good soft Idli easily now. I learned from my mom few simple techniques before I got married and from then I was able to make soft Idli and golden brown crispy dosa. Its  not at all difficult. It takes practice and you will learn to master it in no time. I will write down the reason for getting flat or hard Idli, and what all you should avoid while making Idly batter .
If you are a beginner and assume you got the Idli hard or flat then don't worry probably your dosa will come out fine, may be urad dal was more or it didn't fluff up right or may be you had grinded urad dal for long time or you must have poured lot of water for urad dal dough. Whatever  it is. I will help you out with all the mistakes you could possibly make. Hey !!! I was a leaner too in the beginning and I had def learned what all shouldn't do. I wish someone given me tips and I would have mastered it sooner. It took me 3 months to figure out what all mistakes I did. Like I said if you got hard or flat idli, its okay don't throw them . Make interesting recipes like Idli Upma, Idli manchurian, Kaima Idli and many more.
 Step by step of making soft Idli recipe
Idli Recipe (How To Make Soft Idli )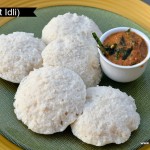 Prep Time : 8-10 hr minutes
Cook Time : 10 minutes
Instructions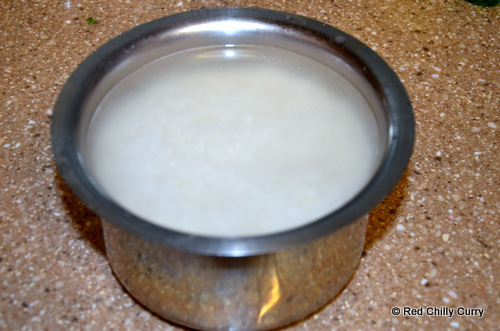 1. Measure Urad dal and Idli Rice correctly and keep them separately in 2 big bowls. Add fenugreek seeds to whole urad dal while soaking. Wash them well and let it soak in water for 3- 4 hrs. Urad dal doesn't need 3 hrs of soaking just 1 hr is good but I just soak both at same time. I usually soak them in the morning around 7AM and grind them at 10 Am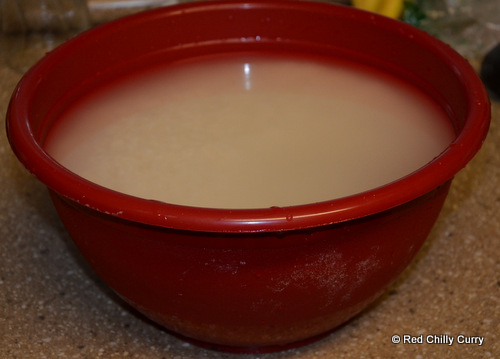 2.  Grind whole urad dal first. Do not add all the water at the same time. Keep adding water little by little so you can get a nice soft fluffy white urad dal batter.(My mom used to store 2 glass of water in fridge and use to add that cold water to grind urad dal. She said that it will always give fluffy urad batter. While grinding urad batter, the machine always get little hot and this also is one of the reason for urad batter to lose it's fluffiness and heat is a def a villain for our soft batter. She always used chill water to get good urad batter. If you want you can try this method too. She makes amazing soft Idli batter)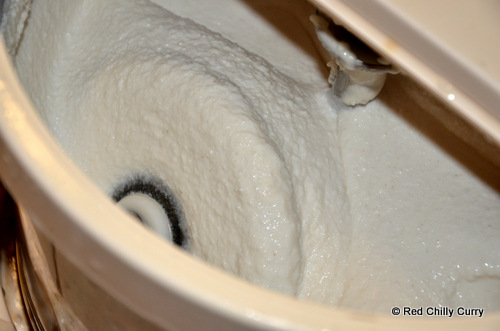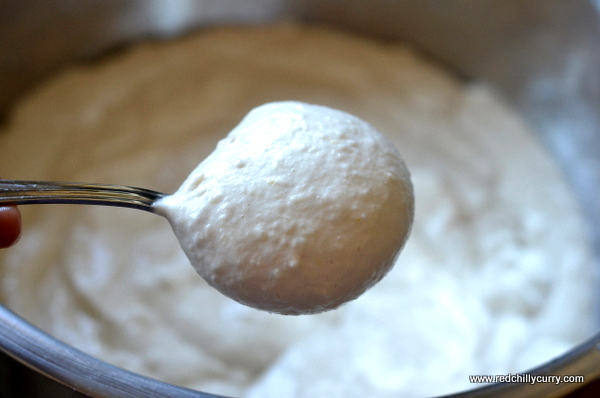 3. Now first grind the whole urad dal nicely(fluffy)for 25-30 min. You will see that urad dal has turned in to nice white color and they are twice the size in quantity. (Totally for 1 glass urad dal I add 2 glass of water or more, it depends on the urad dal though)  When you touch the batter it will be super fluffy , that means urad dal batter is ready. Remove from grinder and store it in  a big stainless bowl.
4. Now in the grinder add the soaked rice and let it grind for 30 mins till the rice grains are smoothly blended. Just like how we did for urad dal, add water little by little  . Remember the rice consistency must be smooth and little coarse not too watery. I always add salt at this time and let it grind quickly for 2 min and I remove it. You can skip the salt adding part if you want and add it at the last step . Now transfer the rice batter to another bowl and see the measurement. Both the urad dal and rice batter will be equal in height. This means you know for sure the Idli will turn out soft and you have passed your exam scoring 70% hahahahhaha.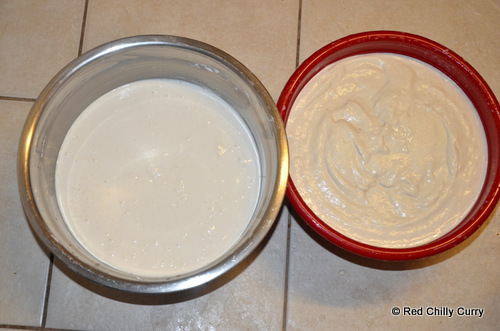 5. Now store in a container where it will be allowed to rise twice the amount from the original batter size. I usually let it ferment for 10-12 hrs in a warm place and use it in the morning.  Do not fill the bowl completely with batter . Give space to ferment.  Next day you will notice that the dough has raised NICELY and a sour smell comes out of it.(If you did not add salt earlier, then this the right time to add)
6. Now mix them well with a round ladle . To make Idly , take the Idli maker and add 2 glass of water and let it cook. I use the idly maker that uses cloth. There is another idly maker that uses oil to rub. Use it according to the instruction given. For people who use cloth, read further.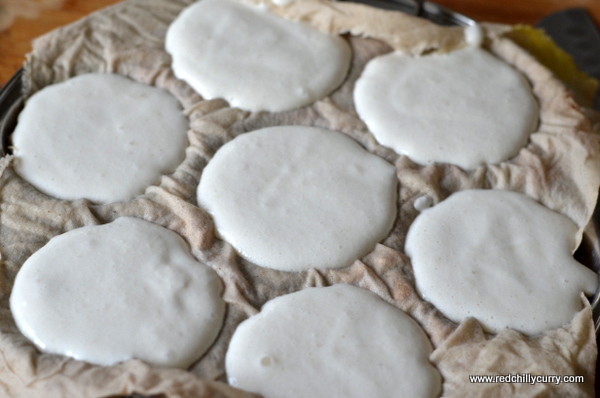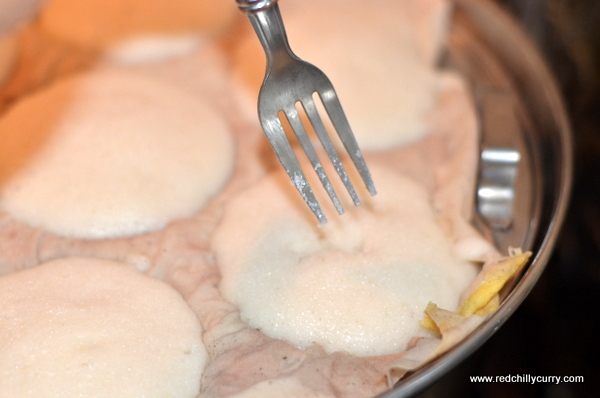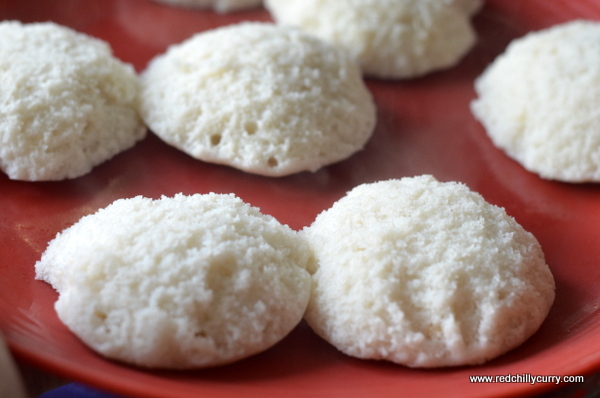 7. Take 2 cloth and wet them in water and place it on the idly maker vessel. Spread the cloth well and pour one full batter in a ladle and let it sit for a minute. Repeat the same process for the next idly mold plate. Now Place it inside the idly maker and steam them closing the lid ,it will take 8-10 mins to get steamed. To know if idly is cooked or not test by pricking the idly with a pricker in center after 8 mins(I use fork)If the fork comes out clean while poking in center then idly is cooked . If dough sticks to fork then it needs to be steamed for few more mins.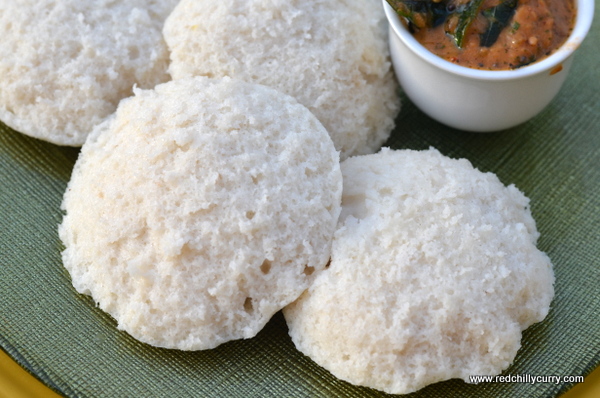 8. Once Done, remove the idly by turning to other side, sprinkle some water on cloth and remove the idly without sticking. Serve this hot idly with sambar and podi or chutney.I use the same dough to make dosa and uthappam.I will dilute it with more water for making dosa and yummy crispy dosa will be ready in no time.
9. I have served the idly with tomato chutney and dipped in yellu podi(sesame)
IMPORTANT POINT TO REMEMBER:
Never pour all the water at same time while grinding urad dal or Idli rice. Adding at slow interval will give fluffy batter and soft idli.
Do not grind the urad dal for long, too much grinding will not help in rising urad batter,obviously will end up getting hard or flat Idli.
Try adding cold water while grinding urad batter to get fluffy batter.
Print