Bread uthapam, how to make bread uttapam, Instant bread dosa recipe, kids lunch box recipes
Bread Uthapam is super easy to make and all age group of people will love it. Hubby always end up getting 2 big packets of bread. So 1 packet I use for sandwich, bread upma or emergency toast for kids. The other packet I end up using for snacks like bread roll, bread pizza or rava toast. With bread you can end up making unlimited stuff. I can survive with just bread and come up with lots  0f varieties. I love using bread in lot of dish. Its very simple to make and I love experimenting with bread.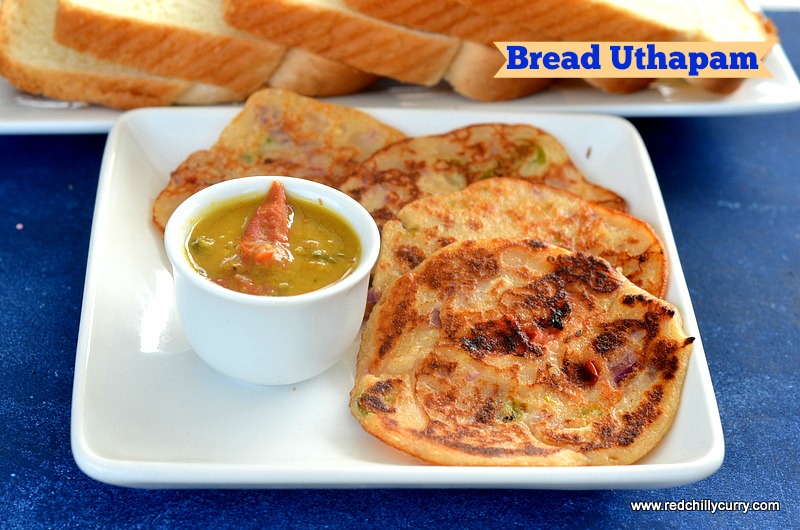 Uthapam or Uttapam is enjoyed by all south Indians and we need dosa/ Idly batter to make this uthapam. Say we don't have dosa dough at home and if you have sudden craving for uthapam, then this bread uthapam comes handy. Taste wise also its very good. I like to make this when I feel lazy. Best for kids lunch box . You can add any veggie of your choice for this uthapam. I add grated carrots, beetroot, cabbage or cheese or small onion & tomato. It depends on my mood that day. Spread sweet corn and cheese and serve it to kids they will love it.
I have so many recipes using bread check…. …Mini Uthapam,  Bread bajji/ Bread Pakoda ,  Bread French Toast(Eggless),  Rava Bread Toast , Garlic Bread, Bread Upma,
If you want to make anything quick in your kitchen, then this bread uthapam is the best option. I make it on weekends when I feel lazy. My family and friends enjoy this uthapam . I like to add lots of veggie to my uthapam. More filling more flavors. You can make mimi uthapam and sere for kids. Try adding cheese since kids love it. I add some corn and few green peas to make it colorful for kids. Okay now off to enjoy making bread uthapam.
Step by step making of Bread Uthapam Recipe
Bread Uthapam (Instant Bread Dosa)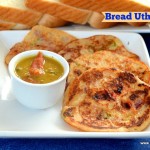 Prep Time : 10 minutes
Cook Time : 10 minutes
Yield :

5-6 uthapam
Instructions
1. In a blender add bread slices, tear them using your hands. Now add rava/ Sooji, then rice flour , yogurt and salt. Blend everything to smooth consistency.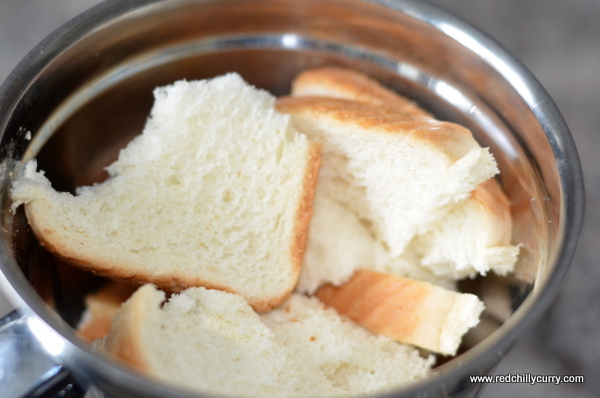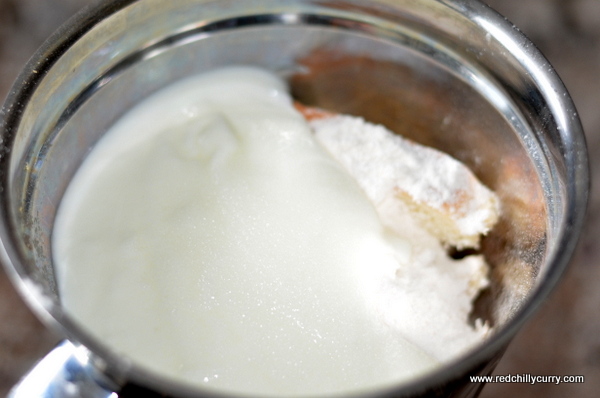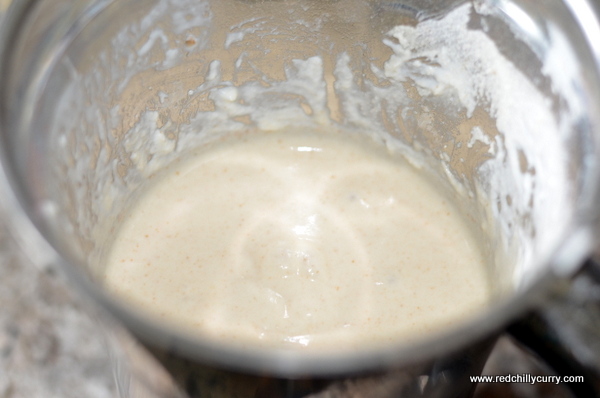 2. Transfer them all in to a bowl. Add little water and make it like dosa dough consistency.
3. To this add onion,tomatoes, ginger,green chilies, capsicum and mix everything together.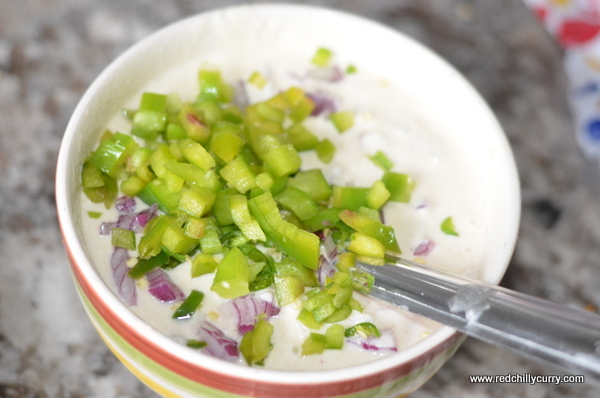 4. Heat pan and once its hot enough, keep the flame low. Now add the batter and spread it to uthapam thickness. Pour oil around the batter. Now increase the flame to medium(do not keep in high flame otherwise the dosa base will get black ) Let it cook for sometime. Once its golden brown flip to other side and once its crispy enough remove from flame. (I have made regular size  and mini uthapam size dosa in the pic)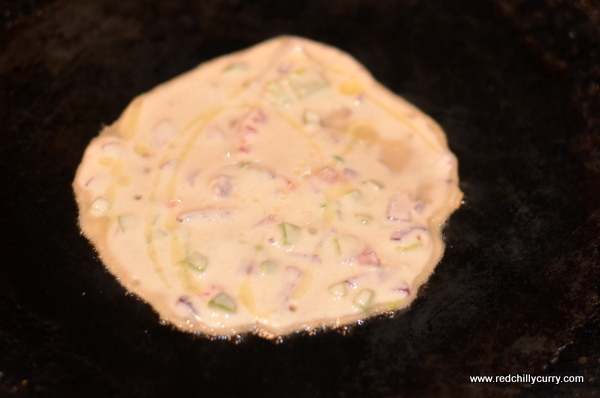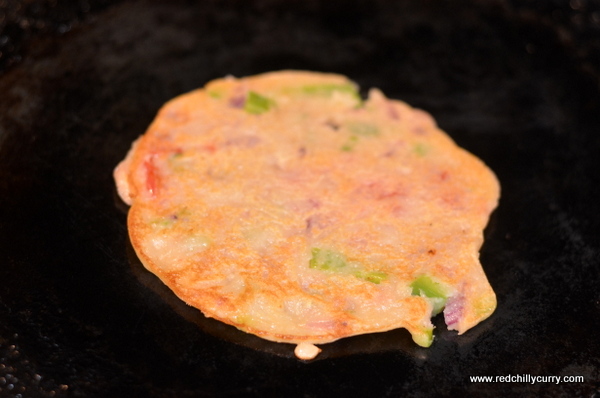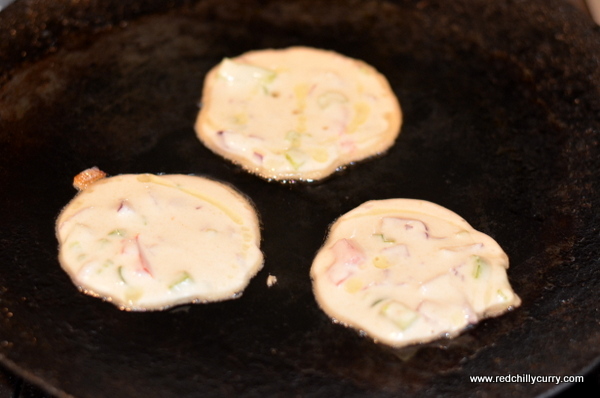 5. Repeat the process and enjoy the yummy instant bread uthapam for breakfast or dinner. Serve it with sambar or coconut chutney of your choice. This quantity gives 5-6 uthapam so increase the quantity if you are making more bread uthapam.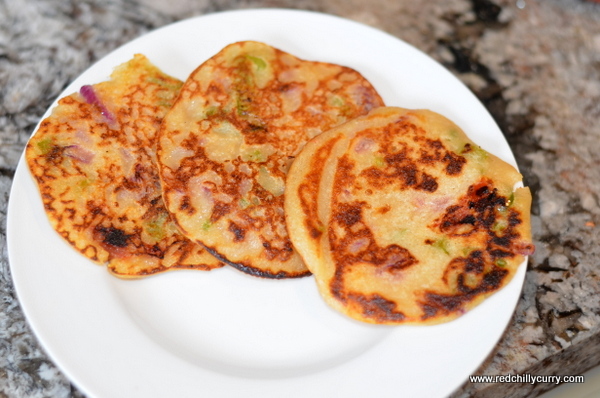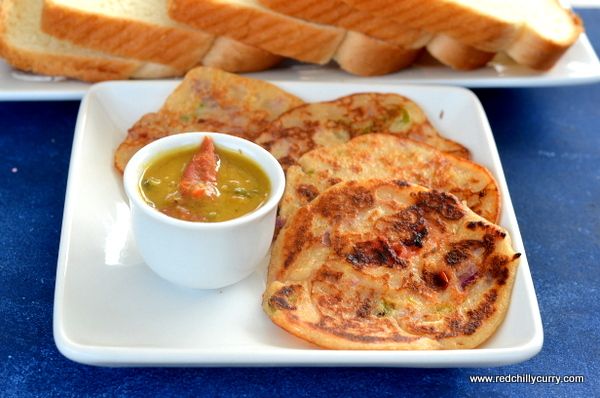 Print