Rabri recipe | How to make Rabri recipe | Indian sweet rabri | Indian easy sweet recipe | Malai recipe
Rabri is a very well known and rich thick sweetened milk usually made as a base for lots of Indian sweets. I can just finish it off my eating it in a small bowl just like that. Rabri is  usually paired with Rasmalai, Shahi Tukda, Malpua , Basundi , Kulfi and many more recipes. You can even add it on top of Gulab Jamun. Its very easy to make and taste very good. Smooth, sweet, rich and very tasty. It's made using whole milk and stirred it saffron, elaichi (Cardamom) and lots of nuts. I love the smell of saffron in this and they are stirred for nearly 15-20 mins until the milk gets thickened. Either you can just thicken the milk by keeping it low and make it half or you can add condensed milk and make this stirring process quicker. Some people add mawa or milk powder to give that nice crumbling taste but I like to keep it simple and unique.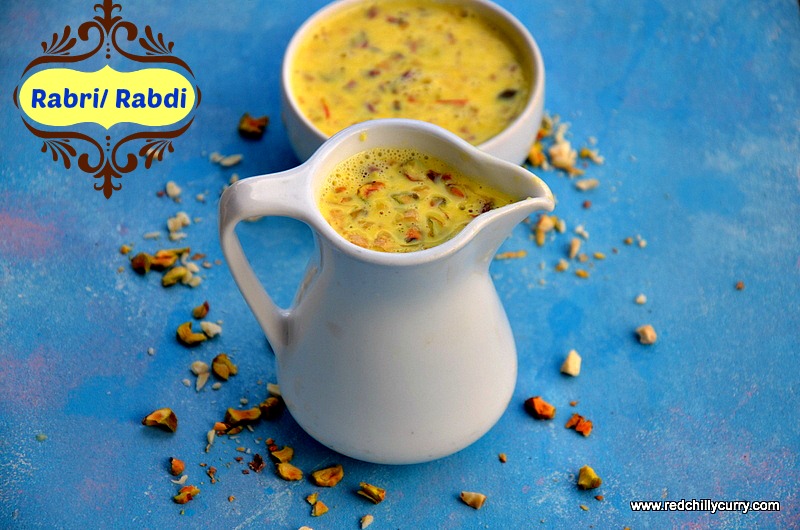 It's not time consuming but it has to be made in a thick wide bowl so that the bottom doesn't get burned easily. The flame should always be low so it will take sometime to get the required consistency but if you increase the flame then it will get burnt easily . Adding to much of condensed milk may sweeten the rabri a lot , so if you carefully follow the recipe is really very simple and stress free. The main reason for me to love Rasmalai is because of this rabri. This rabri is very popular in India and Pakistan based sweets. I haven't made lots of recipe using rabri but will load them soon in my space. Now off to making of rabri.
Step by step of making rabri recipe
Rabri Recipe (Using Condensed Milk)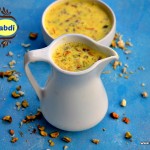 Prep Time : 20 minutes
Cook Time : 10 minutes
Yield :

2 cup
Instructions
1. Take a heavy bottomed pan, this helps with avoiding pan burn. Always use either a non stick or heavy bottomed pan while making any milk based sweets.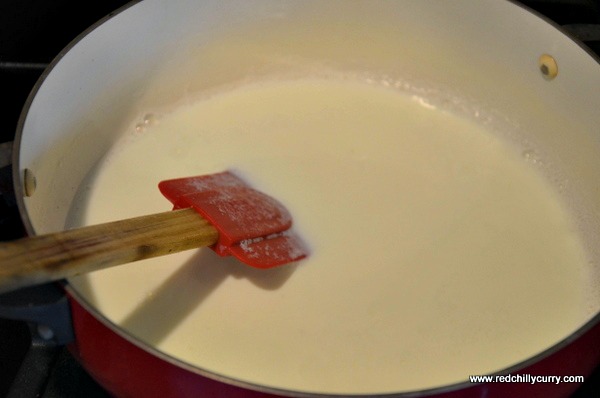 2. Pour 4 cup of thick milk and let it boil and reduce half its size. It will be thick like cream. This stage will take 20 mins. Now to this add condensed milk and keep stirring now and then, otherwise the pan might get burnt at the bottom. Do not add more condensed milk than mentioned, otherwise it will be very sweet. Check the sweet and add sugar if needed at the end.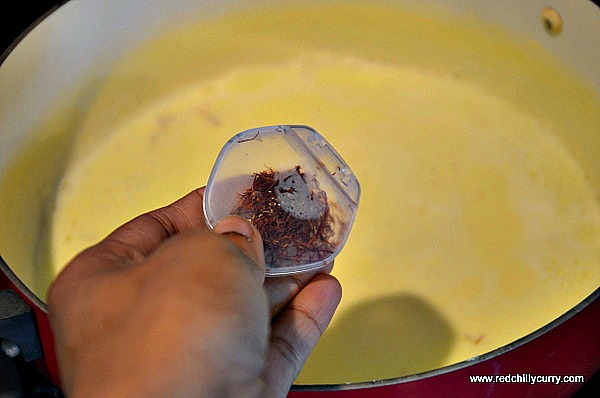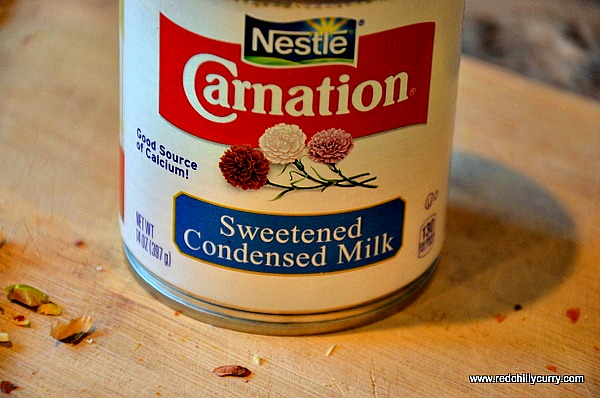 3. Now add Saffron, stir the milk. It will change into mild yellow color and you can smell the aroma. At this stage add elachi powder and all the nuts and keep stirring for 3 more mins. I don't like it too thick. I like it semi thick, stop according to the texture you need.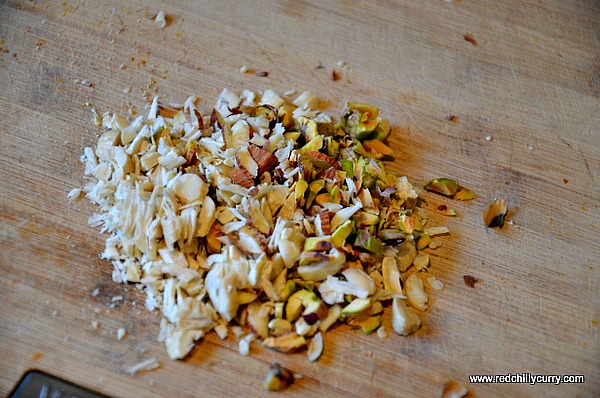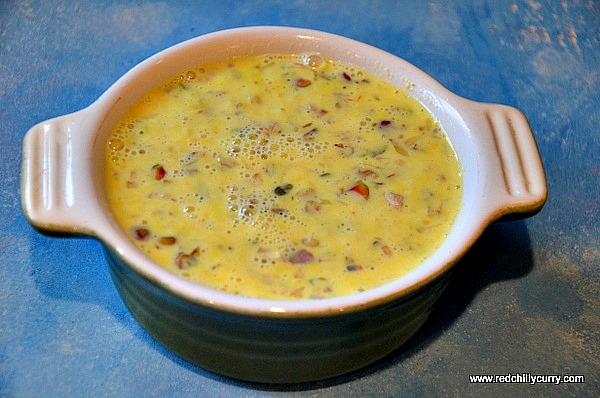 4. Let it cool. Serve it warm or refrigerate and serve it chilled. This base is used to prepare sweets like Rasmalai, Malpua, Shahi Tukda, Basundhi and Kulfi. I love having this rabri just plain. Its super rich and very tasty.
Print