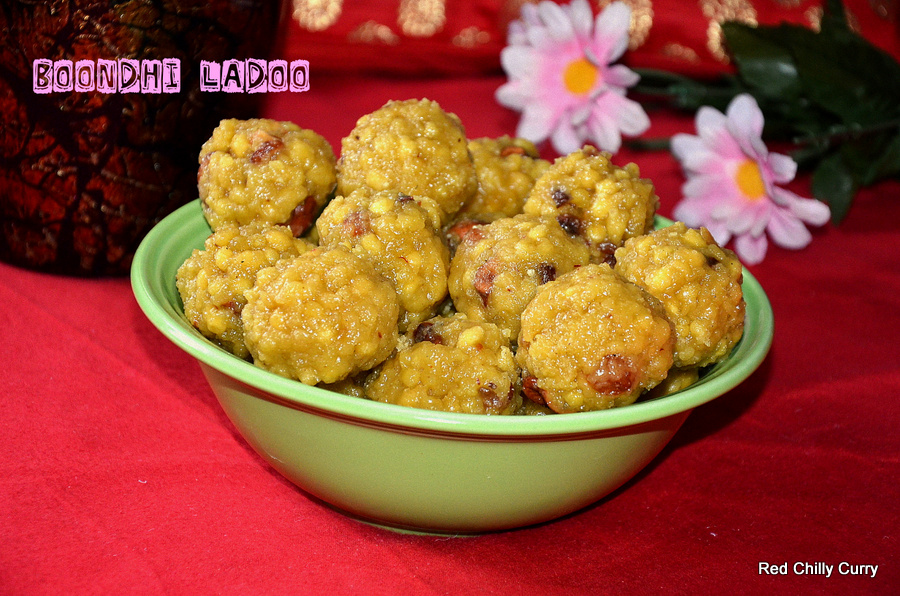 Sweet Boondhi/Boondhi Ladoo-Diwali Special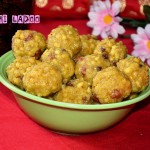 When I think of sweet Boondhi/Boondhi ladoo I can only think of "Thirupathi",they stand in such a long queue for that prasad. I know everyone loves sweet Ladoo and till last week I always thought it was a big process but then I wanted to surprise by family my doing all kind of sweet this year. So I called my mom and asked her how to make it and I was totally surprised when she told me the procedure, it was so simple. So I thought I can definitely get it right and I made it immediately and hurray!!!!!! it tasted so good and was super tasty.
I was skeptical about the round shape but they came out well too and it was perfect when I took my first bite. I was really amazed about their outcome okay okay enough of my story now lets go back to making this yummy and all time favorite ladoo.
Prep Time : 10 minutes
Cook Time : 30 minutes
Yield :

4
Instructions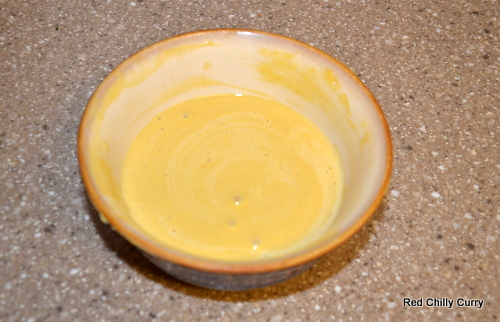 1. Dilute besan flour and rice flour together and make a fine paste by adding 1/2 glass of glass initially. Dough consistency must be like dosa dough not too thick or too thin. Then leave it for sometime.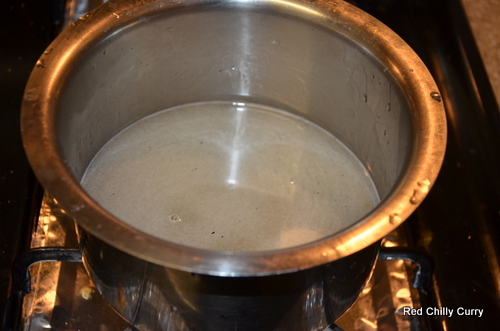 2. Now in a wide bowl add 1 cup water for 2 cup sugar and start diluting. Let it boil for 10-15 mins. To this add saffron or yellow food color and Elachi powder. Stir it well. Stop boiling when it reaches one string consistency(Place the syrup between thumb and index finger and try to part the finger, the syrup will give a single thin thread like form this is called ONE STRING CONSISTENCY).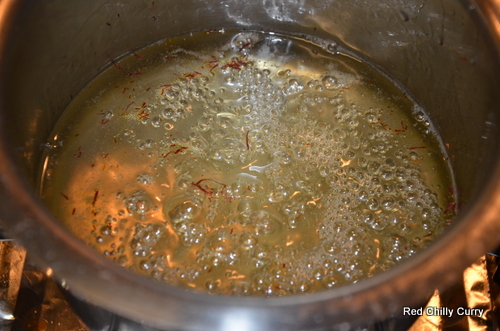 3. When it reaches this stage switch off the stove and start making the boondhi.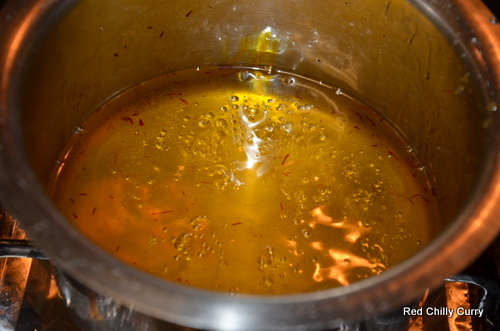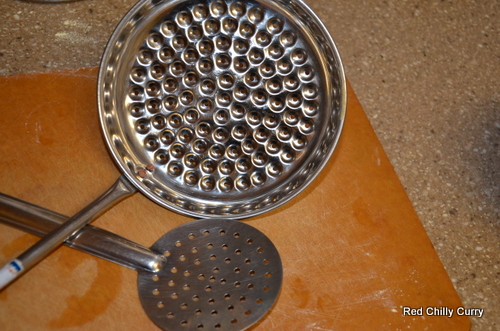 4. I got this boondhi ladle from India which makes my work faster but if you don't have one you can still do with the regular ladle that has holes in them. Take the dough and pour on top of this ladle and stir with spoon or ladle they will start to drip inside oil and they will form as boondhis.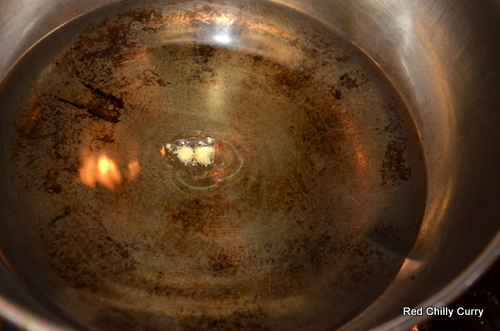 5. Now to know if the consistency of boondhi is right, take one drop of dough in your finger and put it in the hot oil(oil must not be too hot)when they come out like tail form that means the dough is thick so dilute it more with water and try it again. When it comes out round and pops out to the top immediately that means the consistency is perfect.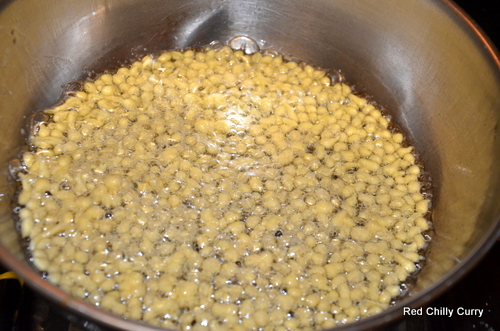 6. Now make the boondhi and remove them when they are still yellow in color and drip the oil well and add it straight away to the sugar syrup. Make all the batch and put all of the boondhis inside the syrup. Dip them well in syrup.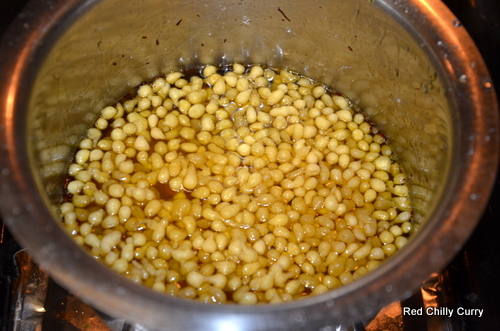 7. Now take another pan add 3 tsp of ghee and saute cashews and raisins.Let raisins puff well then add the ghee and the nuts to the ladoo and mix it well.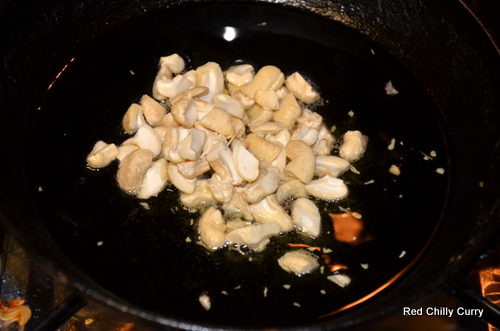 8. When the heat is still there try to make a nice round ladoo with your hand. I got 25 ladoos. I didn't make them too big I only made medium size ladoo. Now enjoy your Diwali with this yummy sweet boondhis.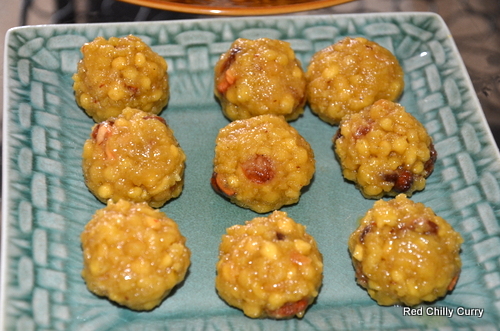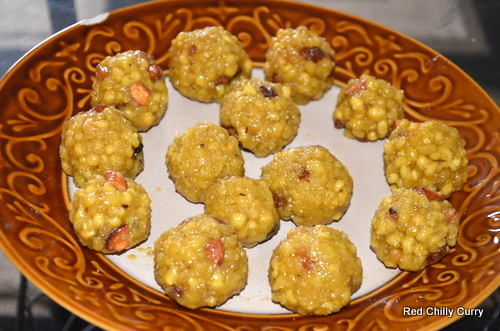 Tips:
Getting one thread consistency is very important while making this syrup.
You can add kalkand too to this ladoo it will taste very good.
If  your ladoos break try to add little warm milk and try to make ladoos again or you can re-do sugar syrup and mix it with this ladoos and make it round.
I am sending this link to Jagruti's festival event
Print