Uthappam Sandwich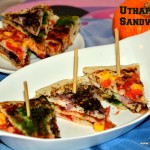 I was fed up with regular dosa and Idly was craving for something spicy and tasty at the same time. I had some green chutney and garlic chutney left in fridge and I suddenly had craving for it, but was not energetic enough to make chaat so I took the dosa batter out and started making Uthappam. When I started with the first one, I started to get excited and blended with many flavors and ended up stacking the uthappam and thoroughly enjoyed the layers. My tongue was able to taste all the flavor from that layered uthapam. Its so fun to make and you can modify it anyway you want. Let your Imagination flow freely :)
Prep Time : 15 minutes
Cook Time : 10 minutes
Yield :

2-3
Instructions
1. Take dosa batter, heat the iron tawa and pour a thick uthappam dosa(thinly made dosa is called Paper dosa,thickly poured batter is called Uthappam)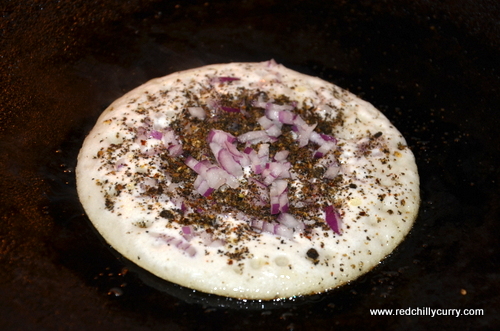 2. Now add the chopped onions,green chillies and let it sit for a min. To this add podi(I added Seasame/Yellu podi, you can use Idly podi too) and sprinkle it well. When the bottom turns golden brown flip to the other side. Let it get cooked too. Then turn it over and keep it separate.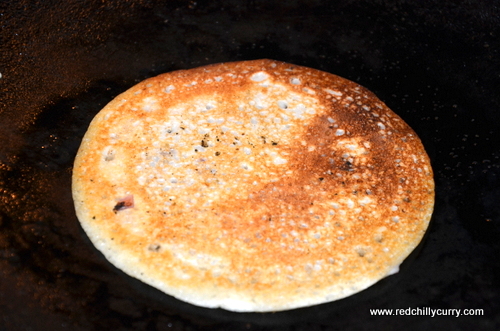 3. Now make another batch thick uthappam, to this add green chutney, garlic chutney( for spiciness). Spread it well with spoon. Steam it or turn this to other side(sometimes turning makes it sticky to pan so close it with a lid if possible) When done keep it separate.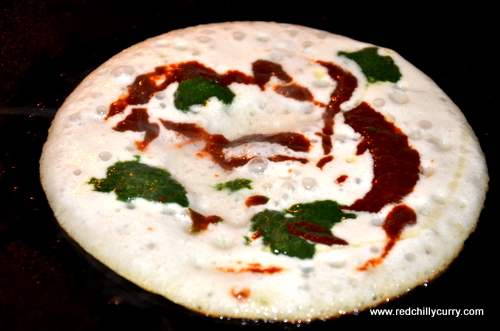 4. Now make another uthappam and spread tomato ,corn and capsicum on top of it(I forgot to click it with capsicum,oops sorry!!!) When the bottom turns golden, flip to other side. When its cooked on both side remove it and keep it separate. Switch off the flame.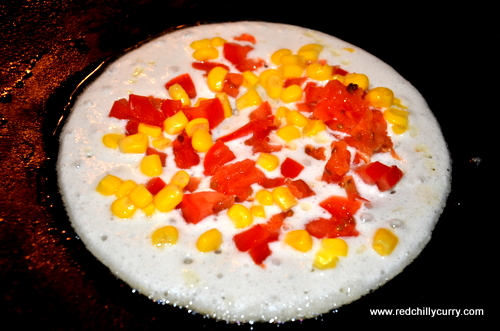 5.Now Using a sharp knife slice to 8-12 pieces like shown in pic.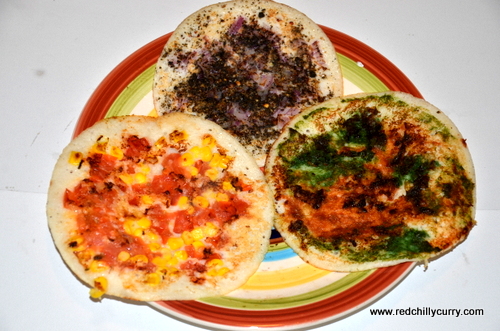 6. Now serve it like a layered sandwich with wooden prick or happily eat it with coconut chutney or sambar. All the flavors mixed in your mouth will make your tummy super happy...mine did so try it out. So easy and so tasty.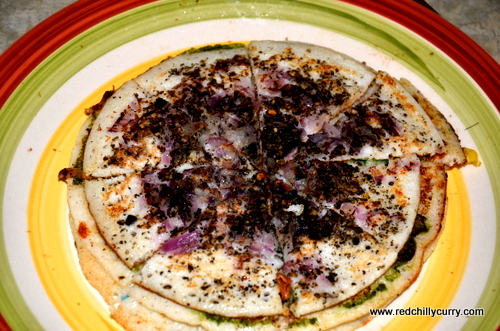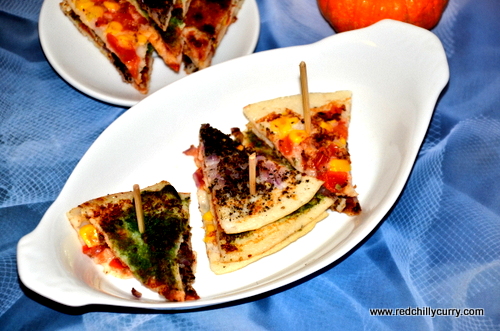 Print