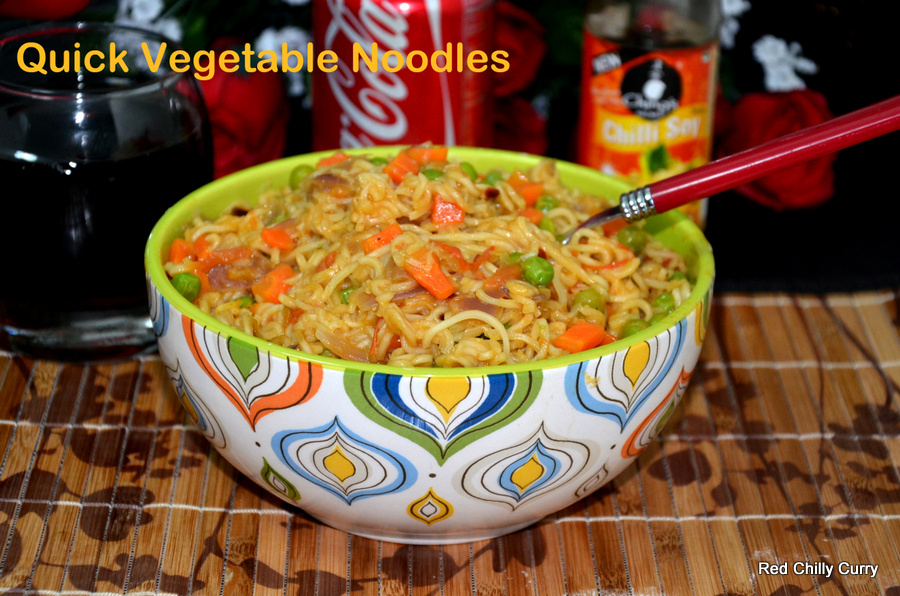 Vegetable Noodles(ready in 10 mins)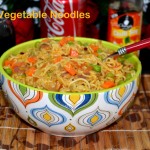 According to me Noodles are also main dish because they are not only good but feels heavy too. I thoroughly enjoy the noodles till my last spoon. I love it. It really makes our work very simple. Kids will like it too and they never fuzz while eating this. So when you are not in a mood to cook or tired, just make this 5 mins noodles. Just try to add more veggies so that your kid will eat some veggie too and you don't have to feel guilty that you are feeding her some plain noodles. Its best during cold winter. With snow outside and a hot bowl of noodles in your hand ahh.....can things get any better???? I don't think so too... so lets enjoy our noodles.
Prep Time : 10 minutes
Cook Time : 10 minutes
Yield :

2
Instructions
1. In a pan add some oil then saute onion, tomatoes for few mins. To this add some chopped vegetables and stir them for 2  more mins.
2. Do not over cook the vegetables completely because the crunchy veggies add taste to the noodles. Then add some water let it boil for 5 mins and then add the noodles and let it cook for 5 min.
3. To this add the noodles masala and stir well for a minute. To this add some soya sauce,chilly sauce and switch off the flame and stir well. I sometimes add spring onions(optional) to get that Chinese flavor smell so if you want you can skip it and serve it to kids. They will dig inside it totally.
Print