Filter coffee, Indian filter coffee, How to make filter coffee at home
Filter Coffee is very commonly made in most of South Indian family. I know lots of people who are big coffee lover. My family members have never been a big coffee addict my in laws family are. My hubby can't function without coffee. He says he doesn't feel brisk if he doesn't take coffee. It's not easy to make good filter coffee. Anyone can brew decoction but making good filter coffee is very difficult. Its takes lot of practice. I have always had hard time making it. My co-sister Rajini makes very good coffee. I try to learn from her.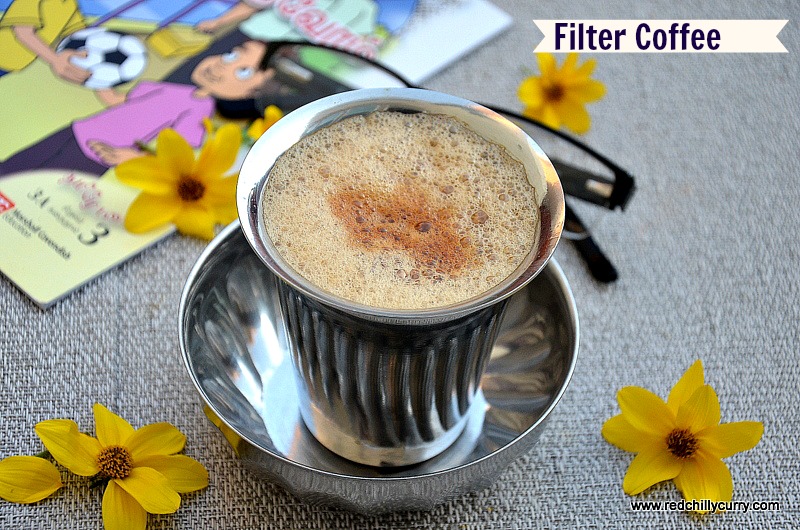 Making good coffee involves lots of step. First we need a good filter jar and then quality coffee powder and fresh thick milk. She always make thick decoctions and the aroma is so good. I have tried using so many coffee powder and I see KOTHAS COFFEE powder brings very good taste. If I have been living in India I would have roasted the coffee seeds and powdered it from a coffee powder shop. That would have given a freshly brewed coffee . But since I live in california and here I have not seen any shops that freshly roast the coffee seeds and powder it I had to compromise with a store bought coffee powder. I love Cold coffee than the regular hot one. I have other varities of coffee in my space like karupatti coffee, Sukku malli coffee 
Making good coffee comes with practise. Smelling the fresh brewed coffee filter feels so happy and calming. Guest would love a thick filter coffee. They usually call filter coffee as degree coffee. Reason for calling that is because of the boiling water that's poured inside the filter cup and its brews a thick strong aroma. People make thick decoction, the first serving is called degree coffee according to my knowledge. Coffee lovers don't enjoy the second serving of diluted coffee. Usually once the decoction is made people love the first filter decoction. You can add more boiling water and get second serving , but it wont be thick as the first one. It will be little diluted. Now off to making filter coffee.
Step by step of making south Indian filter coffee
Filter Coffee (South Indian Style)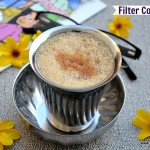 Prep Time : 15 minutes
Cook Time : 5 minutes
Yield :

2 cup of coffee
Instructions
1. To make filter coffee, we need to use coffee filter( this is the coffee filter used by south Indians) as shown in picture. It has 4 pieces. Upper and lower cup, lid and pressure stick.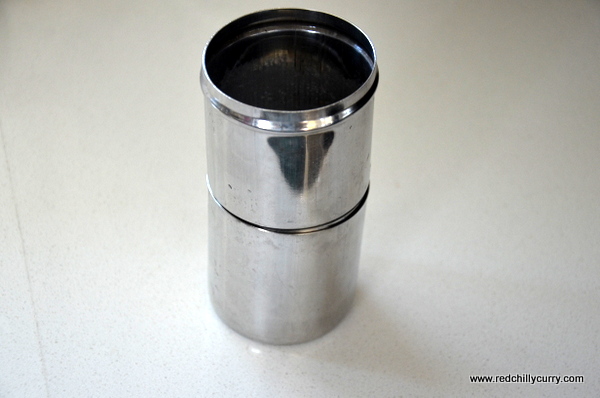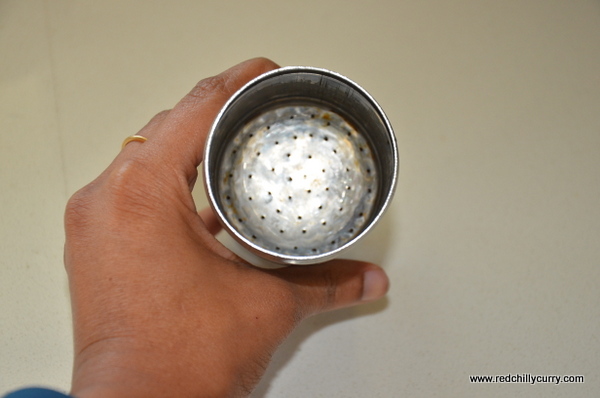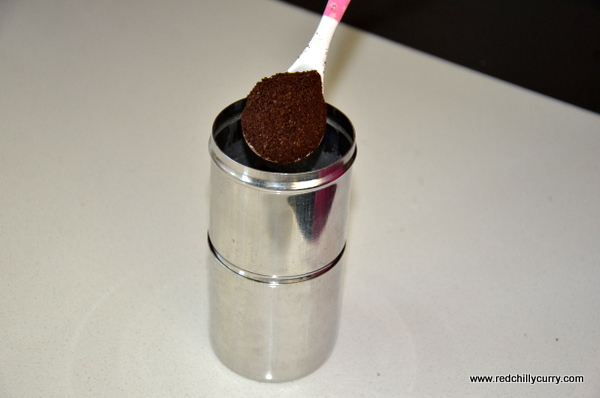 2. Now boil some water say one cup, let it boil for 5 mins. Now add 4 tsp of  coffee powder to the filter . Tap with your finger , so the powder gets settled . Now use the pressure handle as seen in pic and press it lightly on coffee powder. Now pour the hot boiling water say to 3/4 th of the upper cup and close the lid. Let it sit for15-30 mins. Filter coffee decoction takes time, if you like it thick. Sometimes if you add more water then the decoction gets filled with in 3 mins and you will end up having diluted decoction. So be careful when you add water. Don't add too much of water. one person need 2 tsp of coffee powder to get a thick and strong flavored coffee. I just used a tsp extra since my hubby likes his coffee very strong. I just use that extra decoction to pour on top just before serving.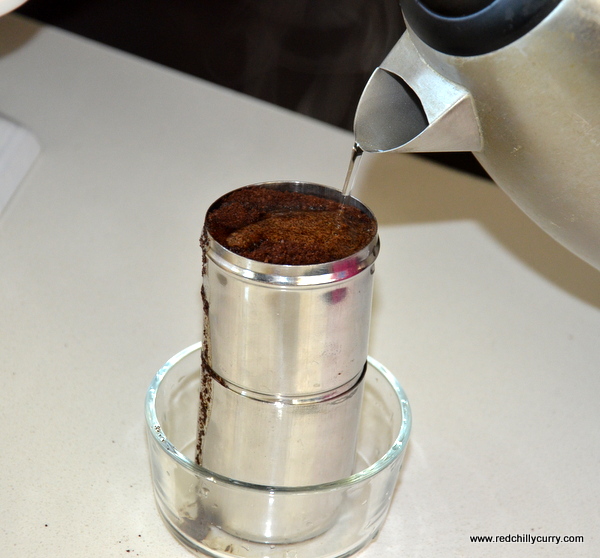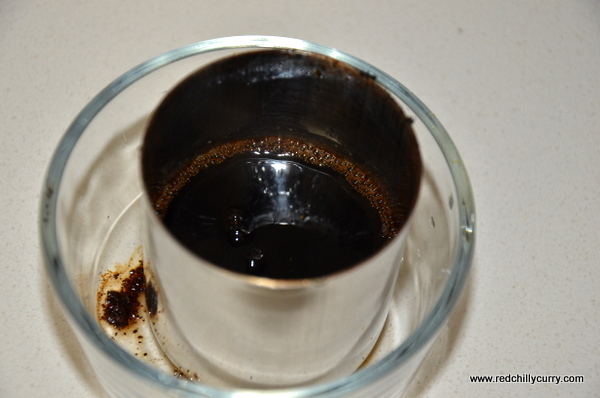 3. Let it get filtered. I have placed a small bowl below the filter since I had brewed to full cup today and it might spill out and spoil the floor, so I just used to cup to keep the kitchen tile clean. Meantime, boil the milk and when its boiled switch off the flame. Now take stainless glass as seen pic or use a coffee mug to make the coffee. Add 1+1/4 tsp of sugar, then add the thick coffee decoction and mix it using another cup till the decoction gets little frothy. Now add the hot milk and again using another cup mix  it until the coffee gets little thick and forms frothy on top. or you can just add milk to the glass first and then add decoction, sugar and  mix it to get thick coffee. Both ways work. Now just before serving, I add little decoction on top . This will give a very good aroma to the coffee and my husband prefer it that way. This is chennai style coffee when you order in restaurant. Everyone makes this kind of filter coffee at home and its very tasty.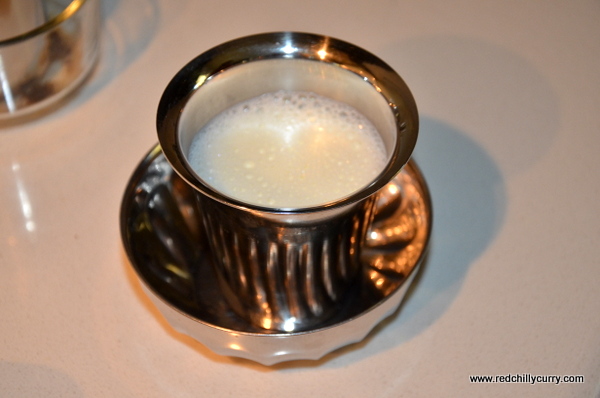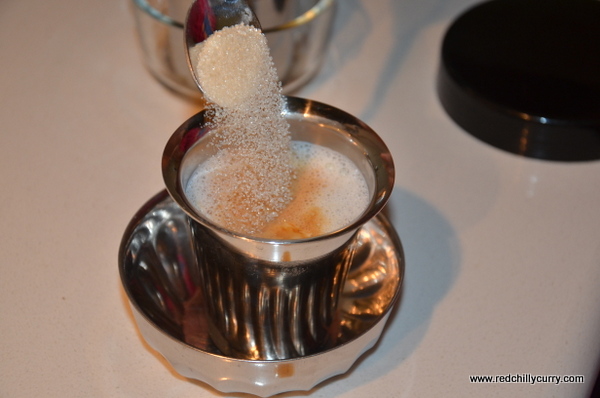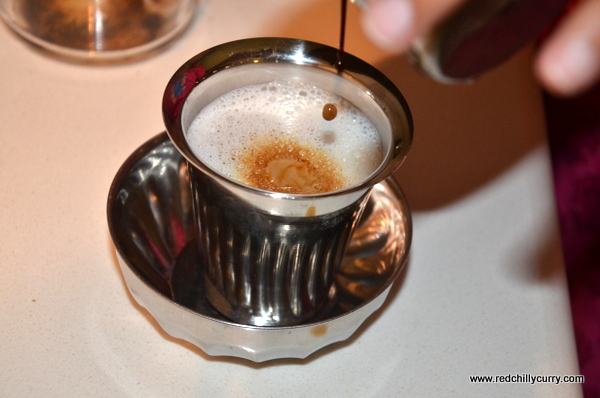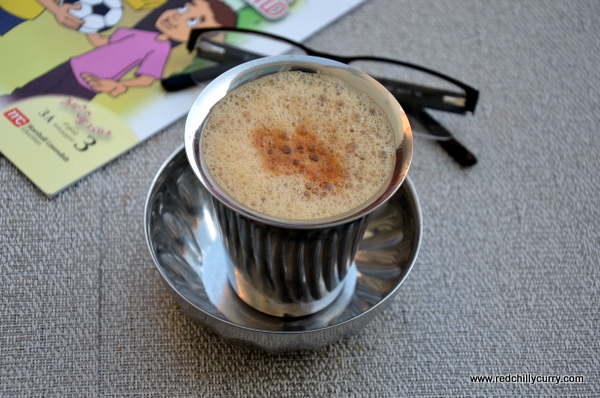 Print