Gongura Pulihora, How to make Gongura pulihora, Gongura recipes, Sorrel Leaves recipes,Roselle leaves
Gongura Pulihora is everyone's fav at home. We love all kinds of recipes with Gongura leaves(Red sorrel leaves). Mom makes the best Gongura pachadi and dad cant stop eating this. We never miss to buy this fresh red sorrel leaves(Gongura) when it hits the market. My hubby always gets 2-3 bunches of them to prepare gongura pachadi and gongura pulihora. If you are a tamarind rice lover like me, then you will love this a lot. I am a big Tamarind rice fan and I can eat it whole day. This Gongura pulihora also taste awesome and you can make this for a change instead of regular tamarind rice on weekends. Gongura leaves are sour in taste so no need of extra tamarind when you make this gongura pulihora..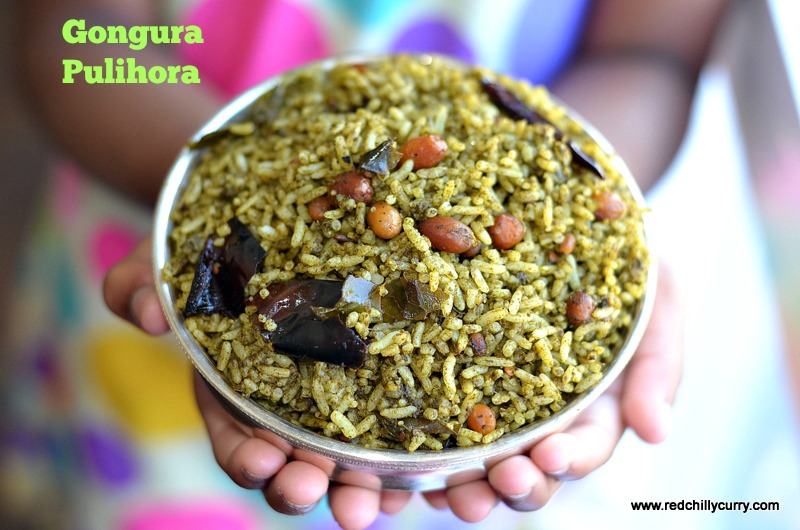 When you get this leaf  make sure they are fresh and in good condition. Don't get leaves that are dry and torn. Wash them well and let it dry, so they stay for a longer period when you make gongura pachadi. For making Gongura pulihora I always dry them in sun for few min after washing the leaves. Make pulihora the same way like we make our regular tamarind rice, but instead of tamarind pulp we will replace the gongura leaves paste. Do enjoy making GONGURA PACHADI at home when you get leaves fresh. To try other variety of tamarind based rice..click Puliyodharai(Tamarind rice)
Gongura pulihora is loved and enjoyed by Andhra Pradesh people. If you haven't tried this before, then now is the time to try it . You wont be disappointed and will thank me for sure  for introducing to an amazing new flavors in rice. Adding seasame seeds and peanuts bring very good flavor, so don't ever omit it. Serve this with papad or chips. It doesn't really require any side dish. Now enjoy making Gongura Pulihora.
Step by step method of making Gongura Pulihora
Gongura Pulihora (Red Roselle Leaves)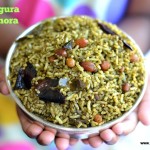 Instructions
1. Wash the leaves well and let it dry. Now dry roast the ingredients mentioned above and grind them to powder. Keep it aside.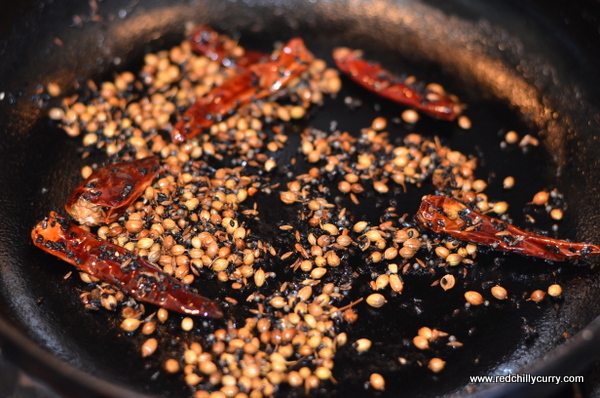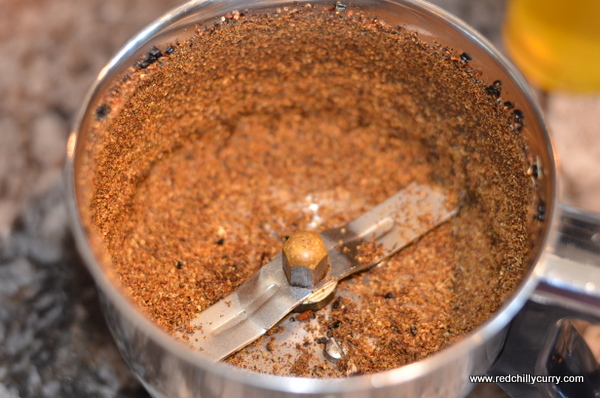 2. In the same pan add the leaves and saute them for 2 min. Let it wilt , when they look moist enough remove it from pan.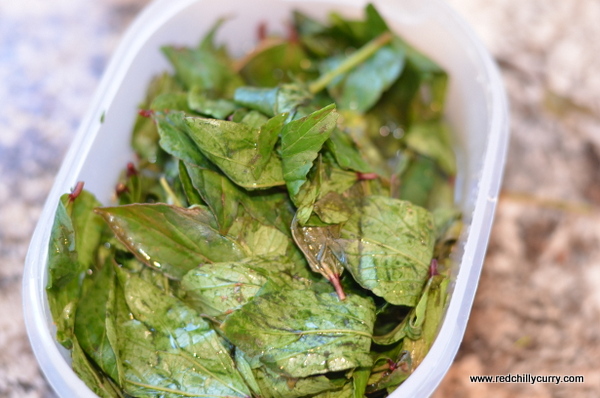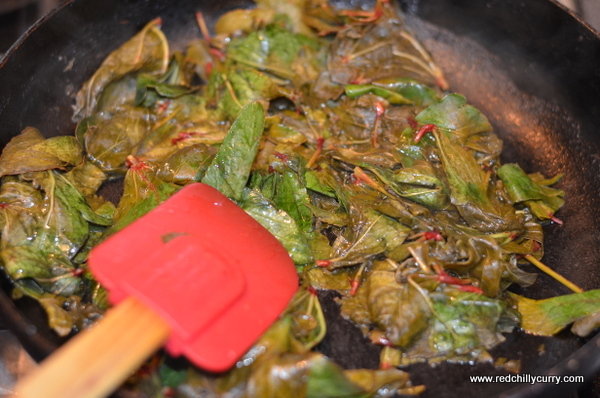 3. Now add these  leaves to the powder that is still in our blender. Blend them all together. You will get like a nice paste.Do not add water.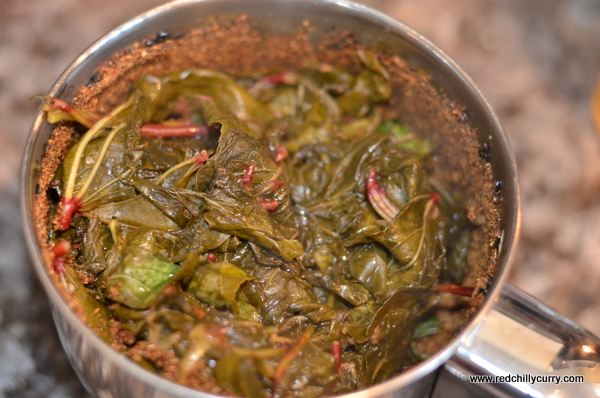 4. Now heat pan again and do the tempering mentioned above. To this add the leaves pulp and let it cook for 5 mins. To this add salt,turmeric powder and hing and let it cook for totally 8-10 min.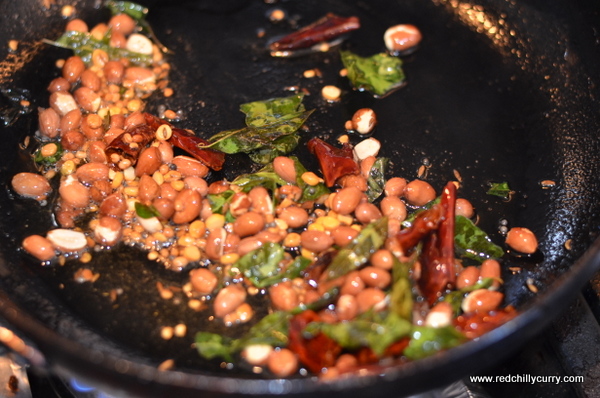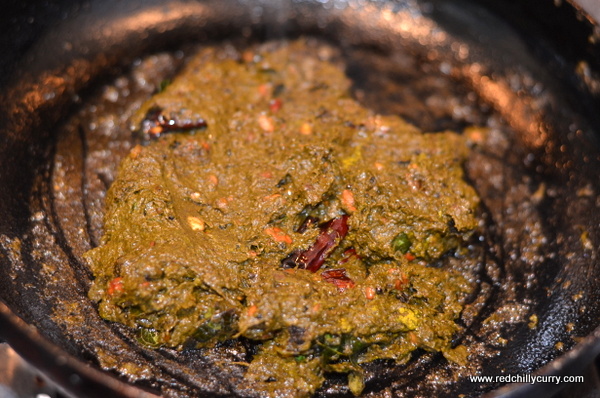 5. Keep the rice ready and see to that the grains are separate for this particular rice.(TO ACHIEVE SEPARATE GRAIN ADD LITTLE OIL WHILE THE RICE IS GETTING COOKED) Let the rice and leaves pulp cool down. Now start mixing the rice slowly and see to it that they are mixed properly.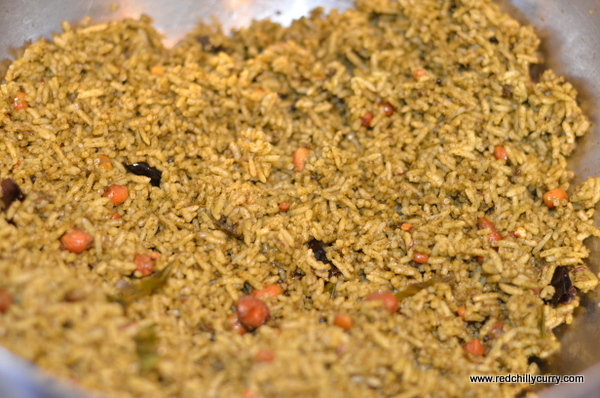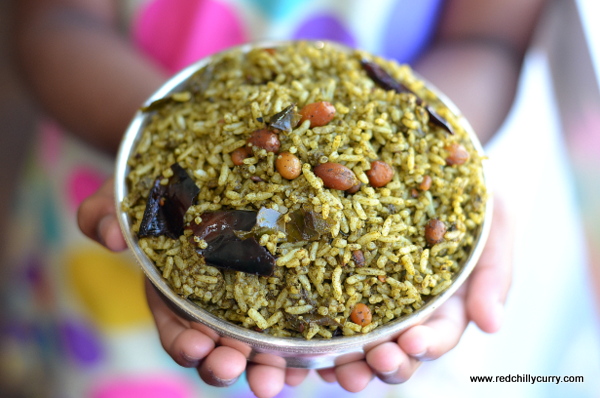 6. Now serve it with papad or potato chips. Yummy Gongura pulihora is ready to eat.
Print