How to make Mumbai style Mysore masala dosa, Mumbai Mysore masala dosa recipe, Mysore masala dosa recipe
Mumbai style Mysore masala dosa is super tasty than the regular Mysore masala dosa. I love the bright radiant colors and how yummy they look on plate. With sambar and 2 varieties of chutney they look too good. No words to express them. I would personally just eat with the inside stuffing and I don't need anything else on side. If you are making it at home then you must not skip any of the ingredients I will be mentioning on the recipe. To enjoy the proper style of this dosa, adding butter liberally is a must. No getting heart attack or feeling guilty. You can always go for more extra mile walk next day , if you feel guilty for stuffing with load of butter hahahhha.  Mumbai style mysore masala dosa when loaded with lots of butter takes it to next level and your tummy will thank you.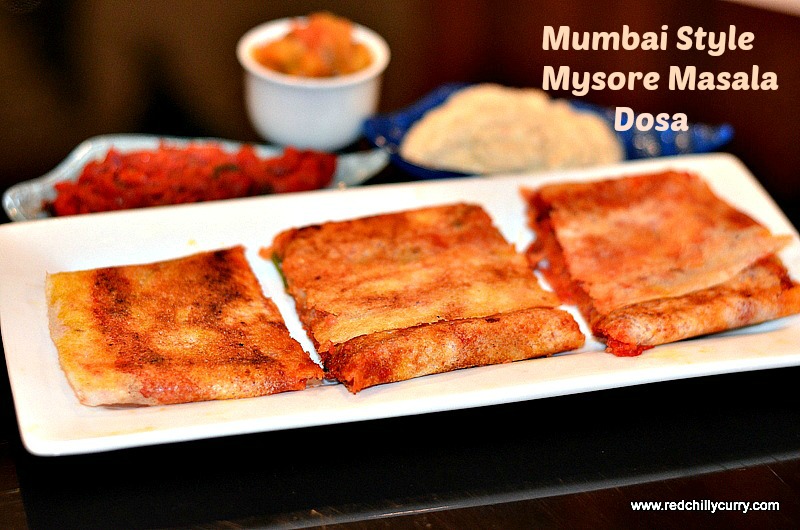 Traditionally this Mumbai style mysore masala dosa stuffing is made on top of the dosa batter itself. But I like to make it separately in a pan since I don't want to tear the dosa or make a big mess on my tawa. Either way the taste will be exactly same. Trust me and do it separately. If you want you can make it on top of the dosa batter too. You can mix little bit of coconut chutney in this and mix too. I have seen few shops doing this. I don't do it all the time, but sometimes when I have coconut chutney on huge batch then I do it. Its okay don't feel guilty to add more butter. The whole dosa is made with butter and no oil is added.
I know I know your heart stopped for a min, but its k just add the butter and enjoy the true taste of roadside Mumbai style mysore masala dosa. To make more varieties in dosa check here… Spicy Tomato Dosa, Erra Karram Dosa(Andhra Special Dosa), Murungai Keerai Dosa(Drumstick leaves dosa),  Cheese Veggie Dosa, Lenthil(Adai)Dosa, Pesarattu Dosa(Andhra dosa), Uthappam Dosa, Sorakkai Dosa(Bottle gourd dosa).

Still to me best dosa till date is Mumbai Style mysore masala dosa
Step by step method of making Mumbai style mysore masala dosa recipe
Mumbai Style Mysore Masala Dosa (Roadside Recipes)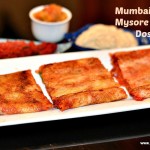 Prep Time : 15 minutes
Cook Time : 5-10 minutes
Yield :

8-10 dosa
Instructions
You can prepare this Mumbai style mysore masala dosa in two ways..
Pour dosa batter on hot tawa and add all the veggies on top and you can mash it using a potato masher and then fold it and serve  (or)
 Make filling separately on tawa and mash them well using potato masher, then spread it on top of dosa batter. Either way they taste awesome.
1. I have made it using the second method just to avoid the mess on my tawa. Now heat pan and add some butter, to this add onion, tomato, capsicum , grated carrot & beetroot. Saute them well.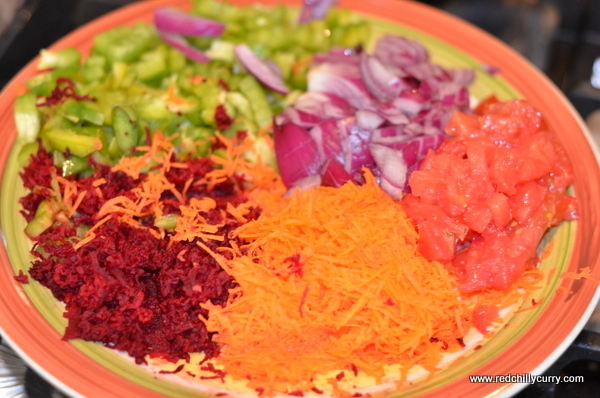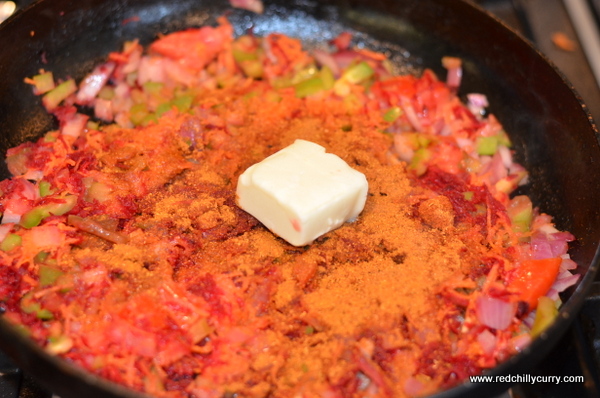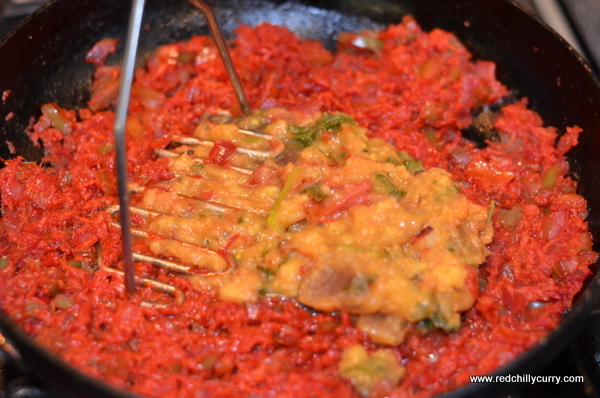 2. Now add green chilies, chilly powder, pav bhaji  masala,Boiled potatoes and huge cube of butter. Yes, you heard me right...a huge piece like you see on  my pic. I added two pieces like that. It will give a very good taste. Season with little salt and now start to  mash them using a potato masher.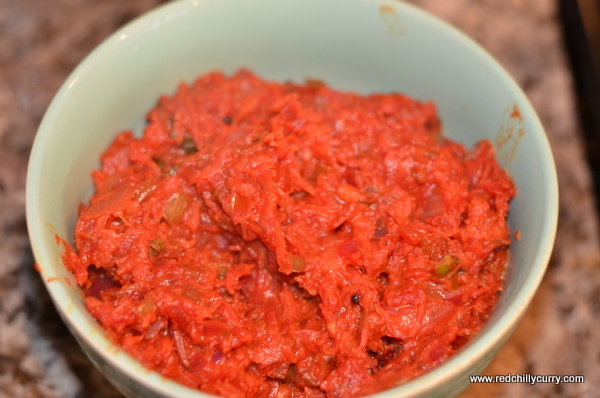 3. Mash them to pulp and the taste will be so good. The filling is ready .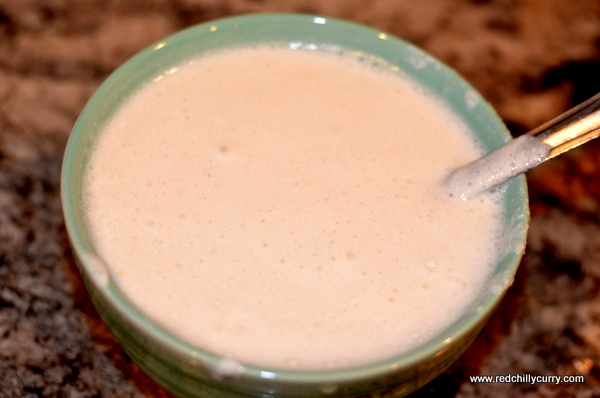 4. Now heat tawa and pour dosa batter, then add butter liberally on whole dosa. Then add the filling and start spreading it to whole dosa from inside out. Again add little bit of butter and spread again. Let it cook and turn golden brown in color.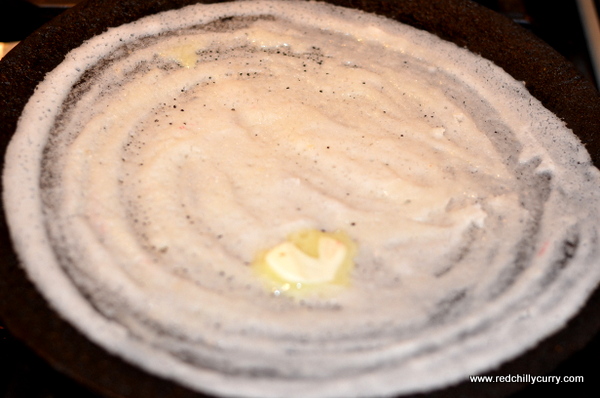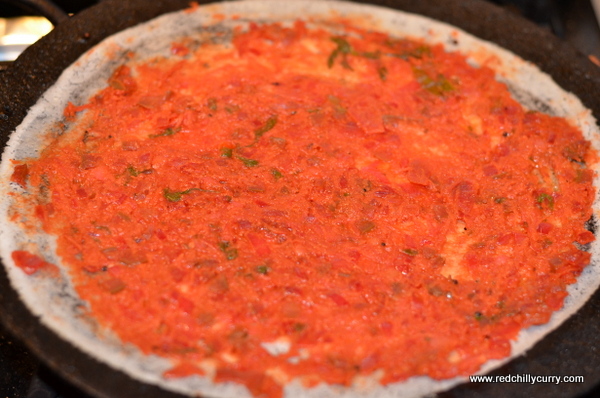 5. Now fold the dosa and serve it hot with coconut chutney or sambar. Drool worthy dosa and everyone will love it.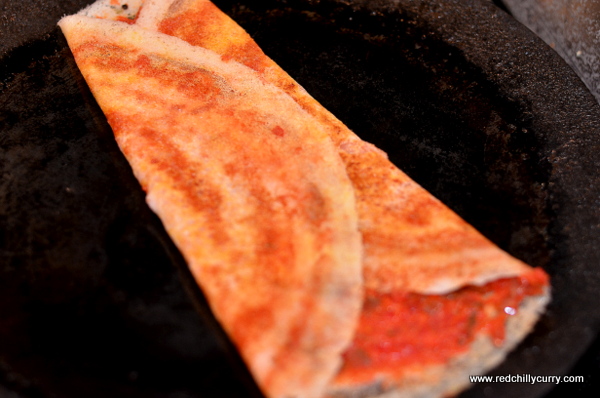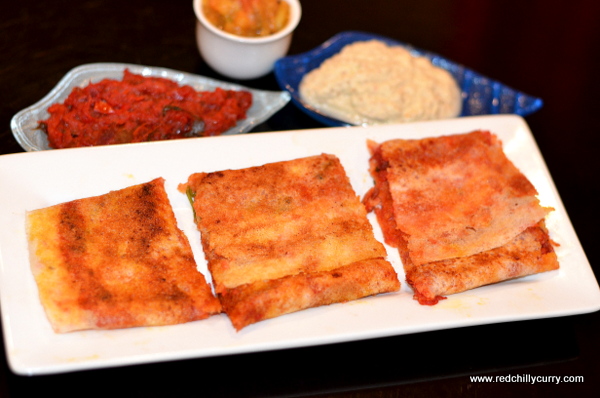 Notes:
Do not omit any of the veggies mentioned above.
If you want more spice, add more chilly powder
Do not cut down butter, the taste will definitely change(more butter,more taste)
You can add coconut chutney also in this filling if you want.
I sometimes add left over poori potato masala to this filling, instead of plain boiled potatoes.
Print