Palak Pulao recipe, Palak biryani, Palak rice, Spinach recipes, Lunch box recipes
Palak pulao recipe is a simple rice variety that will be loved by everyone at home. Its mild and loaded with lots of flavor in them. Best suited for lazy lunch weekends. I love to pair it with raita. This can be made in many ways and this is my version of  pulao.
I like making variety rice for my husband and daughter for their lunch box. Not only its simple for me in the morning but when they eat it during noon all this flavors will be nicely blend together and will give a satisfying  taste . Peas is my daughters fav veggie so I try to include in most of my rice variety. Peas gives a nice flavor to this palak pulao so do not omit it.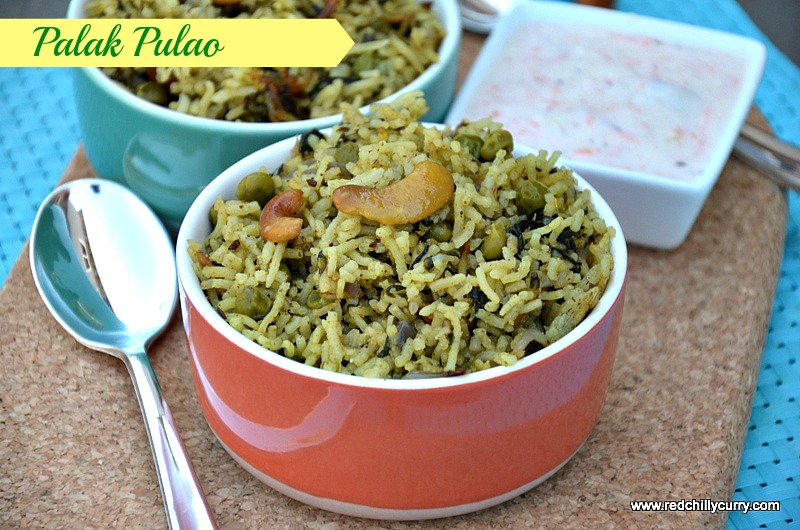 IF you are bored of regular pulao this Palak Pulao would def make your cooking much easier. I love making one pot recipes. They are not only easy but very tasty too. I like adding coconut milk to one pulao or biryani variety rice since they bring out a very nice aroma.
Mom always made me eat lots of spinach. She used to show me cartoon like popeye and brainwash me saying  "Look how strong he is" and I used to totally believe her …. hmmm bad liar mommy. But anyway I listen to her and just gulp anything that's made with spinach. Since then I have been spinach fan. This  Yummy Pulao that's made with palak is my tastiest version. Do try it for sure. Now off to recipe. If you want other Varieties with palak try Palak Puri, Palak Paneer, Palak Chapathi.
Palak is very healthy for us. It's rich in iron and best food to have when you are pregnant. I never use to have iron tonic or irin pill during my pregnancy. I always made sure I add palak/ Spinach in all my food. I believe in food and not medicine. Food is healthy and it acts as soul to a healthy body. Off to making of Palak Pulao recipe.
Step by step of making palak pulao recipe
Palak Pulao Recipe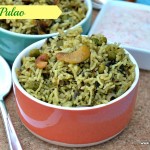 I bought some fresh spinach leaves from near by market and it was really a very big packet. I cant use it for one recipe for sure. So I had made quite some variety with them and will post them soon. Palak Pulao is one recipe. Then I made dips and some mexican dishes too. Love when palak are fresh.
How to make palak pulao recipe for your easy lunch...
Prep Time : 15 minutes
Cook Time : 30-45 minutes
Yield :

4 person
Instructions
1. In a pan add little oil and fry the masala item mention above. Then make a paste of them using a blender. Keep it aside.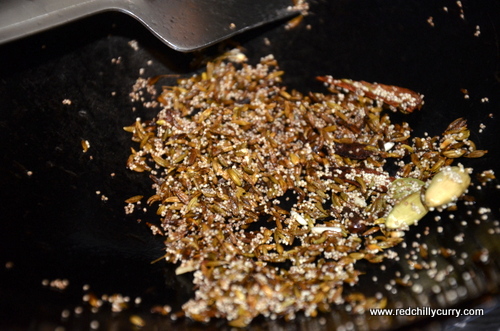 2. Wash basmati rice well . Add ghee to the pan and saute the rice for 3-4 mins. Now keep it separate in a plate or bowl.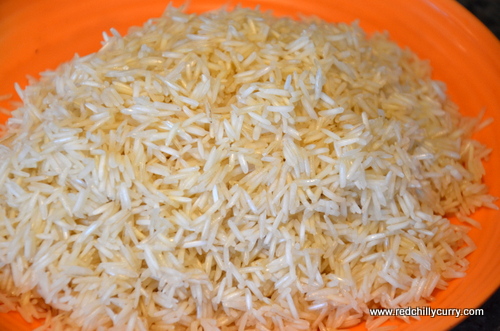 3. Again add oil to the pan and saute jeera & cashew nuts. To this add onion and ginger & garlic paste and saute for few more mins.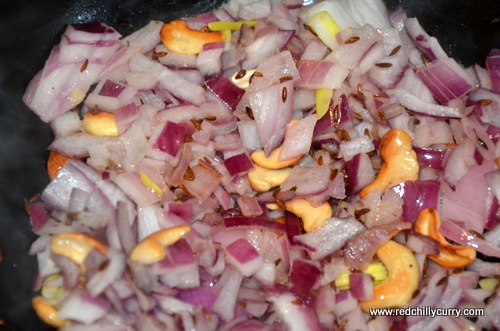 4. Now add peas once it gets soft add palak/spinach leaves. Then add  the grind masala to this. Then add salt,turmeric powder and mix them all. Let the raw smell of the masala subside. Now add 1/2 glass water.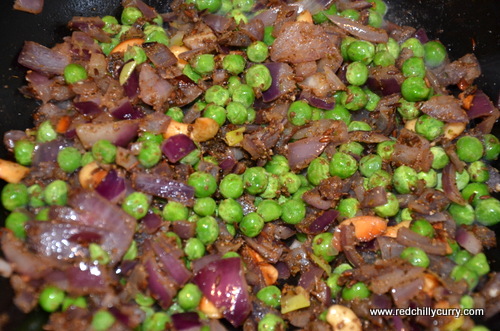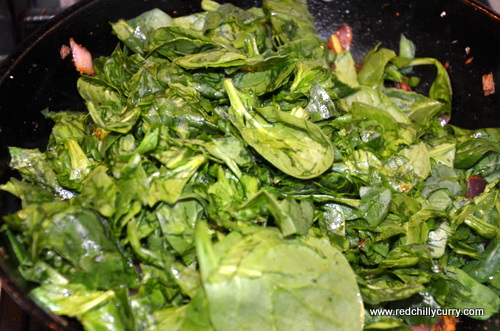 5. Now to this mix add basmati rice and let it cook for 5 mins. Now add the thick coconut milk and stir it again. For 1 glass of basmati rice we need to use 1 1/2 cup water.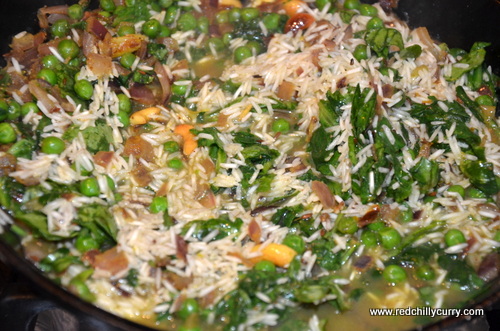 6. I have used 1 cup thick coconut milk and half glass of water totally. Then garnish with mint leaves. I used rice cooker for this pulao. Once all the above steps are done transfer the rice mix completely in to the rice cooker.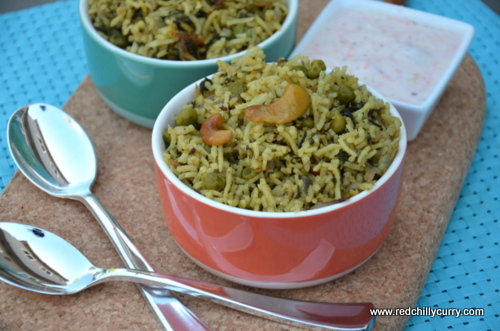 7. Palak pulao is ready. Serve it with raita of your choice like boondhi raita , palak raita , okra raita.
Print