Peas Paratha recipe | How to make matar paratha | Paratha recipe | Stuffed peas paratha recipe
Peas paratha is my daughter fav stuffed paratha. We all at home love our stuffed parathas more than the plain roti/chapathi. Peas paratha is much more tastier and quick and easy to make. Lots of people are scared to make this peas paratha since the filling will spill out and they get messy, well I have a trick to this and you will fall in love with this. Infact I have two trick to make sure the filling don't come outside. Have you ever wondered how the restaurants always had this amazing thin crust filling and how tasty their layers are?? well there's def a trick to this and you can have the same yummy peas paratha at home, if you follow these steps  correctly.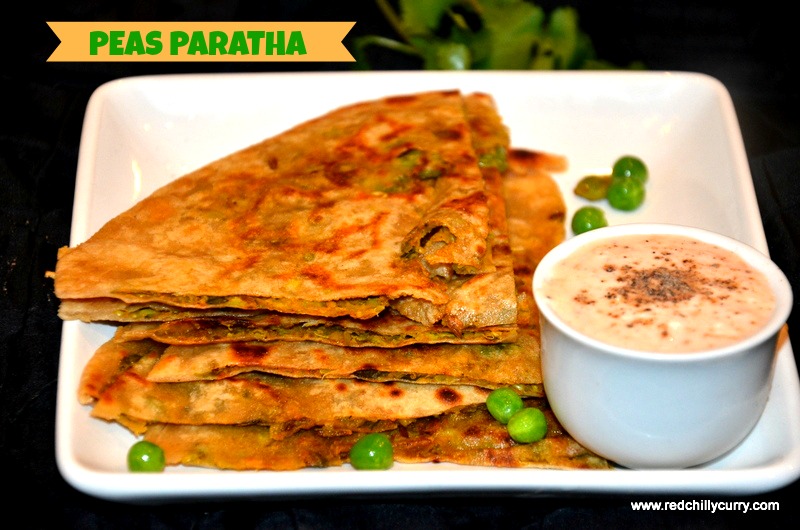 Always make two slices of  chapathi and try to seal the masala in center and then roll them well. There's no way the masala will come outside. This is the first trick. The second one  is, just add 2 – 3 teaspoon of wheat flour to the filling you made. For each filling, you can add 1 tsp of wheat flour. The main reason for the filling to come out is due to the extra moisture present in the masala/ filling. Say for eg.. the peas and cauliflower paratha always are little wet and they tend to leave some water and make the filling splash when we roll it inside the dough. So either use the two layer of chapathi to seal it or add 1 teaspoon of wheat flour to every filling you stuff. You can pair it with all kinds of Raita or Shahi paneer if you want it rich.I make lot of stuffed paratha do check them out. Few are Broccoli Paratha, Soya chunks paratha (soya keema paratha), Veggie paratha, Cauliflower Paratha. Okay now off to making of peas paratha.
Here's the tastiest green Peas paratha recipe
Peas Paratha Recipe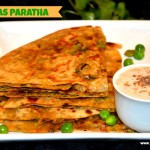 Prep Time : 10 minutes
Cook Time : 10 minutes
Yield :

10 paratha
Instructions
1. In a wide bowl take 3 cups of wheat flour. Add water little by little and make a soft dough. Add little oil and let it rest for 10 mins.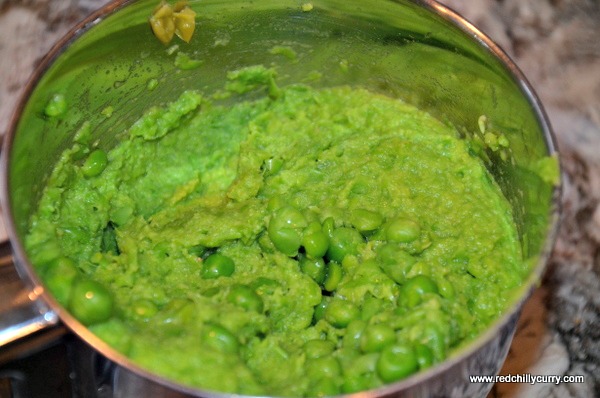 2. I used frozen peas here. Soak them in warm water and then throw the water away and add the peas to blender .Make a coarse paste. Heat pan add oil and saute jeera and add ginger garlic paste. To this add coarse peas mix.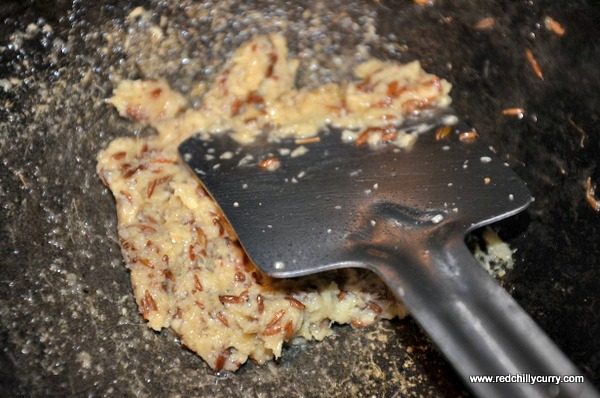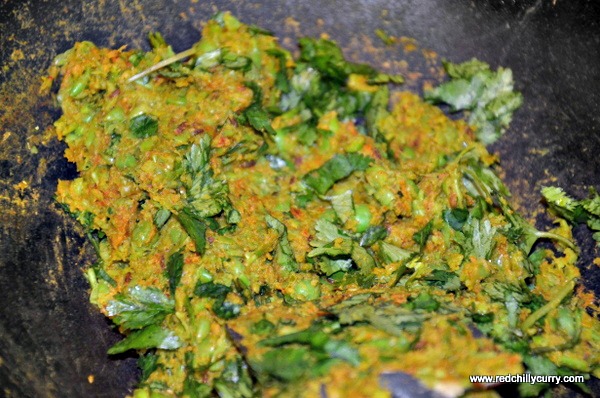 3. Add onion and saute for few min. Then add the mashed peas. Cook for a min. Switch off the stove now. The peas will cook in the remaining heat. Now add all the dry ingredients like turmeric powder, chilly powder, roasted jeera powder, coriander powder, Amchur and salt. Mix freshly chopped coriander leaves.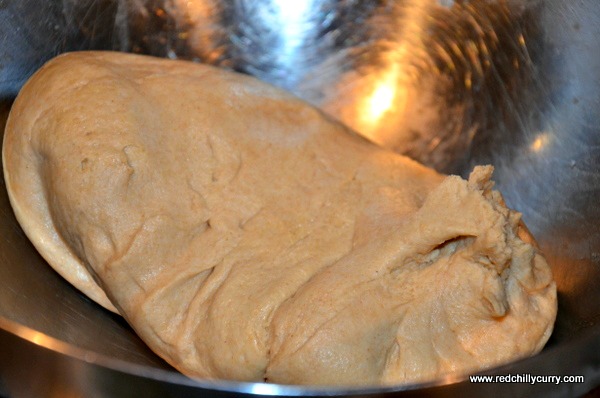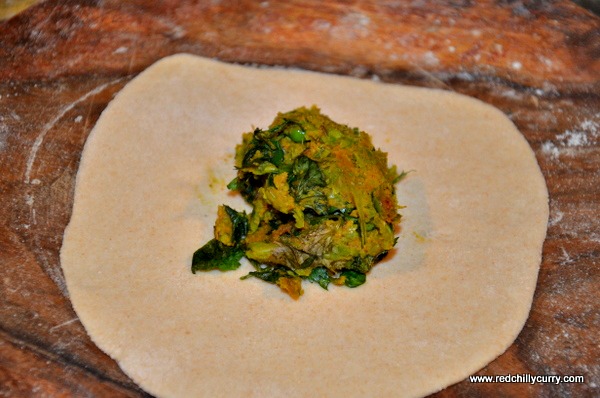 4. Mix them well and remove them from pan and transfer to a bowl. Now take the wheat dough and make a small ball and dust it well in wheat flour. Using a rolling pin make a flat roti. Keep that roti separate in a plate. Again make another roti of same shape. Now take a  2 teaspoon of peas filling and place it in center of the roti as shown in pic.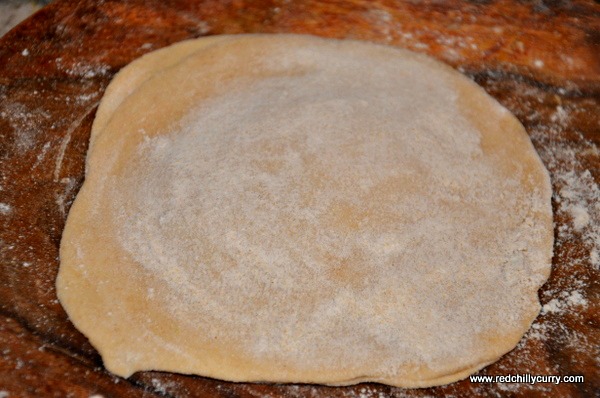 5. Now place the other roti on top of this roti and seal the ends well. Now again dust it well with flour on both sides. Then using a rolling pin make a flat paratha as shown in pic. You will not see any spilling. The peas filling is perfectly sealed inside. Repeat the process and make the rest of the  peas paratha the same way.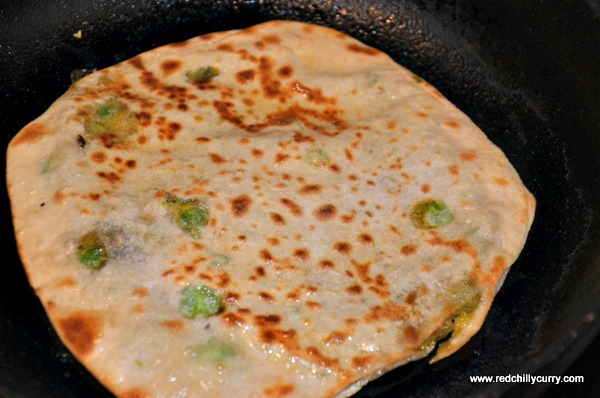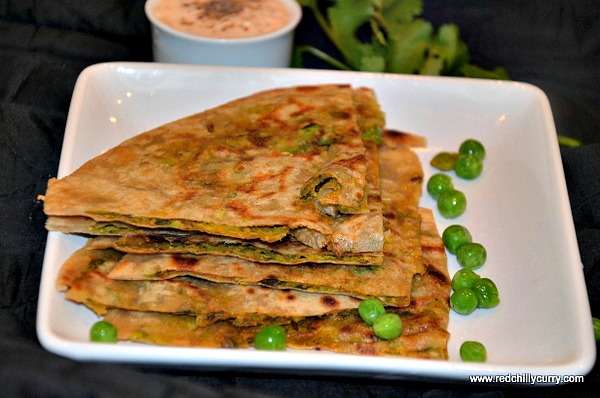 6. Now heat a flat pan and place the peas paratha safely on the pan. Add little oil in center and also on sides. Flip to the other side and see to that both the sides are golden color like shown in pic. Once done , take a half  teaspoon  of ghee and spread it nicely on both the sides of paratha. This gives a very good taste and aroma to the peas paratha. Now serve it immediately while its hot with boondhi raita or Shahi paneer.
Print