Spicy fried rice, fried rice recipe, how to make spicy fried rice
Fried rice or spicy fried rice is my most commonly made lunch box recipe or if I am not in a mood to cook. This is super simple and can be made in ten mins if  you have leftover rice at home. With my kids I never know when the rice will get wasted and sometimes I need to keep the rice quantity twice. It all depends on my daughter hunger. If she had a very active day at school and have gone out for playing and if the dish is her fav one then she will keep eating. She will just go with even 4-5 serving. So according to her active schedule I always make sure I balance my rice accordingly, but there is no way we can judge the kids.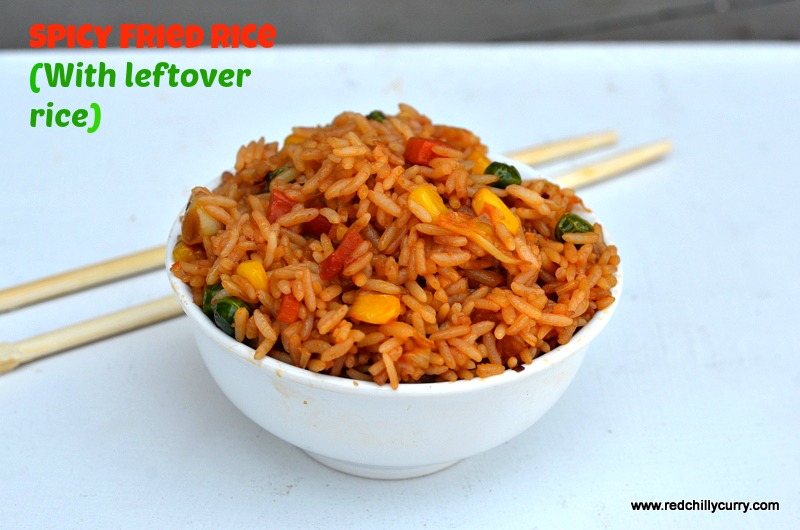 So when the rice gets leftover I usually make this quick . The reason for making this rice is, the leftover rice from previous night will be a perfect texture for fried rice. I always get compliments for this particular dish for its texture. I always keep the rice in refrigerator for 20 mins for the rice to get that texture. Whenever I make the rice fresh I always keep it in fridge for 20 mins to get that grainy restaurant style texture. Do try it at home. That my secret I am sharing shuuuu….
You can add any veggies of your choice for this rice. I compulsory add cabbage,capsicum,peas,carrot and corn. My daughter loves corn and peas a lot. Me and hubby love cabbage and capsicum. You can add other veggies like beans,beetroot or baby corn. This taste so good when its mixed and enjoyed hot. I don't need any thing else on side with this rice. Just make it little spicy and you can enjoy the tastiest fried rice ever. Other kind of fried rices variety I have in my site are Vegetable Fried rice, Chilly Garlic fried rice, Schezwan Fried rice.
Step by step of making spicy fried rice
Fried Rice (Spicy version with left over rice)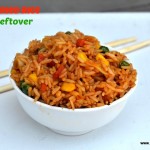 Instructions
1. I usually make this spicy fried rice when I have lots of left over rice from previous day. The rice from previous day when kept in fridge gives a very nice grainy texture as seen in restaurants. If you still want to try this recipe with fresh rice, no problem just keep the cooked rice in fridge for 20 mins and start following the procedure.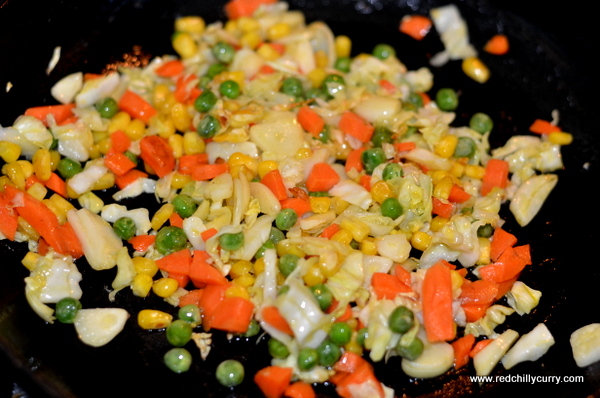 2. Heat pan and add 3 tsp olive oil. To this saute veggies mentioned above one by one. Saute garlic first then carrot,peas,capsicum,cabbage and corn. Don't over fry, just stir fry. To this add soy sauce,salt,schezwan sauce, red chilly sauce(I used ching's brand for all the sauce varieties)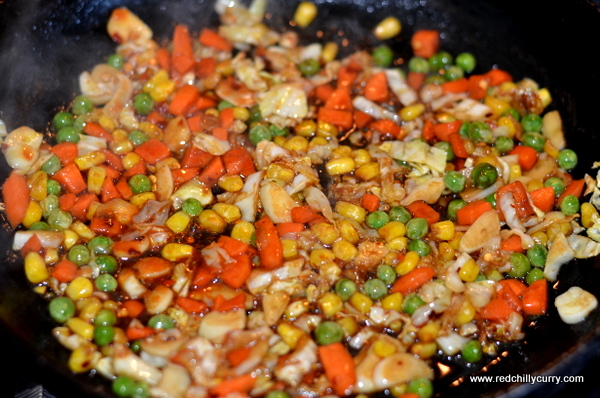 3. Now add cooked rice and stir for 5-7 more mins until the sauce is well coated. Now add pepper powder according to your taste and just add a tsp of ghee or butter and switch off the flame.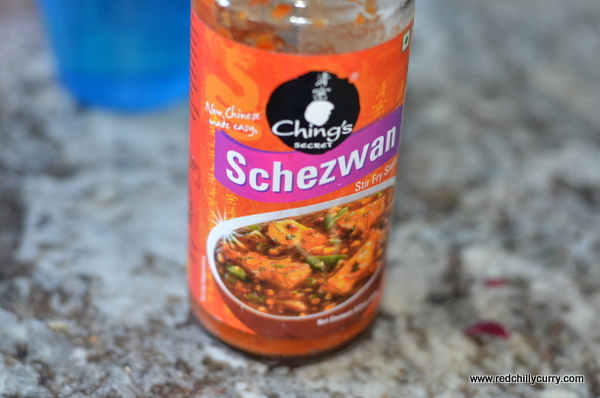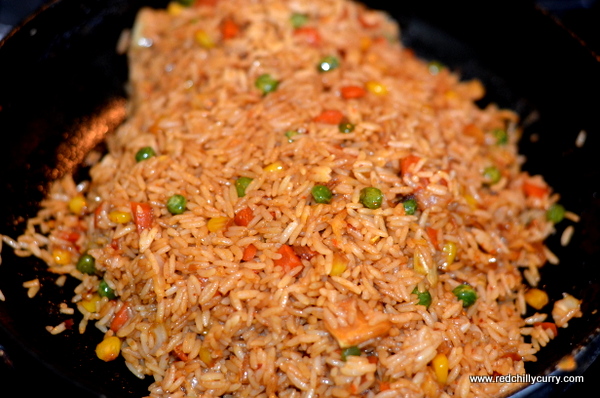 4. Now garnish with spring onion and mix everything well. Check for taste and you can add extra sauce according to your preference. Be careful when you add salt to fried rice since soy sauce has enough salt in them. The reason I add ghee to this fried rice is because of its excellent aroma. Don't skip it just add and see how yummy they taste.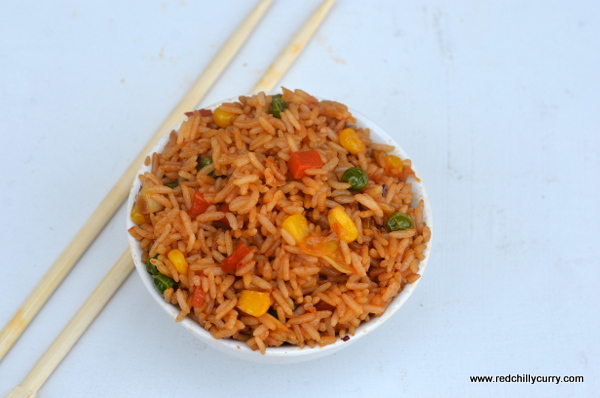 Print