Roasted garlic potato wedges, how to make garlic roasted potatoes,Potato wedges
Roasted Garlic Potato wedges  are big hit recipe in my parties or get together. It's always been kids favourite. All ages love this. I usually make it in a huge batch say like 15-20 potatoes. It vanishes in less than 5-10 mins. Its super tasty snack to enjoy with your friends and family. If you haven't tried , then you definitely must. You are missed out a great snack. So adding more ingredients is up to your own imagination. I always like using fresh garlic pieces and also little bit of powdered garlic powder, but its totally optional since fresh chopped garlic anyways bring an awesome flavor to the potatoes.
Grilling potatoes or baking potatoes is so much fun. Our family always have special dinners or snacks. Friday nights are always special and I always make grilled stuff or I enjoy baking or d some dips and try some different cuisine snacks. When I have unexpected guest then the first thing I start preparing is this roasted garlic potato wedges. It's fun to make and will never disappoint you.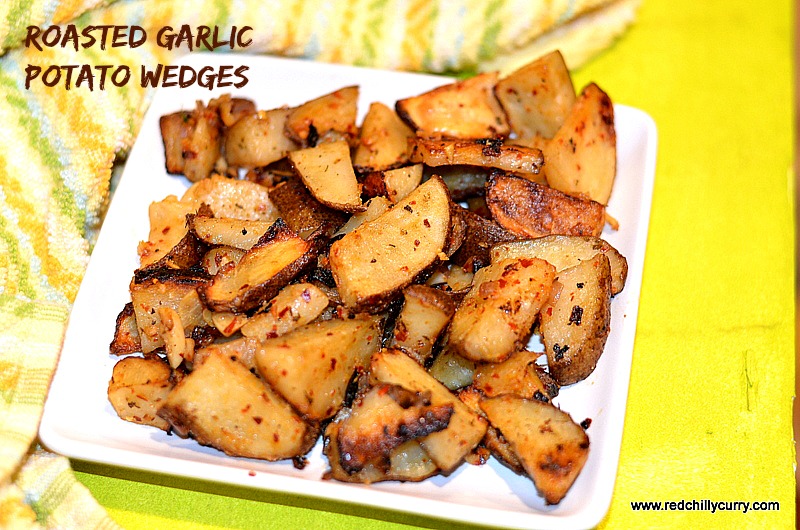 I Love baking veggies and have quite a collection of recipe which you can make on special occasion like movie night or just chill day or when you have all your friends or cousins coming over for a drink or when you camp. These are the best recipes I would recommend to try and will turn out perfect. Tested and approved for sure hahahaha. Other oven roasted varieties are..Asparagus Grill , Roasted brussel sprouts, Grilled Corn,  Grilled Veggies.
You can make lots of stuff with potatoes but this garlic roasted wedges are so yum and tasty.Adding garlic more to any dish gives an amazing flavor and the burnt smell of garlic is so yummy.
Now off  to making of Roasted garlic potato wedges  using step by step recipe.
Roasted Garlic Potato Wedges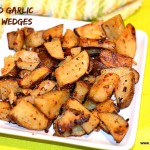 Prep Time : 20 minutes
Cook Time : 45 minutes
Yield :

3-4 people
Instructions
1. Wash potatoes. Do not remove the skin. Dry them well. Chop potato to wedges and put them in a bowl.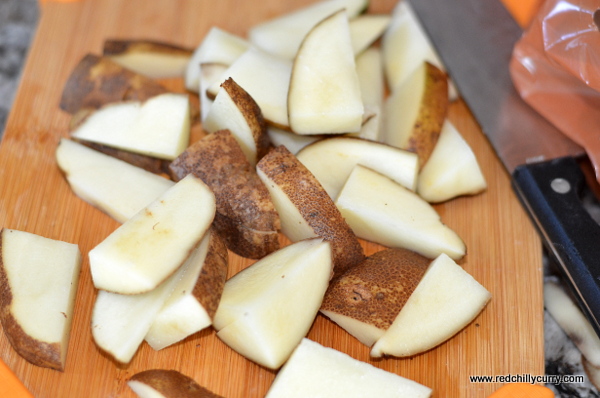 2. I always use ziplock for mixing all the ingredient together. If you don't have it, just take a big bowl and mix everything together.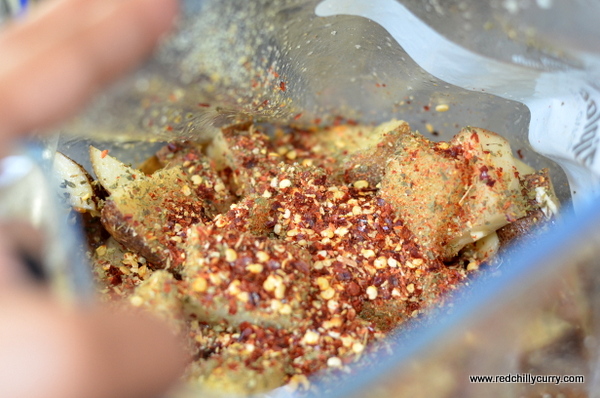 3. First add potatoes and then add oil and then step by step add everything mentioned in the list above. Coat everything well. Let it marinate for 10-15 mins.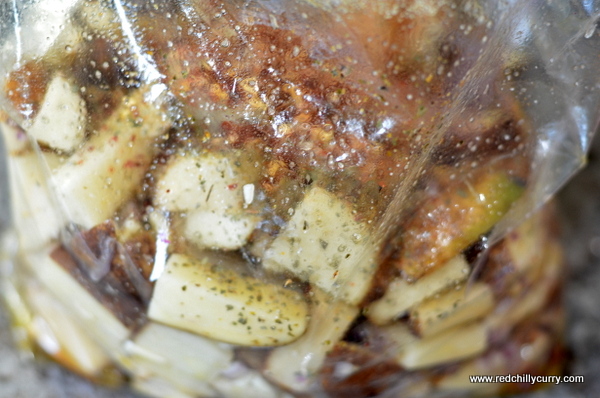 4. Now switch on the oven and set to 400 deg F. Once it reaches the temperature, take a cookie pan or any long pan and cover it with aluminum foil. Spray some oil so the potatoes don't stick to the foil. Then spread the potatoes evenly and close the oven lid.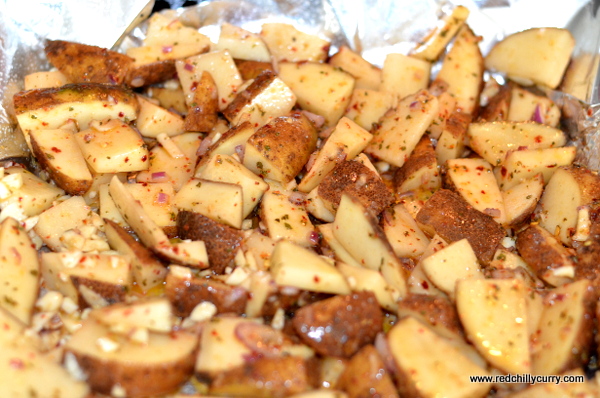 5. Now bake it for 45 mins or until they turn golden brown and crispy. Try to flip it every 15 mins so they don't get burnt. You can sprinkle some parmesan cheese after taking the potatoes out. Adding extra cheese is def tasty and you can less spice if you are serving it for kids. I forgot to click the pic that had cheese sprinkled.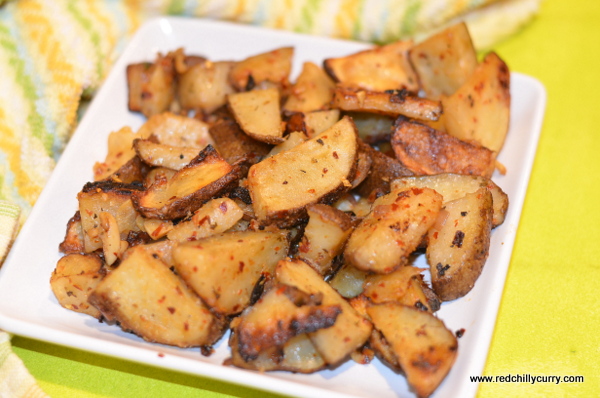 6. Yummy crispy and spicy potatoes are ready to serve. Enjoy it as evening snack or during movie time or have fun with your friends for kitty parties.
Print