Thandu keerai Poriyal is a very healthy green leaf and very good for health. It's not easy to get in california, but I make sure whenever I see them I grab them in a large quantity. This is called Thottakura in telugu and Amaranth leaves in English. I make sure My family members consume keerai or green leaves at least 3 times in a week. Palak is a must leaf at home. I like adding these traditional leaves for my family whenever I get them fresh in store. Back in India mom always made sure I had all my green leaf and lots of veggies a lot. I used to suffer from stomach ache and she made sure I eat some in some form. Either with vatha kulambhu, sambar or with rasam.
I love this thandu keerai poriyal best with vatha kulambu. You have to check the 2 version of my vatha kulambu and I can guarantee you will definitely love them. There are many ways to make thandu keerai poriyal and this is one of the version, These past few weeks this leaves have become very common in all Indian stores and now enjoying the benefit of Thandu Keerai. You can make lots of variety with this thandu keerai like kootu, poriyal, kadayal and keerai masiyal. Check my other recipes with keerai like drumstick leaves adai, methi moong dal(vendhaya keerai)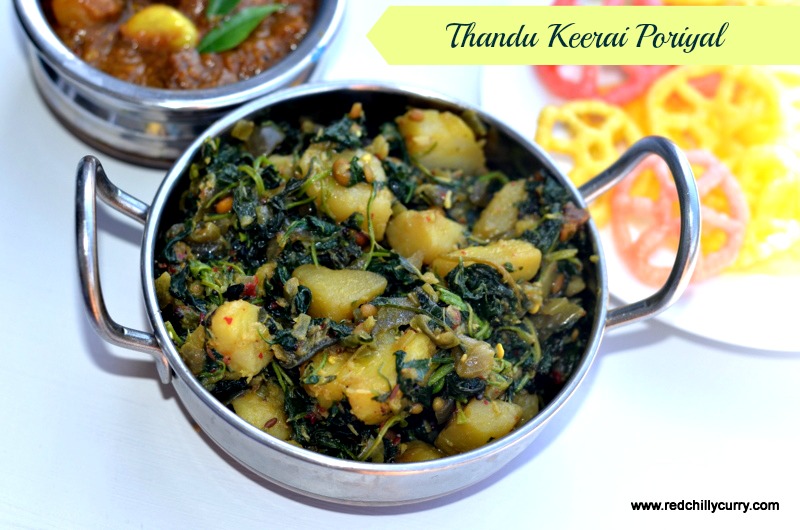 Adding thandu keerai poriyal |thottakura|amaranth leaf is very good for health. Adding lots of green veggies helps in iron increase in body and also keeps you fresh and healthy. Lots of stomach issue related problems can be avoided. Amma always made sure I have them all the time. I miss her so bad. Since I am all grown up now I tell the same stuff t my kids. Even people who are not big fan of veggie will like this simple fry. I know everyone likes potato ,so adding little green to it will definitely make even a green leaf hater fall in love with us. Ok now enough of our chit chat let's look at the recipe and learn how to make Thandu keerai poriyal.

Thandu Keerai Poriyal / Thottakura / Amaranth Leaves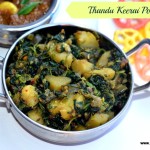 Prep Time : 15 minutes
Cook Time : 20 minutes
Yield :

3 person
Instructions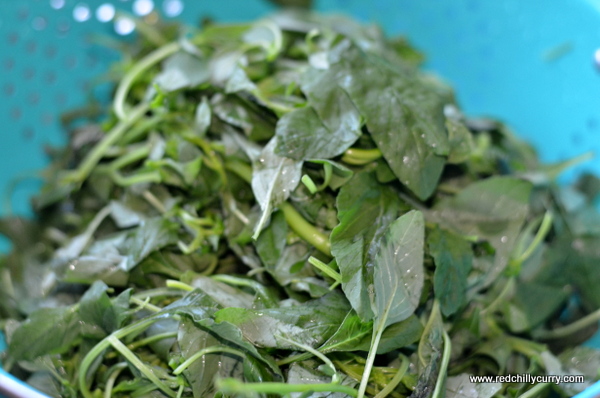 1.Wash the leaves nicely for 3-4 times then chop them to small pieces and boil it for 2 mins.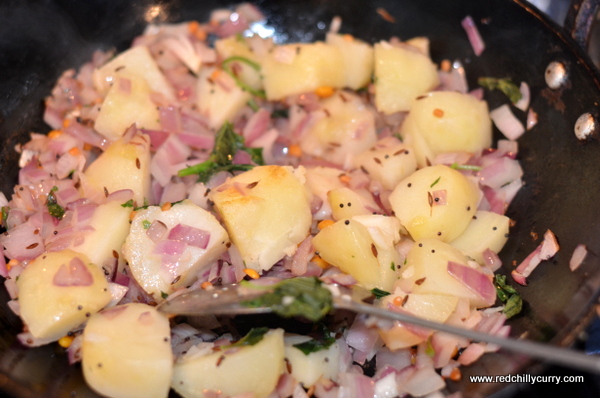 2. In a pan do the seasoning and then add onion, then boiled potato. To this add turmeric powder and salt and saute for few mins. To this add thandu keerai and stir it well for few mins.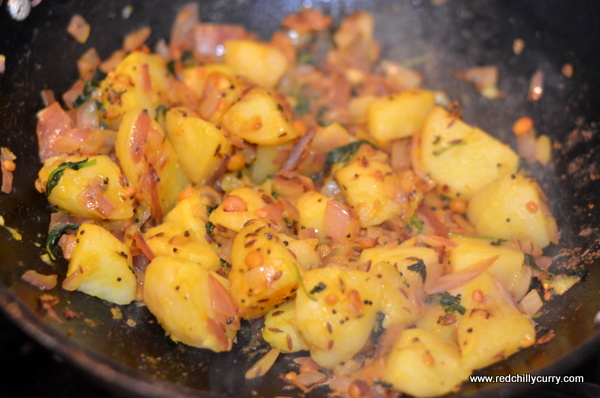 3. Once they are well coated add the blend mixture mentioned above and mix them all well.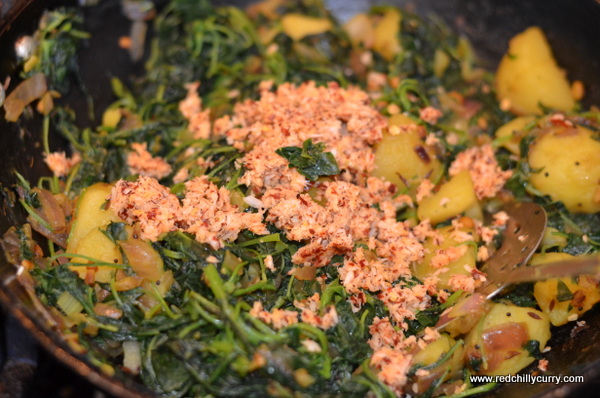 4. Serve it with vatha kulambu and enjoy it with appalam.  Tasty thandu keerai poriyal is ready to serve.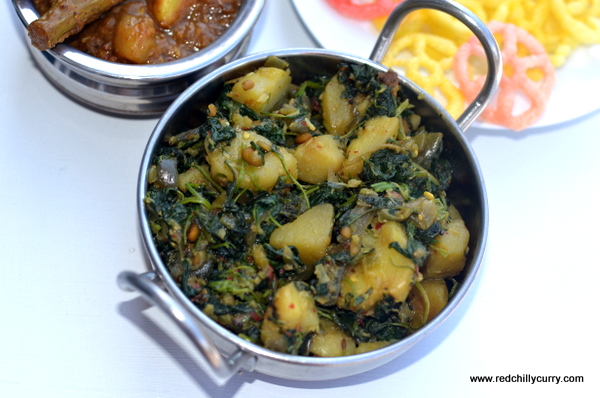 Print