Vegetarian Meatballs recipes | How to make Meatless Meatballs | 30 minute vegetarian meatballs | Spaghetti recipe with vegetarian meatballs
Vegetarian Meatballs recipe is super simple to make and I have had very good reviews from all of my meat eating friends. The first time I ever saw this recipe was when I landed in New Jersey, I was so damn hungry and wanted to order something in Airport food court. All I could see on the wall pic ad also on table was this Meatballs with twisted Spaghetti Pasta. I am a pure vegetarian and have never seen any dish with Beef in India. But it Meatballs looked very appealing to me, since I cant eat them I have always thought of trying it in vegetarian version. I have seen the texture of the meatballs, they are kind of crumbled and chewy and soft. I kept thinking which would be a good substitute for this beef texture. My husband eats meat and he always made fun that my favorite soya chunks / Meal maker taste just like meat. Then this idea popped in my brain and I thought why not give it a try.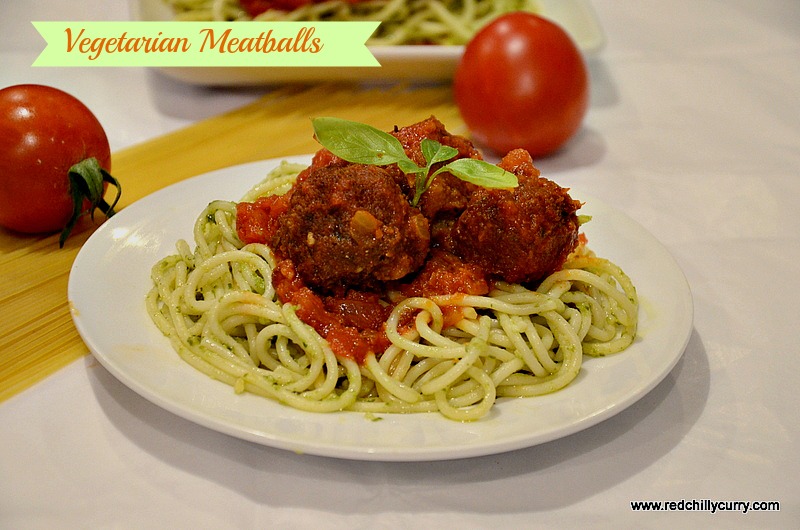 I quickly experimented few ingredients and vaila, I was vert happy with the result. Everyone in my family loved it and my daughter who s a big food critique loved it too. I liked how soft the meatless  meatballs were inside and how firm and nice they holded the shape outside. If you are a food lover like me, you would def love this vegetarian meatballs a lot. You wont fail for sure and won't be disappointed, since I have tested on so many people and it's been a hit for long. So try this vegetarian meatballs with feeling scared. If you like soya chunks then you will def love this. It was not time consuming, it's very quick to make, if you have your Marinara Sauce and Pasta ready. I have lots of Pasta recipes in my blog. I have added Homemade Pesto Sauce in my blog. Do try it out. Taste awesome. Other pasta recipes are White sauce Pasta, Creamy Tomato Pasta, Pasta Primavera.
I love using Spaghetti for this vegetarian meat balls. I don't like my pasta plain so I like adding Pesto sauce to my spaghetti pasta. I love the combination of marinara sauce in my soya meatballs. It's not messy, not complicated. Its simply easy and mess free. Plus you don't have to feel bad that you are missing out trying Meatballs. Guilt free recipe for all weight conscious food lovers. No meat yay! what else are we waiting for? Come lets try this easy and tasty Vegetarian meatballs recipe.
Step by step pic of making Vegetarian meatballs recipe for all  Meatless lovers
Vegetarian Meatballs Recipe (30 Minute Recipe)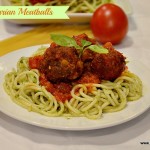 Prep Time : 15 minutes
Cook Time : 15 minutes
Yield :

12-13 meatballs
Instructions
To make this recipe quick. Use store bought Marinara sauce and Pesto sauce. Making both of these sauce at home are very easy but since it's under 30 minute recipe and since we don't like spending too much time in kitchen. We are speeding up the process by getting these two sauces from store. Its readily available in all stores.
Steps to make Meatballs:
I have used soya chunks here since I felt it has that meat taste and texture of the minced beef. When soya chunks gets minced they look a lot like minced beef. Okay now off to making this meatless meatballs.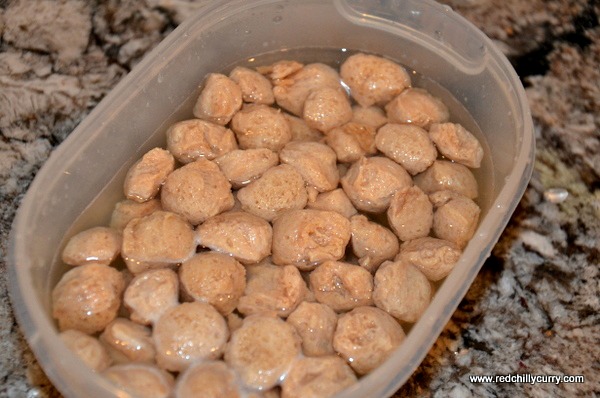 1. Take 2 cup water and let it boil for 5-7 minutes.  Switch it off. Now add 1 cup of soya chunks and let it stay in that hot water for 5 minutes. They will change in size and will look soft. Now pour the hot water out and add cold water to soya chunks. Leave it for 5 more mins. Then throw the water and squeeze the soya chunks completely. Now blend them nicely in a blender as shown in pic.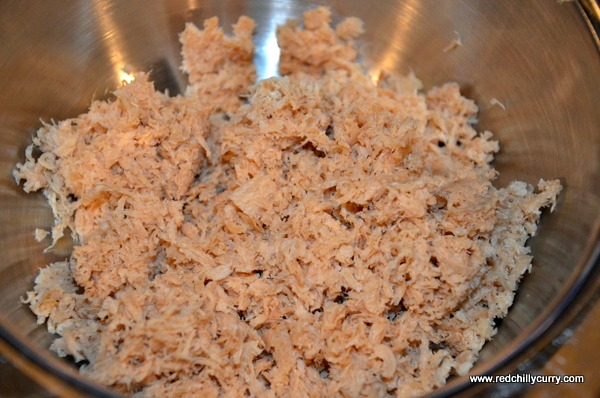 2. Transfer the minced soy chunks into a big bowl. To this add chopped onion, garlic, cheeses, salt, parsley and  breadcrumbs. Now take this again to blender and in pulse mode just beat it twice like for a 2 sec. Now add maida flour and make a ball out of it. I got 12 balls from 1 cup of soy chunks. Now heat oil in a pan and seep fry and remove it when they are slight golden in color as shown in pic.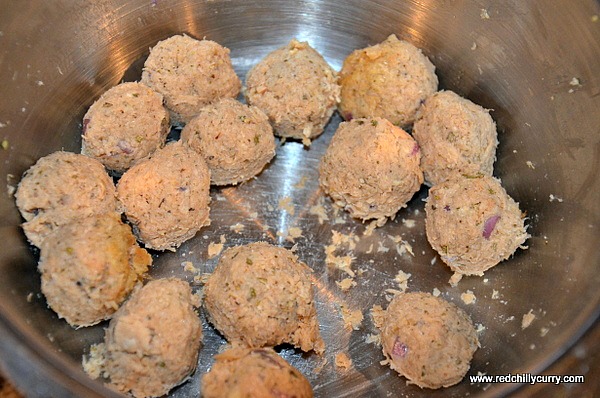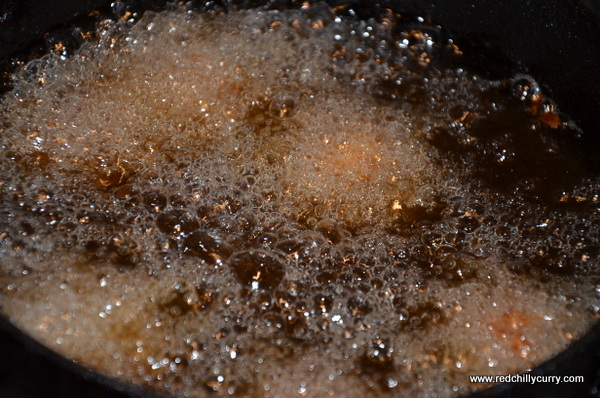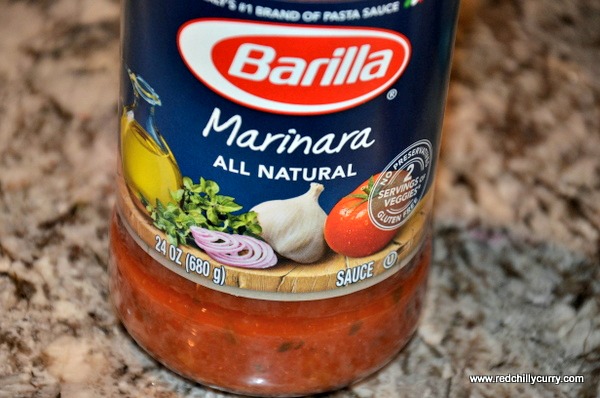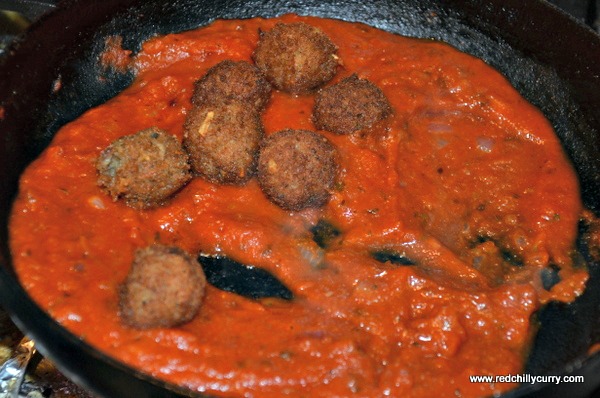 3. Keep them in a tissue paper and let it absorb the oil. Mean time make your marinara pasta and Spaghetti ready. To make spaghetti follow the instruction given in the package. Once done , drain pasta from water and when they are still hot, add pesto sauce and mix everything well.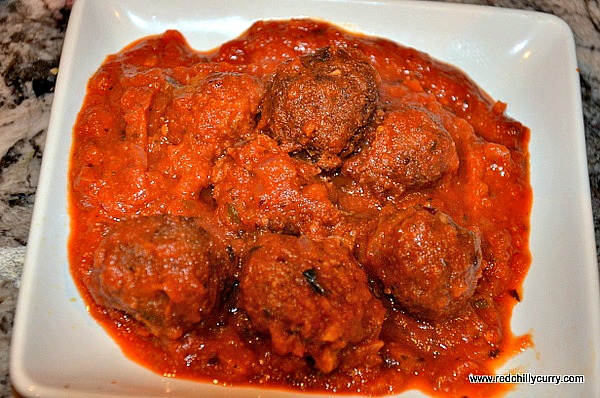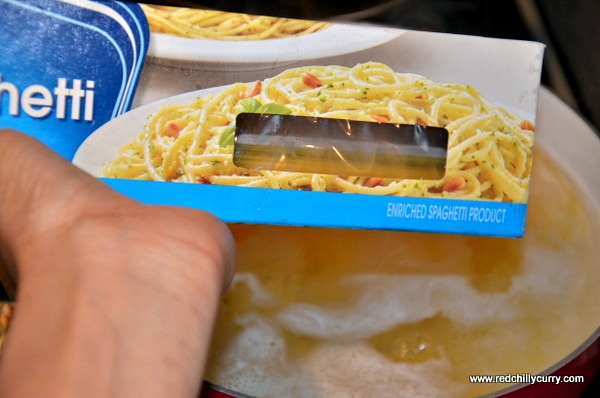 4. Now off to Marinara sauce preparation. Since I was in a hurry to make it fast. I used the store bought. You can use the homemade marinara sauce too by adding olive oil in a pan, then add chopped onion, garlic , red chilly flakes and stir fry it. To this add chunky tomato puree and let it boil for 10 mins. Now add fresh basil leaves and this is how we prepare Marinara sauce. Okay since we are using store bough here, all you have to do it heat pan. Now add olive oil , use chopped onion and garlic and pour the marinara sauce into it.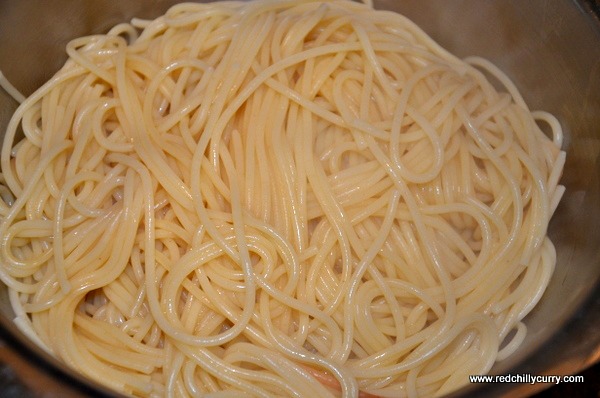 5. Since I like it little spicy I added pepper, salt and little bit of dry chili flakes for extra flavor. Add little water or you can use the same water that was used for boiling pasta. Add half cup not more than that. Let it boil for 10 mins or until the sauce gets little thickened.  Switch it off. Now add the soya balls and coat it well with marinara sauce.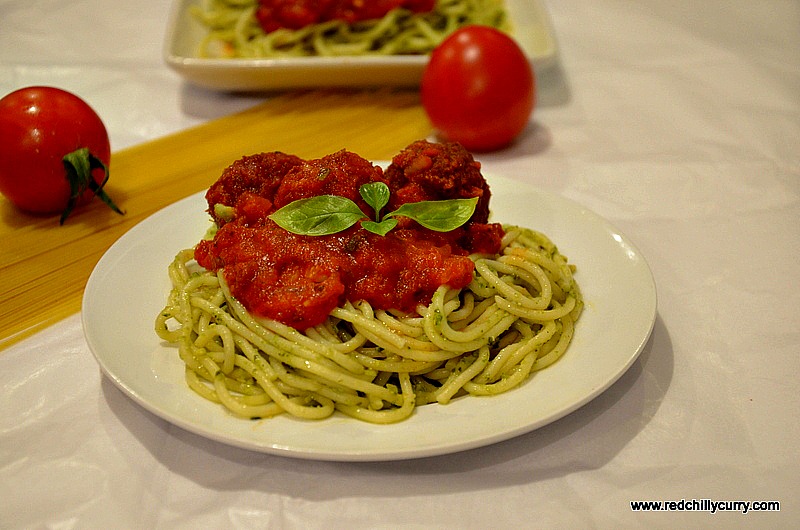 6. Now in a plate place the hot pesto spaghetti pasta and serve this vegetarian meatballs on top. Now enjoy this delicious food. You mouth and tummy will thank you. It's like a festival celebration and balanced food.
Print