How to make paneer at home | Homemade Paneer recipe |Indian paneer recipes
Paneer can be easily made at home. It's  otherwise called cottage cheese. Homemade paneer taste so good than the regular store bought. It's much softer, smoother and definitely tastier than the store bought. I don't have to worry what's used inside it. Homemade doesn't have any chemical added in it. I can happily offer paneer to my kids. My kids love it, so I make it at home very often. Only if I have unexpected guest and if I have to prepare Tandoori Tikka then I go for store bought. Making paneer at home is super easy. It doesn't involve any hard work. It can be made it max ten mins, of course  the process takes 30 mins but we don't have any work.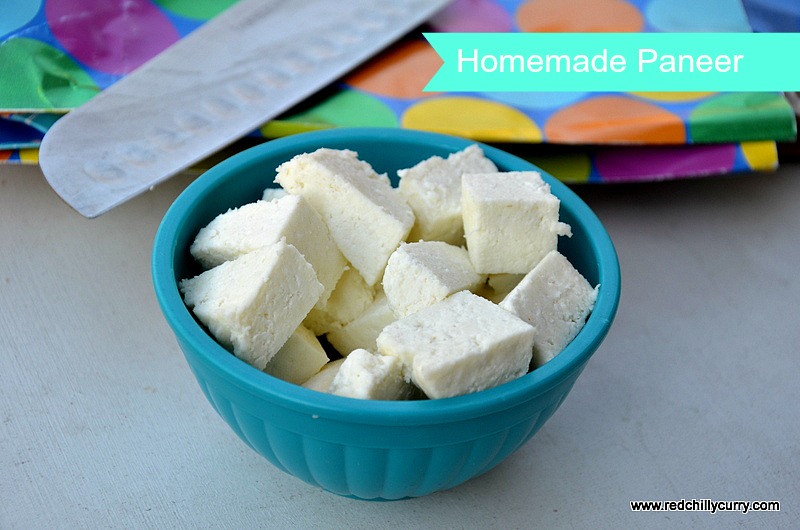 You will need muslin cloth and heavy object to place on the paneer since we need the paneer to stay in shape. Placing a heavy object is very very important, since paneer is so soft and it needs to hold its shape tight and firm. Don't miss this step. Once you make this at home, then you can make so many  recipes like Paneer Butter masala, Tandoori Paneer Tikka, Kadai Paneer, Shahi paneer,  Kali Mirchi Masala (Paneer in pepper ) and many more. This is so rich and very good in flavor.  My mom always made sure we learn it . It will come out well in all kinds of milk like 2% or 3% but it will be very good if you can use whole milk or thick milk for making this. It will give that firm and rich taste like we get in store. If you use less percent, I have seen the paneer turn really soft and it easily crumbles instead of holding a firm tight shape.
So try using whole milk or thick milk when you make paneer. Okay now off to making of Homemade paneer.
Step By step of making homemade paneer recipe
How to make Paneer at home (Cottage Cheese)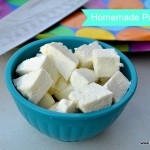 Prep Time : 15 minutes
Cook Time : 30-60 minutes
Yield :

1 bowl of paneer
Instructions
1. Heat milk in a pan. Use whole milk or full cream milk for this recipe. Let it boil and when the milk raises and forms bubble, switch it off.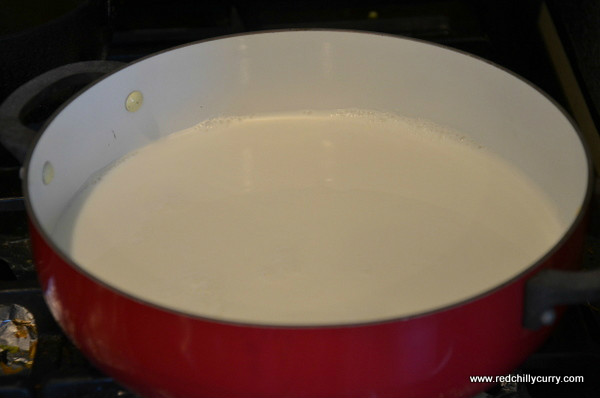 2. Now add 4 tsp of lemon juice and stir the milk slowly in one direction using a spatula. You will see the milk curdle and see whey water and paneer separating.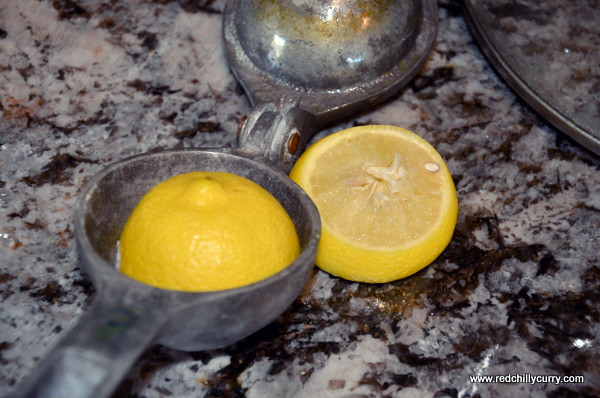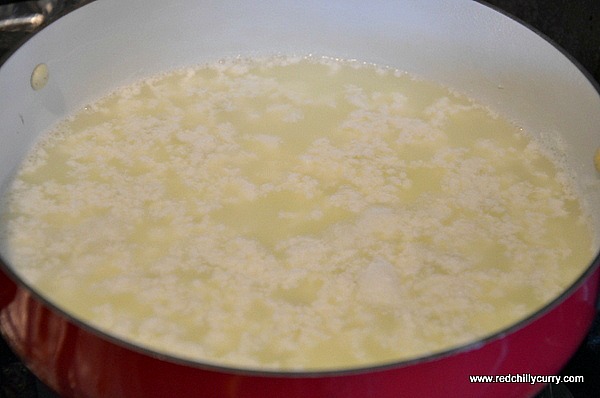 3. Now take a bowl , metal strainer & muslin cloth/ Cheese cloth . Place metal strainer on top of the bowl. Now spread the muslin cloth and pour the whey water completely into the muslin cloth. You will see water draining in to the bowl and the curdled milk like paneer texture settling in the cloth as shown in pic.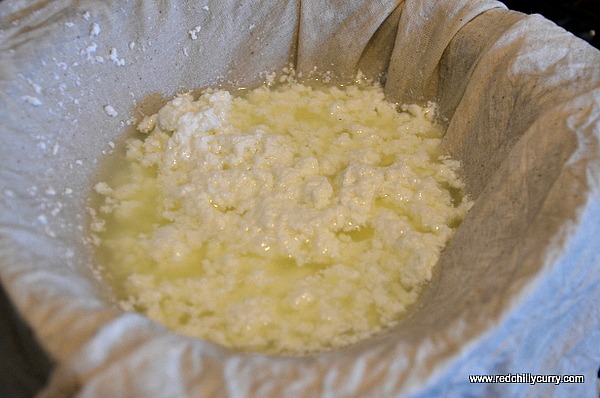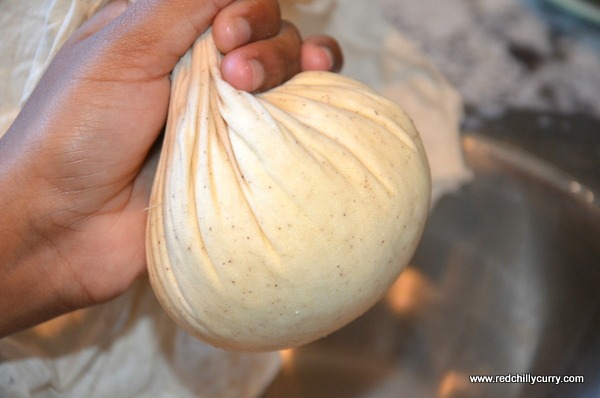 4. Now don't touch the muslin cloth, since its very hot. Wait for few mins and then hold & squueze the muslin cloth and strain the water out completely. Once done. Make a flat shape using your hands like shown in pic. Wrap it tight and place a heavy object on it. I placed a heavy glass bowl and later filled with more things like fruits and veggies. This step is very important. Only this heavy pressure will make the paneer hold its shape and stay firm and tight.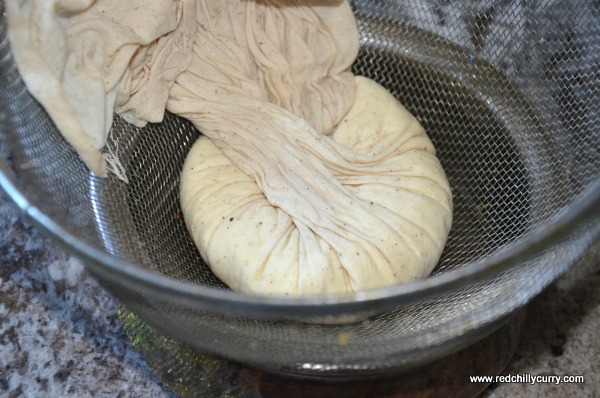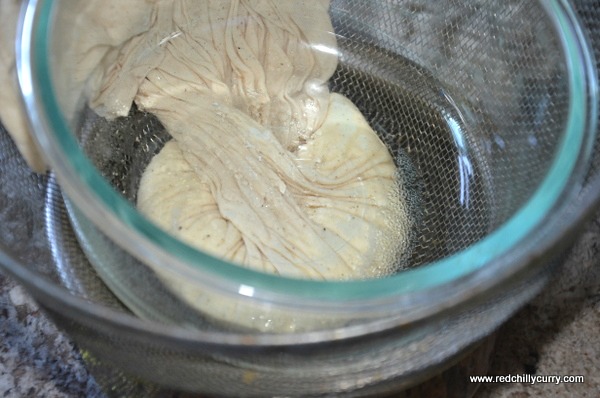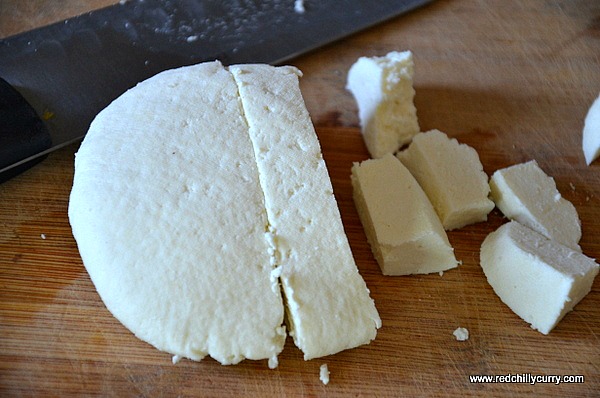 >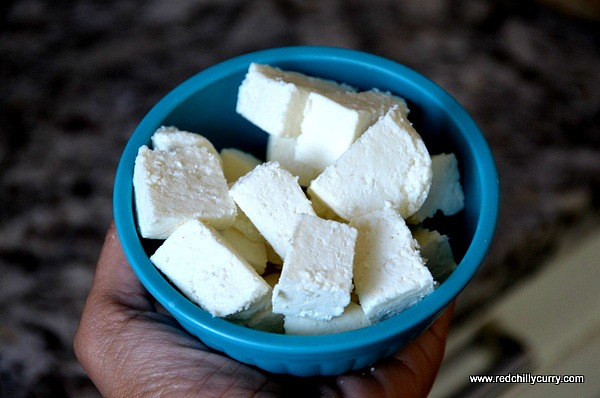 5. Let it rest for 30-1 hr then when you remove it from cloth , you will see that paneer is ready and you can slice it and store it in refrigerator or use it immediately to make paneer dishes. Enjoy the fresh, soft and tasty homemade paneer.
Print