Soya Chunks Manchurian Recipe| How to make Soya manchurian | Soya Chunk recipes | Manchurian Recipes
Manchurian is our family's fav recipe. Soya Chunks Manchurian is one of the recent recipe we have started to love . If you are a meat eater you will definitely feel it tasting similar to chicken. My hubby says that hmm.. I have no Idea I am a pure vegetarian and I love any recipes made with Soya chunks. If you are not a big fan of soya chunks still try this Soya chunks manchurian recipe and you will not feel the regular soya smell it's juicy, crispy and tasty at the same time. I can confidently say even soya haters will love this. Its tested and proven. This consumes less oil unlike our regular manchurian and it can be made very quick. Deep frying is what takes a long time. I just do lite shallow stir so this taste so good and you don't have to feel guilty about eating. I let one side get little roasted and other side just lightly stirred.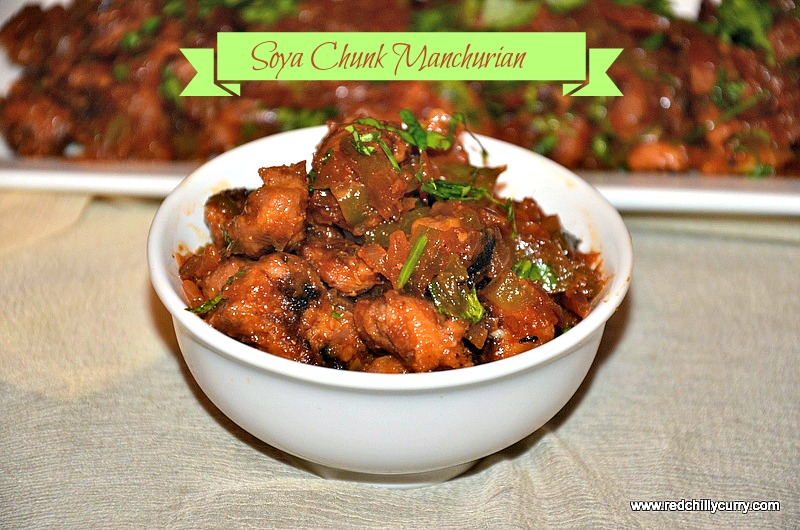 I have never tried deep frying soya chunks since I loved this taste and texture a lot. You can deep fry if you want it more crispy. I would suggest making it lite roasted since the sauces will absorb well. Always add Capsicum to manchurian since they give very good flavor to this dish. I never omit adding capsicum, the whole flavor blends so well with other ingredients. Its very simple to make and you can serve it with chapathi or puri even with fried rice. I love eating it just like that… you know like a starter. I like my gravy little dry instead of wet and juicy. If you like it little gravy  then add 2 tsp of corn flour to 1/4 of water and stir it well so no lumps are formed and add it to the soya chunks manchurian 5 mins before switching off the stove. Then you get a juicy and semi gravy soya chunks manchurian. This semi liquid soya manchurian will go well with fried rice. I love it dry so I like making it this way.
Some of the manchurian based recipes are GOBI MANCHRIAN, BABYCORN MANCHURIAN, IDLI MANCHURIAN  You can serve them with other bread based recipes if you are bored of regular chapati or puri. You can serve with Sweet Potato Roti or Palak Chapati(Spinach bread. Off to making of Soya chunks manchurian recipe.
Step by step of making Soya Chunks Manchurian recipe
Soya Chunks Manchurian Recipe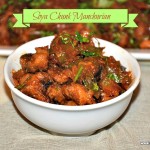 Prep Time : 20 minutes
Cook Time : 25 minutes
Yield :

2 person
Instructions
1. Boil 1 cup of water and let the soya soak for 5-7 mins and it will become double in size. Now pour the hot water and add cold water and let it sit for 5 more min. Then squeeze all the water out and keep it separately in a bowl.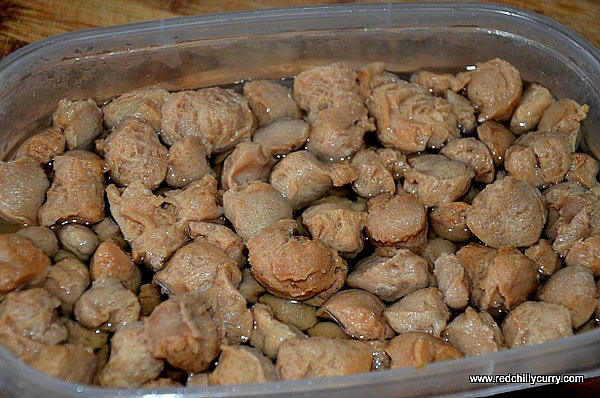 2. To this add corn flour,maida, ginger & garlic paste (1-2 tsp) and mix everything well. Sprinkle little water so they are well coated.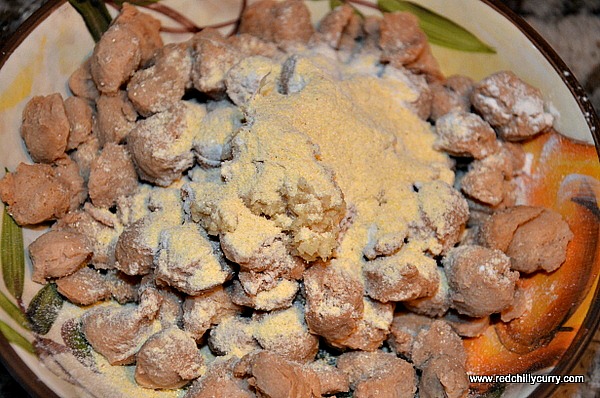 3. You can deep fry them if you want, but I like it to be mildly roasted. So add 3-4 tsp of oil and let it get hot in pan, to this add soya chunks and roast them fore few minutes until they are mildly brown in color. Once done remove them and transfer to a bowl.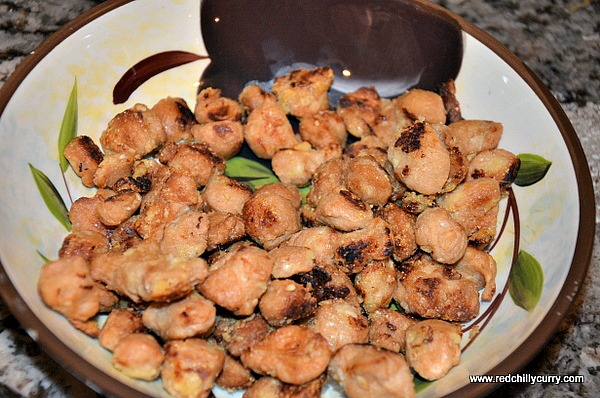 4. Now add 2 tsp of oil to the pan again and start the other saute. Add onion, then ginger garlic paste and let it cook for few mins. To this add capsicum,green chillies and let it saute for a min. To this add soya sauce,chilly sauce(Both green and red chilly sauce) tomato sauce and let it cook for a min.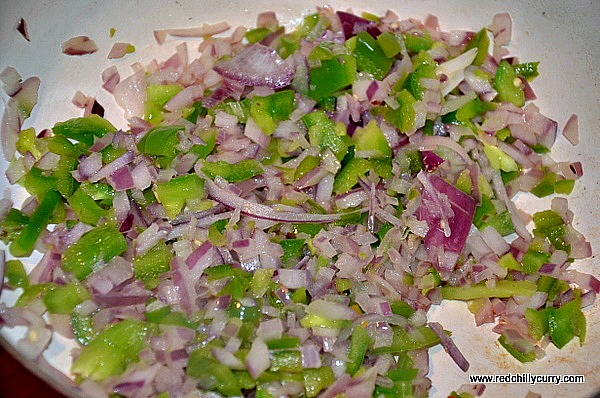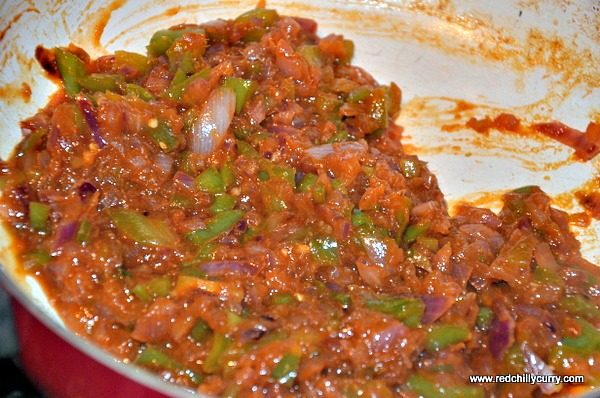 5. Check the taste and add little bit of salt . Since soya sauce has enough salt taste the dish and add salt if required. Now add the roasted soya chunks and let it get coated well with the sauces. Sprinkle spring onion or coriander leaves and serve it hot with chapati.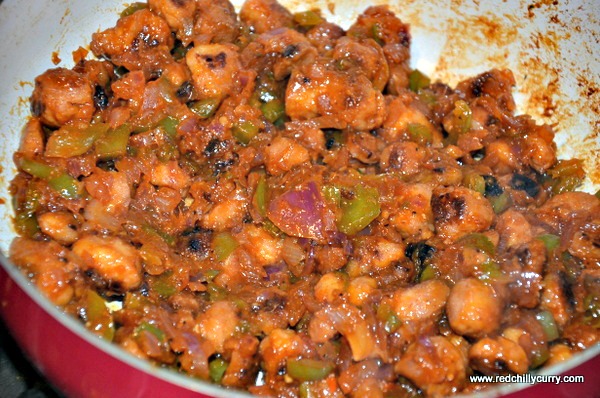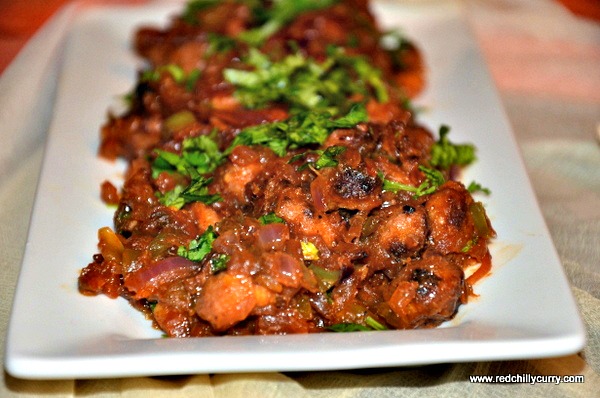 6. If you like it as semi gravy, add 2 tsp of corn flour to 1/4 of water stir well so no lumps are formed and mix it with the soya chunks gravy and let it cook for few mins and it's ready.
Print